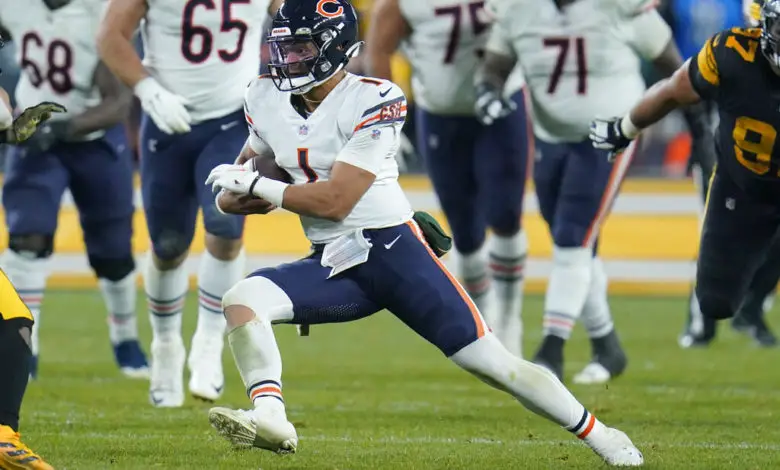 First & Goal: Bears Building Offense Around Fields As Promised, Poles Starts Reshaping Scout Room, Saints Sign Mathieu, Hopkins Suspended
When Ryan Poles stepped up to the podium for the first time after he was hired to replace Ryan Pace back in February, he promised to build an offense that was tailored to the strengths of second-year quarterback Justin Fields. Many Bears fans thought that meant the first-year GM would build a top offensive line and provide his quarterback with at least two playmaking wide receivers. That seemed natural, given the team's deficiencies at those positions, and when the Bears selected two defensive backs at the top of their draft Friday night, a lot of fans were disappointed.
Perhaps Poles has done exactly as promised, and perhaps we were looking right while he was working to the left. Let's face it, Chicago was in no position to get a top wide receiver at No. 39, and the best offensive lineman still on the board when Poles made his first two picks were Luke Goedeke (Central Michigan), who was chosen at No. 57 overall, and Ed Ingram of LSU (No. 59). Would any Bears fans have been happy if that's who Chicago grabbed with their top two picks?
The five biggest failures of the 2021 team were:
Poor coaching and play-calling;
Lack of speed and explosiveness;
An aging defense that played too passive at times;
Major regression by the secondary; and
Overall lack of depth.
All have been addressed since Poles was hired.
The newly-minted GM knew he had a gaping hole at defensive back, so selecting Kyler Gordon and Jaquan Brisker was the right thing to do. Improving the team's defense helps Fields for the simple fact he won't have to take the bulk of his snaps with the Bears down by two scores or more, which puts him in obvious passing situations. Nothing hurts a rookie quarterback's development like a front four and a couple of linebackers teeing off on you every time you touch the ball.
Speaking of obvious passing situations, the Bears had one of the more predictable offenses in the league last year. Things were so bad that Nick Foles exposed head coach Matt Nagy in Fields' first start of his NFL career against the Browns in Week 3. Despite being labeled as a third-string quarterback for a majority of the season, Foles' willingness to be vocal in meetings meant challenging Nagy's philosophy and approach.
"Yeah, the offense was not working that day," Foles responded when asked if that's what he said to backup QB Andy Dalton on the sidelines during that game.
When Fields took a snap directly beneath the center it was almost always a handoff, and when he worked out of the shotgun it was almost always a passing play. The Bears' offense wasn't run-oriented, and Chicago was one of the league's poorer teams at running out of the shotgun. That's why one of the first hires was offensive coordinator Luke Getsy, who was poached from the Packers. A run-first, play-action offense presents real opportunities to shove footballs down the throats of NFL defenses. It worked for Getsy in Green Bay, for Sean McVay with the Rams, and for innovator Kyle Shanahan of the 49ers.
The first thing Getsy did was recruit OL Lucas Patrick to follow him to Chicago. Patrick could be the team's best free-agent acquisition, will be the O-line's captain and leader, and serve as Fields' personal bodyguard. Though Poles failed in his attempt to sign restricted free agent Ryan Bates, he did grab four high-upside offensive linemen in the draft. Most were fifth-year seniors, too, which should minimize their development time.
https://twitter.com/Milrandor/status/1520220437149630466
The Bears couldn't trade up like the Packers did to grab a wide receiver they may have targeted, but Poles did select speedy Velus Jones Jr., a personal choice of Fields. Jones has the speed to stretch defenses and compares somewhat to Deebo Samuel.
Darnell Mooney will enter camp as the de facto WR1, with Byron Pringle serving as the second wideout, and Jones Jr., Equanimeous St. Brown, and second-year WR Dazz Newsome give the position speed and depth. Expect Cole Kmet to be heavily involved in the passing game, and running backs David Montgomery, Khalil Herbert, and draftee Trestan Ebner will be tasked with becoming passing game weapons, as well.
Certainly, Poles works at a methodical and deliberate pace, but the Bears are now a completely different team. They're younger, faster, and a little more violent, all stated goals of the front office and coaching staff.
Admittedly, there's no real wow factor in anything Poles has done, but the slow reveal provides clues to what the Bears will look and play like this year and in subsequent seasons. The arrow is pointing up, though there will be growing pains. Ultimately, however, winning in the trenches on both sides of the line of scrimmage is the first step in building a team based on Fields' strengths. Protect the quarterback, and keep your defense off the field. That, to me, seems like Chicago's plan for 2022.
Bears News & Notes
Bears Draft Recaps
There's a Flag…On the Play
Aca-scuseme? It's not as much fun as watching former Cubs slugger Kyle Schwarber performing in his high school glee club, but Kramer's viral video is a little more football-tough.
#Bears new center Doug Kramer just moving a Dodge Ram. No big deal. https://t.co/4nsj4QsKV2

— Bears Nation (@BearsNationCHI) May 1, 2022
Northern Exposure
The father of Green Bay's first second-round selection Christian Watson was also a Packers' draft choice back in 1993. Tim Watson was selected by Green Bay out of Howard with the No. 156 overall pick.
Selecting EDGE Aidan Hutchinson (Michigan) at No. 2 overall was a no-brainer for Lions' GM Brad Holmes, but the league was reportedly angry that Detroit turned in its draft card so quickly.
The Vikings may have fumbled away a great opportunity in this year's draft.
NFL News & Notes
Per sources, the Saints and CB Tyrann Mathieu have agreed to terms on a three-year $33 million contract.
Clemson WR Justyn Ross, who went undrafted due to a spinal cord injury, was signed as a UDFA by the Chiefs after being cleared for football activities.
Star Arizona wide receiver DeAndre Hopkins was suspended for six games for violating the NFL's substance policy.
Titans QB Ryan Tannehill didn't have a good weekend. Not only did Tennessee draft his potential replacement, but the team also traded his favorite target, WR A.J. Brown,  to the Eagles.
After sitting out the 2021 season, WR Dez Bryant said he'd like to play for the Cardinals.
An independent review determined that tanking allegations by ex-Browns coach Hue Jackson are unsubstantiated.
Three Yards & a Cloud of Dust
At $52.8 million, the Bears had the second-highest dead cap hit this year. The Falcons topped that list at $62.8 million.
After trading down from No, 21 to 29, the Patriots selected G Cole Strange (Tennessee-Chatanooga), and according to ESPN NFL Draft Predictor, there was a 93% chance that Strange would have been available when New England picked at No. 54.
When safety Lewis Cine was selected by Minnesota at No. 32, the University of Georgia became the first school to have five defenders drafted in the first round.
From the Podium
"Sending our O-line coaches down to work out Braxton Jones was important. When they came back you could tell that they saw something in him that they could develop. With Velus Jones Jr., he did a Zoom because it was hard to get flights out of Knoxville with his schedule. You could tell the more people that talked to him, there was a little bit of a buzz in the building just in terms of how he presented himself and what kind of man of character he was. Everyone was excited about the possibility of drafting a player like that." – Poles
"You want to win all three phases, so you can't ignore that. I think the other piece a lot of people don't understand is even when you're a backup player, if you don't have special teams [value], it's really hard to make a team. So, for those guys that have special teams ability and love playing on special teams and can affect the game on special teams, you know that they have a place on your roster and they're going to be active on game day. So that was important. And then the other thing is that we were looking for explosive and fast and strong athletes and a lot of them played on teams because of the physical traits that they have. So, just that explosive physical trait and the speed was important to us through this draft." – Poles
Running Out the Clock
It Don't Come Easy by Ringo Starr – I'll grade Poles with a bit more tenacity after his second draft, but at least give him props for turning sox picks into 11.