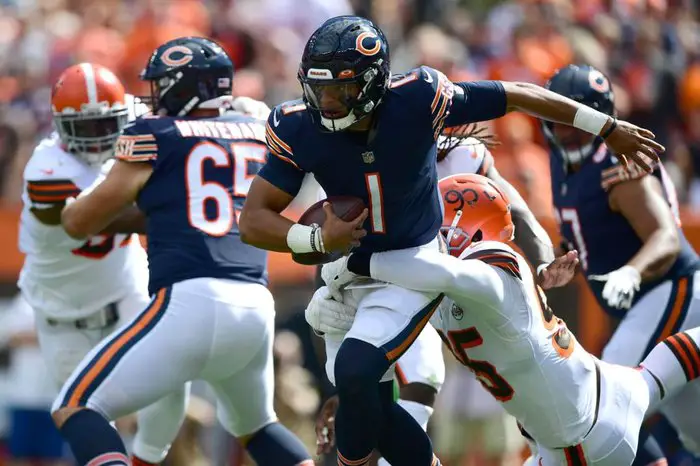 Chicago Bears Score and Recap (Week 3): Browns 26, Bears 6 – Fields Sacked Nine Times in Bears Loss
Justin Fields made his first NFL start for the Bears on Sunday in Cleveland. Unfortunately, for the young Chicago quarterback, the rest of his offense was not ready for the Browns' defense. The offensive line was shredded for a whopping nine sacks in a lopsided loss.
The Bears' defense was actually effective early in the game keeping Baker Mayfield and the Browns' attack in check through most of the first half. The home team finally scored a touchdown at the end of the second quarter to move ahead 10-3.
Outstanding defensive lineman Myles Garrett had 4.5 sacks as he went on a rampage against the overwhelmed Bears offensive line. Cleveland added another touchdown and a pair of field goals to put the game on ice by the 4th quarter. (Box score)
Why the Bears Lost
Fields had absolutely no time at all to do anything productive. He was running for his life from the opening snap of the game. It's absolutely impossible to evaluate his performance under those circumstances. Chicago ended the game with a stunning 47 total yards.
Key Moment
The Browns had an 89-yard drive with time dwindling in the second quarter. Austin Hooper caught a touchdown that put Cleveland up 10-3, a deficit the Bears could not come back from.
Stats That Matter
Fields just had no shot in this game and his numbers reflect that. He completed six passes for just 68 yards and had three runs for just 12 yards.
The Browns keyed in on David Montgomery and completely shut him down, holding the Bear running back to only 34 yards rushing and 21 yards receiving.
Robert Quinn had a very nice game with 1.5 sacks and constant pressure on Mayfield.
Bottom Line
The Bears' offensive line is a huge problem right now. It wouldn't have mattered who was under center on Sunday the situation would've been the same. Matt Nagy is going to have to come up with a game plan that can at least partially hide this massive flaw. If not, this season could easily get away from Chicago.
Next Up
The Bears welcome the winless Detroit Lions to Soldier Field for a Week 4 matchup next Sunday at 12:00pm CT. The game will be broadcast on FOX and WBBM radio.