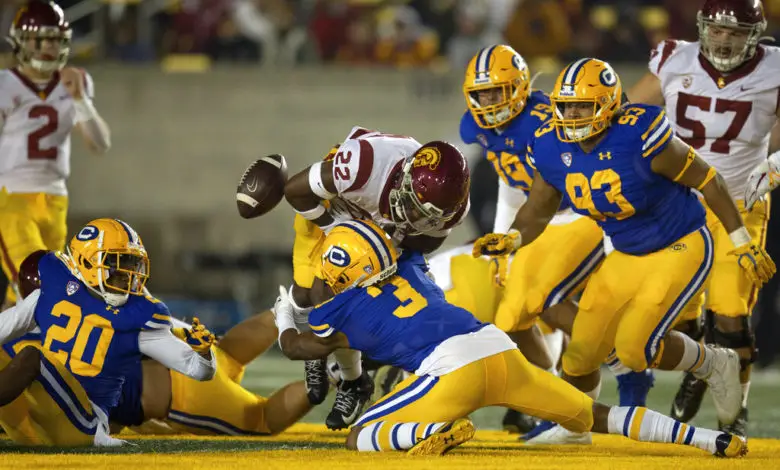 Bears Draft Profile: S Elijah Hicks
Versatile defender. Big hitter. Ball hawk. Intelligent player. Those are just a few of the accolades bestowed upon seventh-round pick S Elijah Hicks (California). Hicks didn't attend this year's NFL Scouting Combine, but he had an excellent Pro Day that included a 4.34 time in the shuttle and a 35.4″ vertical jump. Though I didn't know much about him, after watching the tape, frankly I'm surprised he was still available.
I couldn't find a pre-draft grade on the rookie safety and he wasn't listed among ESPN's top 366 draft-eligible players, but I did find analysis from The Draft Network. They listed Hicks as a potential fifth-round pick so GM Ryan Poles did find some value with this selection.
"Hicks is a senior who aligns at safety for the Golden Bears' defense. He has also aligned in the slot in coverage situations vs. ten and empty personnel groups. He is a sufficient-level athlete with good movement skills, agility, and quickness. In the run game, he quickly flies up to be a participant. He has a good feel for run fits when coming down as a tackler. He's a little undersized by ideal measurables. However, his toughness and aggressiveness help him in these situations. In the passing game, he plays with good instincts. He has sufficient ability to cover from the slot but could be better zoned up where he can utilize his good instincts. He has a history of production and can take advantage of off-target throws. His range is sufficient but can get to his landmark in the zone in a timely manner."
From that synopsis, you should take away that Hicks is tough, smart, and aggressive. In an interview, he said he had met with the Bears before the draft and that the team did give him a physical. A converted cornerback, Poles and head coach Matt Eberflus would prefer that Hicks play safety in Chicago's defensive scheme. Hicks said the Bears told him that they are going to emphasize turnovers on the defensive side of the ball and that the Bears really liked that aspect of his game.
Last season Hicks racked up an incredible 72 tackles in 12 games for California. He was also a takeaway machine, with three interceptions and four forced fumbles. If Charles Tillman immediately came to mind when you read that, you're not alone. Hicks is a little smaller than Peanut, but he's just as tough.
"I'm hungry," said Hicks. "See ball – get ball. In the air or on the ground, I'm going to come up and make plays and get the ball out. That's the most important thing on defense."
In addition to being a ball hawk, Hicks is a physical run defender who isn't afraid of lowering the shoulder and delivering a powerful hit to opposing ball carriers.
Still, the rookie defensive back is a bit of a project, something Poles is aware of and takes in stride.
"In scouting, we say it takes three years," Poles said. "I'd like to know tomorrow, but it'll take a year or two just to see who develops, who jumps out real quick, who takes a little bit of time. So it'll take a little bit of time. I don't know that I have a specific number that I want to hit to make sure. I hope they all do, but we'll see how it goes."
That could be why Poles selected one of the older draft classes this weekend. Like a number of other Bears' draftees, Hicks was a five-year starter and will enter training camp in August on the verge of his 23rd birthday. That extra year of Power 5 experience should help Hicks make the team. He'll enter camp with only Eddie Jackson standing in the way of a starting gig.
"At Cal we've had really good safeties come through there," Hicks said during a video call with Chicago reporters. "They teach really good defense. The safety like controls the defense. They are the ones making calls and giving tags, so it's a big responsibility.
"I was really productive, making plays all over the field. It was a natural fit. I was really thankful that the transition was happening. I'm more versatile now. I know what it's like to be on the outside. I know what it's like to be deep in the safety or even in the slot."
If you're interested in our analysis of Chicago's other draft picks, just click the links below.