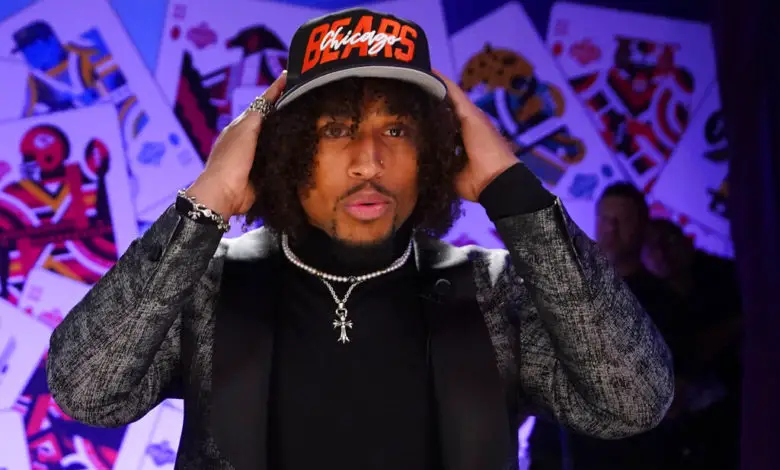 Bears Draft Profile: CB Kyler Gordon
The Bears didn't have a first-round selection this year but made the most of their No. 39 pick by taking CB Kyler Gordon, who profiles as a Round 1 talent.
The 22-year-old sophomore was limited to just four games during the COVID-shortened 2020 season but broke out in a big way last season. Gordon has been lauded by scouts for his elite speed, quickness, leaping ability, and coverage skills. His draft grade was 87 and he was ranked No. 36 on ESPN's cumulative draft board.
Here's his final draft analysis per ESPN:
Gordon has average height, bulk, and arm length. His top-end speed appears to be good on tape, but he ran a disappointing 40-yard time of 4.52 seconds at the combine.
He flashes the ability to get early jumps on the ball but gambles too much and gets his eyes stuck in the backfield too frequently. Improving his eye discipline is the biggest hurdle in his development.
In coverage, he split time between the slot and out wide, and he's capable of playing both in the NFL.
Gordon explodes out of his pedal, and he's an easy-mover with quick feet, fluid hips and elite closing burst. He has short-area quickness to match the suddenness of smaller slot receivers, and he shows the body control to stick with receivers out of sharp cuts.
Gordon attacks the ball with the confidence of a wide receiver, showing excellent leaping ability to contend with taller receivers and the ability to high-point the ball and pluck with ease. He's also an above-average wrap-up tackler in space.
The Bears entered the draft desperate for help in the secondary. Though GM Ryan Poles could still make a move or two in free agency, Gordon is expected to start opposite third-year cornerback Jaylon Johnson, who emerged as one of Chicago's leaders and best players last season.
Gordon was an eager participant against the run at Washington and is considered an excellent perimeter tackler. He plays violently, running through ball carriers and delivering heavy blows all over the field. The defensive back excels when he can play closer to the line of scrimmage. He's also excellent when blitzing with a keen ability to shoot the gap.
Gordon's outstanding agility, quickness, and elite hops will also help him in coverage. From a press alignment, he often uses a bail technique and closes quickly with great field vision. The Mukilteo, Washington native is at his best when he's able to see pass routes develop in front of him and when he can keep his eyes on the quarterback. He's a quick closer, but may struggle at times when matched up against elite speed pass-catchers.
As an NFL rookie, Gordon is likely to be a starting outside corner. However, his tackling ability, instincts, and agility also project him favorably to playing inside. That flexibility will allow Gordon to shine under the tutelage of head coach Matt Eberflus and defensive coordinator Alan Williams.
During his pre-draft news conference, Poles received a question about the significance of getting this draft "right," and that started with Gordon.
"It's very important," he said. "Every draft is important. Any time you can bring in new, young talent that can create competition and help get better and, obviously, with the way free agency is, you get a rookie contract, you get a little bit of time to keep tweaking things and improve."
Gordon was considered a first-round talent who dropped because of an uncharacteristically poor performance at this year's combine.
"When we watched him on tape and he ran that time, the 4.52, we kind of got a little excited (thinking he might fall on other teams' boards)," Bears national scout Francis St. Paul said. "We were like, 'Uh oh, we may have a chance now.' He plays way faster than that time. And you see it all the time, there's a lot of players that don't run as fast as we're all expecting but they play faster. And he has great play speed."
"The great thing about him is his movement skills are outstanding," Poles added. "He's tough. [He has] what we call reactive athleticism, twitchy. He's going to help us in coverage big-time and make that whole defense even better.
"The other thing you love about him is just the instincts. He's got a great feel for the game. There's been a lot of good players coming out of Washington, especially in that secondary, so we're pumped about that."
Each of the Bears' Day Two picks shares a common trait: they're tough, team-first prospects.
"They're passionate about football," Poles said. "They're tough. They're team-oriented. They communicate really well. They're responsible, dependable; all of those things that we've talked about, that we look for. We just want to keep adding so the locker room gets better, the field gets better, the practice habits get better, the competition gets better. And I feel like we hit all of those parts with these guys."