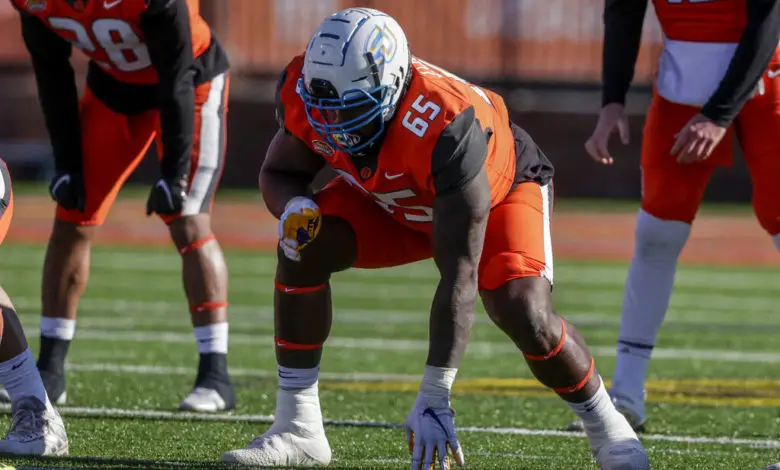 Bears Draft Profile: G Ja'Tyre Carter
When you take over a team in February and retool your scouting department, the Reese's Senior Bowl, the NFL Scouting Combine, and watching hundreds of reels of film in a short period of time constitute the bulk of your evaluation tools. For new GM Ryan Poles, the senior football showcase helped him to find good depth for his offensive line. The Bears selected G Ja'Tyre Carter from HSBC school Southern with their first pick in the seventh round, a player ESPN's Mel Kiper described as "a potential starter down the road after some development time."
The Bears selected Carter at No. 266 overall, and he was ranked No. 245 on ESPN's draft board with a 47 pre-draft grade.
Here's how The Draft Network described Carter in a pre-draft interview:
"Southern's Ja'Tyre Carter is one of the most intriguing mid-round offensive linemen available in the 2022 NFL Draft. [He] shocked dozens of scouts in attendance at his Pro Day by leaping an astounding 34.5 inches in the vertical jump despite weighing a healthy 312 pounds. Carter then further displayed his impressive athletic ability by running the 40-yard dash in 5.02 seconds. For teams searching for high-level athletes at the position, Carter fits the bill."
In addition to having excellent athleticism, Carter is fundamentally sound with an acute awareness of blocking angles and body positioning. He's considered intelligent and disciplined, which will go over well in the film room as much as it does on the field. The 23-year-old rookie is also confident and thinks he can start at the next level despite being a seventh-round selection.
"I'm gonna go in and try to go start, I'm going in to try to take a spot," Carter said. "I'm very competitive, so when it comes to sports I want to be the No. 1 person."
He's listed third on Chicago's depth chart at left guard behind Cody Whitehair and Dieter Eiselen. Whitehair is one of the best in the business, so Carter's confidence was not lost on Bears area scout Brett Ackley, nor was his battlefield mentality.
"I was actually on the field right off the bat, and they go right to one-on-ones," said Ackley. "That's kinda the highlight for the O and D line. You wanna see 'em and right off the bat, I believe it was the Oklahoma guy he lined up against, so I'm kinda back there standing by the goalpost going, 'Here we go. Baptism by fire.' And he gave a little ground, kinda sat on it, then when he came out of the rep he almost bought back a little bit. It was almost like he, himself, realized, 'I can hang.' After that, every other rep, he battled and held his own. There's gonna be some losses, right. I mean everybody there goes up and down, but he just kept showing up and held his own. That's probably what stood out, I was excited to see him battle and kind of realize he could play at that level."
I thought it was great that Poles put his scouts in the spotlight all weekend. He has created an environment that will bring the best in the game to Chicago's front office in years to come. It's a new wrinkle for fans, too, to better understand the machinations that come with selecting nearly a dozen of the best the NCAA has to offer.
"Anytime someone has conviction about something, it means something," Poles said. "They've spent a lot of time; there's no waver. That was important. That's part of the reason why I hope you all enjoyed them coming down to speak with you because it gives you the information. They spent so much time on the road and in those schools. It means a lot when you get a player drafted that you spent a lot of time with. It's been a really good process for them."
Carter was Ackley's choice, and the pick represents the best paradigm shift from the previous iteration of Chicago's front office, which was basically (and yes, a little over-simplified and mean-spirited), Ryan Pace asking Ted Phillips if he had permission to pick a player. The Bears have a real NFL front office now, and the Carter pick exemplifies that.
You can find profiles of Chicago's other draft picks at Bears Insider, and eventually, I'll cover them all.