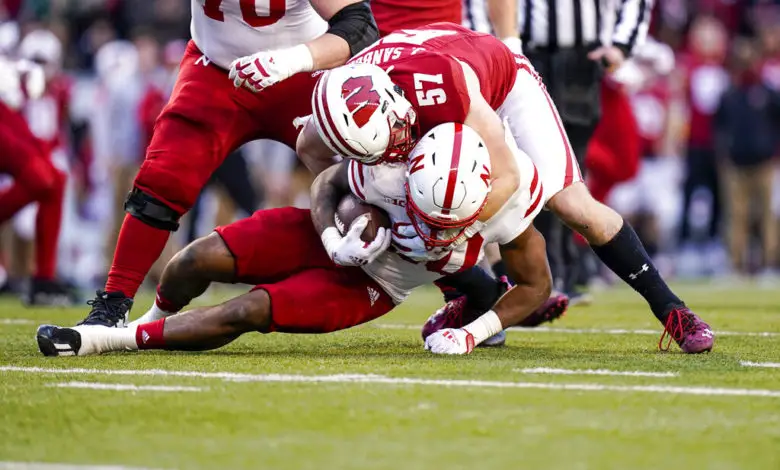 Can UDFA LB Jack Sanborn Make Bears Final Roster?
The Bears didn't have a first-round pick in this year's draft but made the most of it by grabbing top-32 talents in CB Kyler Gordon (Washington) and SS Jaquan Brisker (Penn State) at Nos. 39 and 48 respectively. GM Ryan Poles added to the receivers' room in the third round when he selected Velus Jones Jr. (Tennessee) in the third round, a pick that ESPN's Todd McShay was the best choice Chicago made in this year's draft.
On Saturday, Poles turned three picks into eight thanks to four trades and loaded up on depth pieces, and though he didn't draft a linebacker, EDGE Dominique Robinson (Miami Ohio) has the versatility to play the SAM or WILL positions if needed. Poles attacked the undrafted free agency market and did manage to sign OLB Jack Sanborn (Wisconsin), and he has a legitimate shot to make the team. The rookie GM made sure his area scouts pitched the possibility when they talked to those prospects who didn't get their names called.
"Competition," Poles said. "Come and compete. Opportunity. It's a fresh set of eyes, both front office and coaching staff willing to develop everyone. There's no bias, there's no nothing. We're just going to make sure that the best players are on the field, and that should mean a lot."
By all rights, Sanborn should have been drafted. He had a pre-draft score of 51 and was ranked No. 216 on ESPN's draft board, making him a legitimate sixth or seventh-round option.
Here's Sanborn's pre-draft summary from The Draft Network, where the linebacker received a fourth-round grade:
"Wisconsin linebacker Jack Sanborn has been a consistent staple for the Badgers over the past few seasons as a featured defender in Jim Leonhard's defensive system. Wisconsin touted one of the fiercest, stingiest defenses in the country last season with Sanborn and fellow linebacker Leo Chenal serving in starring roles on the second level as the straws that stirred the drink. Coming from a football family that saw his late father Paul play at Oregon in the 1980s and a younger brother playing with him at Wisconsin, Sanborn has been featured in a blitz-heavy role with the team and helped to dictate the pace of play to opposing teams by having a persistent threat at the line of scrimmage or in the opposing backfield. Sanborn offers a fair level of versatility as compared to his teammate Chenal, too—you see Sanborn scraping and offering sideline challenges and he's been able to make a modest number of plays on the ball in coverage as well. He doesn't profile as a dynamic athlete in space or as a bonafide three-down option against NFL competition, but I don't think it is unreasonable to see a path for him playing as a starter in base personnel in the league."
Taking all that into consideration, it's puzzling that Sanborn wasn't selected by anybody, and the most obvious reason could be the length of his arms, as the spider graph by mockdraftable.com indicates below.
Let's face it, a Big-10 linebacker with Sanborn's pedigree and accolades who is a tackling machine against the run should be a player most teams covet. He's not as adept in pass coverage, however, and being one-dimensional can't help when a defender has 30″ arms, because obviously, any guard with decent length will probably swallow him up. His Draft Network analysis also highlighted his strengths and weakness in the run game.
"He's really good here. I do admittedly wish that he had just a little bit more juice to claim he's a sideline-to-sideline MIKE, but he negotiates blocks well, he trusts his juice to make decisions working over or under blocks, and he's a firm and clean tackler. Sanborn has been highly productive against the run and the Wisconsin defense has put him in a position to succeed with some of their run blitzes and gap exchanges at the snap."
The obvious path to a roster spot for Sanborn is as a special teams player who earns reps at linebacker by excelling at opportunities as a tackler defending punt and kickoff returns. Once camp starts, the UDFA will fight to earn a position as a backup to Bears' star MLB Roquan Smith, competing against the likes of Caleb Johnson, Matthew Adams, Noah Dawkins, and Joe Thomas.
Adams is the only backup to strong-side starter Ledarius Mack, so there is certainly an opportunity to break camp with the team. On the weak side, the Bears still haven't listed a backup to Nicholas Morrow.
There's no quit in Sanborn's game, which should endear him to head coach Matt Eberflus and defensive coordinator Alan Williams. The linebacker was a three-year starter at Wisconsin and is also a natural leader who captained the Badgers' defense. He received high marks from the school's coaching staff for character and leadership.
A roster spot, or even an addition to the practice squad, is the stuff of dreams for collegiate stars who are bypassed in the draft. That said, the confluence of a new coaching staff and an open tryout mentality going into training camp bodes well for Sanborn. If there is one UDFA who has a real shot of making Chicago's 53-man roster, it's the Wisconsin linebacker.