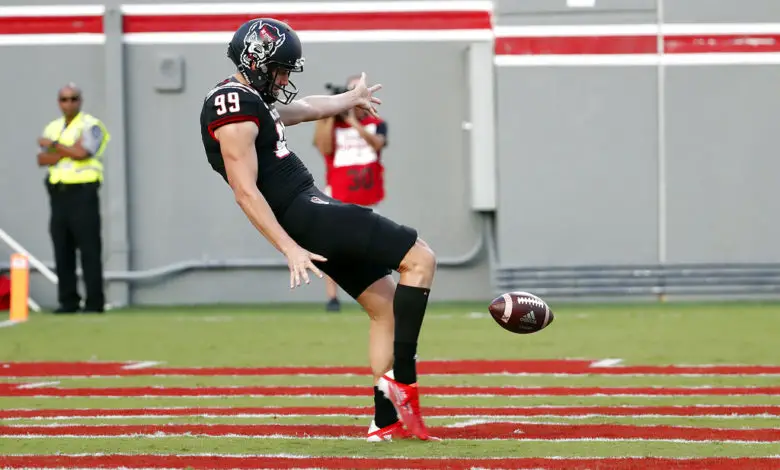 Bears Draft Profile: P Trenton Gill
It's not often you hear the phrase "this is a good draft for punters" but that was the consensus with regard to this year's draft class, as Jake Camarda (Georgia), Matt Araiza (San Diego State), and Trenton Gill (NC State) were all selected. Gill, who also kicks off and serves as a holder on field goal attempts, was chosen by the Bears in the seventh round with their 11th and final pick in the 2022 draft.
🎥 #PackPros FILM ROOM, Ep. 6: former teammates @gill_trenton & @AJCole90 #HTT pic.twitter.com/jmccKUUtXP

— NC State Football (@PackFootball) July 9, 2021
Scouting reports are hard to come by when you're researching punters. Thankfully, I was able to watch a few Wolfpack games this season and had an affinity for Gill just because I thought it was cool that a punter would choose to wear number 99. If he gets that number with the Bears, Dan Hampton will have a field day though it seems unlikely Trevis Gipson would give it up.
Here's an "analysis" from Dane Brugler of The Athletic (subscription required).
"Gill was first-team All-ACC as a senior, averaging 45.1 yards [on 66 punts]. He also was a kickoff specialist. With Pat O'Donnell off to Green Bay, Hicks [sp.] will compete with Ryan Winslow in training camp."
Yup, that's it. Such is the uninspiring life of an NFL punting prospect. Brugler even got his name wrong.
Here's what I can tell you about Gill: He's got a booming leg, needs to improve his hang time, has ice in his veins when it comes to holding for placekicks, and he seems like a genuinely righteous young man. Gill played soccer and football in high school and walked on as a freshman punter at North Carolina State. In a normal draft, he probably would have been the first and only punter selected.
Gill also attended an XFL Pro Day at N.C. State at the end of March, and he doesn't have any quirks or oddities like punting barefoot.
Statistically speaking, he was the Wolfpack's regular punter each of the past three seasons, averaging 45.8 yards on 173 punts. In 2019, he ranked third in the FBS with a school-record 47.6-yard average on 56 punts. Last year the 6-4, 220-pounder was named first-team all-ACC and received a similar award from Pro Football Focus.
He also had an "aww-shucks" demeanor after GM Ryan Poles selected him with the team's final pick. The Bears spent two days trying to find the most violent football players on earth and then topped it off with a guy who drives footballs like Cameron Champ launches golf balls, but does so with an air of humility.
"[Being drafted] was amazing," Gill said during a video call with Chicago reporters shortly after he was selected. "I got a call from Illinois. I'm like, 'Chicago is on the clock; it's probably them.' I answered it. It was head coach [Matt Eberflus]. He's like, 'Are you ready to become a Chicago Bear?' I'm like, 'For sure. I'm ready to go. Ready to work. Ready to see what happens.' But it was definitely an amazing experience. I'm still kind of in shock that it happened."
Most don't think Winslow is the obvious starter, so Gill has a legitimate shot to start the season as the Bears' punter and holder. The hangtime deficiency won't matter much at Soldier Field, but could pose some problems in domed stadiums. Outkicking your coverage portends bad things in the return game, so Chicago's special teams' coaches are going to have to help Gill with the nuances of the pro game.
That wraps up our 2022 draft profiles, with links to the rest of the Bears' selections below.