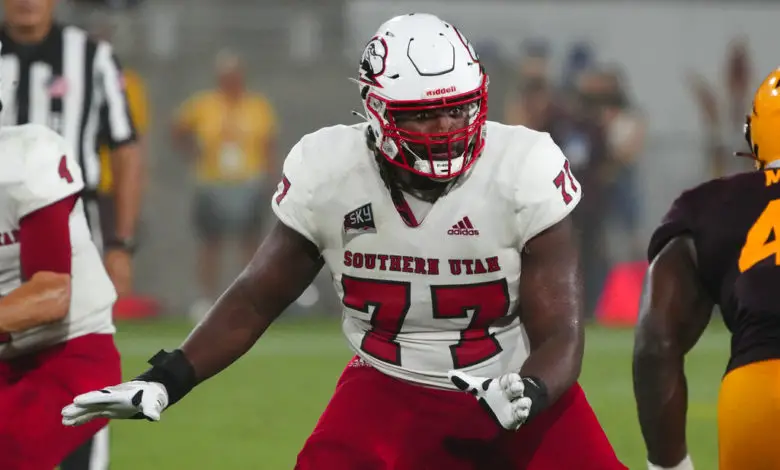 Bears Draft Profile: OT Braxton Jones
Having addressed their secondary in Round 2, and after selecting WR Velus Jones Jr. with their lone third-round pick, the Bears selected their first of three offensive linemen when they took OT Braxton Jones (Southern Utah). At first glance, Jones is a behemoth of a man, standing 6-7 and weighing in at 306 lbs. with an 84″ wingspan. That said, there's a whole lot more to his profile.
A Senior Bowl standout, it seemed almost impossible that Jones fell to the Bears at No. 168 after they traded picks 148 and 150 for four later selections. Poles transferred No. 148 to the Bills, who used that pick to take WR Khalil Shakir (Boise State), for pick Nos. 168 and 203. According to DraftTek's trade value chart, that was a pretty equitable trade with a very slight edge to Chicago, and Jones was taken with the first of the two Buffalo picks.
Jones is an agile, smooth mover with excellent fluidity in the hips who flashes the nasty demeanor and killer instinct that Poles covets. He's a solid run blocker with above-average intelligence but his height can be a detriment in short-yardage situations. High-level tackles are difficult to come by, especially at this stage of the draft, and though the young man will have to put in a lot of work, he could be a steal. His pre-draft grade was 66 and he was ranked 129 on ESPN's big board, so the Bears got a lot of value with this pick.
Here's his final draft analysis per ESPN:
Jones, a three-year starter, is a taller offensive tackle with long arms and average athletic ability. He has the frame and foot speed to develop into an effective zone blocker.
He does have upside as a pass blocker, but he's raw.
The 23-year-old senior struggled with speed to power in the 2021 Weber State game. He's frequently wide with his hand placement and latches on to the outside of defenders' pads.
He's a high-cut waist bender who lunges in the run game and at the top of his sets in pass protection.
His effort is good and he flashes good strength, but he's not a mauler.
"What I love about Braxton is how they talked about him at [his] school," said Bears area scout David Williams for the team's flagship website. "His head coach at the time, Demario Warren, and his offensive line coach highlighted his football intelligence. He was a two-time team captain [at Southern Utah]. Sitting down and talking to him, he's very relatable. He's a nice kid. He's not going to come in here thinking he's got a big ego that he's made it. He's just looking for that next step to grow. He's got those types of intangibles that we're really excited about."
The Bears must have been targeting the big tackle because Jones revealed the team contacted him on at least two occasions. Poles and Williams must have been thrilled that he was still available after Chicago traded down twice.
"I talked to the Bears at the Senior Bowl and at the NFL Combine, like everyone else does," Jones said. "But the Bears called my agent earlier this week—which was a surprise—and they asked for a private workout here in Salt Lake."
Despite his physically imposing size, Jones has average overall strength. His upper body gets over his feet too often and he easily loses his balance. I'm sure the first thing the Bears will do is get him in the weight room. Right now he's listed as the fourth right tackle on the team's depth chart behind Larry Borom, Julie'n Davenport, and another draftee, Zachary Thomas (San Diego State).
"I feel like I'm fairly ready, honestly, to definitely compete," he said. "That's my thing, [all] I do is compete all day. Obviously, there might be [a few] tweaks and some techniques that I need to fix immediately, and [add strength] as well, but that will come quickly."