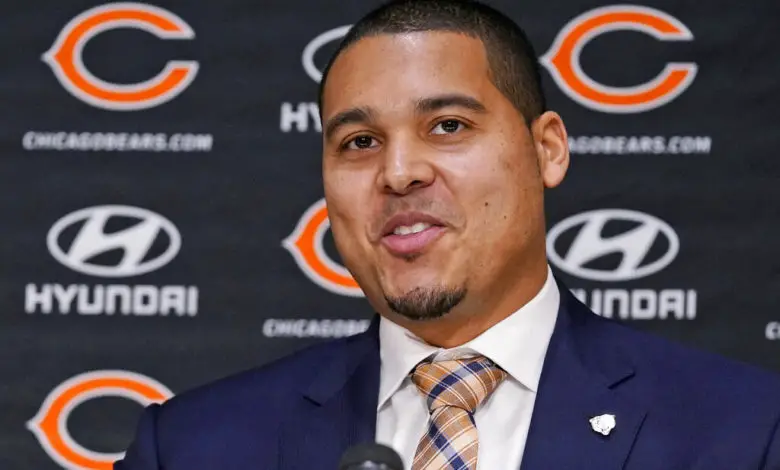 Poles' Transparency and Excitement Shows After Day Two Selections
After not having any day 1 picks, we got to see GM Ryan Poles begin his Chicago Bears draft profile with the selections of CB Kyler Gordon (Washington), strong safety Jaquan Brisker (Penn State), and WR Velus Jones Jr. (Tennessee). Poles approached the podium with transparency and excitement for his first post-draft press conference and he was even a little proud, which he punctuated with his first sentence.
"We're excited," he began. "We thought today went really well."
Poles couldn't have been happier to select Gordon, and I couldn't be happier either. I've mentioned several times during the last few weeks on my Bears Den Podcast that the defensive back was my preferred choice for the Bears at No. 39.
"When we ran those simulations, that was a guy that popped up a few times," Poles stated. "We kind of laughed it off. We just said 'just ignore him, like, just act like it's not there.' So when [he dropped to us] it was a really cool moment."
Poles continued by calling Gordon "a starting-caliber corner" and then highlighted his movement skills, toughness, reactive athleticism, and his instincts. He finally wrapped it up by calling the 22-year-old cornerback "a cool kid" while referencing ballet and his involvement in Kung Fu.
At No. 48, the Bears selected Brisker and Poles was once again surprised to find such high value at the slot and position. He immediately praised the Pittsburgh native and indicated that Brisker should open the season as the team's starting strong safety.
"When evaluating talent, one attribute we look for is an ability to make big plays in big moments, and Jaquan showed that over and over again [throughout] his career," the first-year GM noted. "Super Bowl over accolade type."
Poles attributed the selection of the strong safety to Chicago's scout team and as "someone who will always put team success before personal success."
How can you not love that?
With their only selection in Round 3, Poles chose Jones Jr., who was not a popular selection among a large majority of Chicago's fanbase. When describing the nearly-25-year-old receiver, the Bears' top personnel executive described the wide receiver and special team standout as an explosive playmaker that can help in many different areas. The USC transfer and fifth-year senior (six if you count his freshman redshirt year) was the 14th wideout selected in what is this year's strongest class of players.
"Velus, our first offensive player drafted this year, is a wide receiver out of Tennessee that was used in special teams as well as at wide receiver, the GM stated when describing the pick.
Poles called him "different" and "special." Fans should look past his age and hope he meets the very generous comparison to Deebo Samuel. Poles said "he would rather not compare him to Samuel," but did share that you can place Jones just about anywhere before listing off backfield, slot, outside, returner, and gunner. In describing the lightning-fast (4.31) pass-catcher and return specialist, Poles seemed most excited about the flexibility Jones offers the Bears and Jones' opportunity to work with Justin Fields in Luke Getsy's offense.
The question is, was Jones the right choice instead of the six wide receivers that fell between the Bears' first pick and No. 71? In draft order, and still available when Chicago made its first selection were Wan'Dale Robinson (Kentucky), John Metchie III (Alabama), Tyquan Thornton (Baylor), George Pickens (Georgia), Alec Pierce (Cincinnati), and Skyy Moore (Western Michigan). The Packers traded up (with the Vikings of all teams) to select Christian Watson (NDSU), who many believe might be Chicago's first pick.
Now that I've critiqued the picks, I'd like to talk about Poles' demeanor at the podium. For a first-year GM in the NFL's third-largest market, he has stayed true to his word, especially during Friday's presser.
He doesn't shy away from the tougher questions. When asked about receivers and what he was thinking that lead him to select Jones instead of one of the other available receivers, he didn't dance around the question.
"After the first six [were gone] you [start to] look at the values," the executive said honestly and directly. "That's when other values of [higher-rated] players were in different spots on the board, and that's what we went with.
"And listen, someone asked that question here, 'Do you look for X receiver?' You do, but he has to be in the right spot for the skills and the talent that they have, and sometimes other positions are [rated] higher because [those players] are really good at their position. And I just think it would be a huge mistake to say 'let's just ignore that really good player over there and let's go over here and take someone just because we need that right now."
In not "overcooking his board," Poles backed that up by reiterating Gordon's value and stating the defensive back can play in both the slot and on the outside.
Throughout the press conference, the young GM remained very transparent through the Q&A. When he was asked about either trading down or up he focused instead on the value of the players he did select. Poles then admitted to being upset about not having a pick in Round 4 and the unlikelihood that he could steer the Bears into that round. Chicago's next selections, barring a trade, are at Nos. 148 and 150.
He also talked about the importance of player visits and what he and his front office get from those. Poles was very forthright about what it was like to make his first picks as a GM and the emotions that came with making those selections. I personally loved listening to him share that and I trust in that transparency, which is especially noticeable when he beams about his selections. He even shared that he and Fields watched some of the tapes on Jones together. Getting his players to buy into his picks is one of Poles' best qualities and a personal favorite.
"I want to be able to communicate with my quarterback so he understands, from me, the direction we're going," Poles said of Fields.
The intelligence is definitely there. When talking about Brisker's big plays, the rookie GM was able to recall from the tapes he watched the opponent, the scenario, and the timeline. He knows the game very well, he's passionate about football, and it is incredibly refreshing to see someone that can leverage that while being interviewed by the local and national press.
I've been one of the hardest critics of Poles' decisions on the Bears Den podcast, but we couldn't have asked for a better performance last night. The newly-minted GM is magnetizing and he stays in the present., something absent from Chicago's previous regime.
We've come a long way Bears fans.