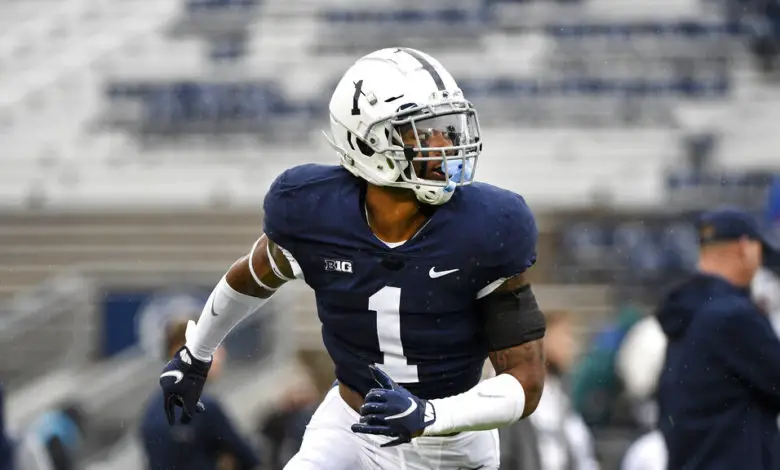 Bears Draft Profile: SS Jaquan Brisker
With their second selection of the second round, the Bears selected SS Jaquan Brisker (Penn State). Brisker is a physical, specimen, a beast, and someone I had personally rated higher than the team's first selection, CB Kyler Gordon (Washington). Brisker is a big hitter who plays the kind of violent football the Bears are looking for in this draft.
The 23-year-old senior and community college transfer (Lackawanna CC) has excellent speed, length, and power and is on The Athletic's Freaks List ($) authored by Bruce Feldman. The athletic safety has been credited with a 35'5" triple jump and a 10'7" standing broad jump. Brisker's combination of size, height, and speed is among the best in this year's draft class. The Pittsburgh native is a natural leader and was seen as a coach on the field at Penn State. His draft grade was 80 and he was ranked No. 65 on ESPN's cumulative draft board, so he may be seen as a bit of a reach by some. That said, GM Ryan Poles had his own draft board, and because this is a "best player available" choice, the Bears must think a lot more of Brisker than their NFL peers do.
Here's his final draft analysis per ESPN:
The closer to the line of scrimmage, the more successful Brisker will be in the NFL. He's at his best when reacting to the play in front of him. He plants and drives quickly, and he has a very good burst coming forward.
Brisker takes good angles to the ball and does a very good job of limiting yards after the catch. However, he struggles with route combinations, and while he has good recovery speed, his hips have some tightness, and he loses ground when forced to flip and run.
He does a good job adjusting to the ball in the air and tracks the deep ball well.
Brisker also plays the run with great instincts and tenacity. He's not at all afraid to mix it up with bigger blockers, and he does a very good job of slipping blocks and blowing up screens and outside runs.
The strong safety grades out as a possible rookie starter in the NFL. He will struggle to handle deep-third responsibilities, but he still has some scheme versatility because of his ability to play in the box, cover most tight ends one-on-one, and aggressively support the run.
He's listed as the starting strong safety on Chicago's depth chart opposite Eddie Jackson, and with the addition of Gordon to Jaylon Johnson at cornerback, Chicago's secondary looks a lot stronger than when the draft started. Poles couldn't speak highly enough of Brisker during Friday night's presser, calling him a "Super Bowl-over-accolades" type.
"Really everything that you've heard [me] and [coach] Matt [Eberflus] talk about the last few months, he has that in him," Poles said of Brisker. "And I think he's going to make our secondary better as well. The cool thing about him, one of those attributes you look for in players is, 'Can you make big plays in big moments?' And he showed that over and over in his career, so we're excited about him.
"I was looking through our scout stuff and one of the guys used the term 'Super Bowl-over-accolade' type. He's all about the team. He wants to win and he wants to be on a championship-caliber team, which again, that's what we're doing."
Brisker is a starting-caliber strong safety in Poles' opinion. A star in a very talented Penn State secondary, the senior safety earned second-team All-American honors in 2021 after making 64 tackles, 5.5 TFLs, and intercepting two passes. At 6-foot-1, 203 pounds, he has elite wheels and power. At Penn State, he timed a very fast 4.07 shuttle time and benched 360 pounds. Nittany Lions coaches expect him to run the 40 in the low 4.3s and possibly in the 4.2s as a pro.
The first-year GM recalled a moment during last year's Penn State-Wisconsin game where Brisker came up with a huge impact play. The Badgers were driving late, and had the ball in Penn State territory when Brisker came down with a fourth-quarter interception to lock down a 16-10 win.
"They're in the red zone and there was a pass," Poles said. "If they score, they're going to win and he undercuts it, picks it off."