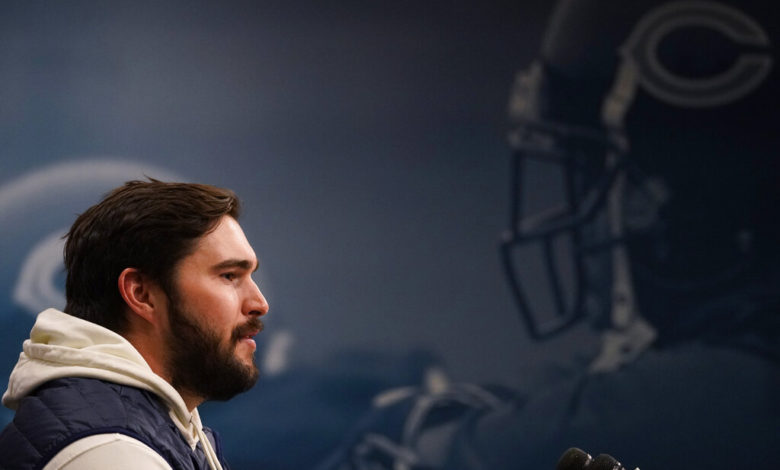 Lucas Patrick Could Be Bears' Best Acquisition So Far
The Bears signed veteran offensive lineman Lucas Patrick last week, and he'll start at center in Luke Getsy's offense. The two worked together in Green Bay, and because of his familiarity with Getsy's system, Patrick could be the Bears' best acquisition so far. The unrestricted free agent signed a two-year deal worth $8 million last Tuesday.
Patrick passed on several other offers to play for Chicago, and that bodes well for an offensive line that desperately needs a new identity and someone to protect and support Justin Fields. The second-year quarterback now has a starting center that is tough, physical, smart and a leader that will anchor the offensive line. Even better, he came to Chicago to win
"There were other offers," Patrick told Larry Mayer in a one-on-one for the team's flagship website. "There were about 10-12 teams that were interested, with [different] opportunities and different offers. But this seemed like the perfect [combination] of both. Just to come here with Luke [Getsy], the opportunity to help establish something here, not that there's not been amazing history, but the recent past hasn't been too exciting. I'm used to winning and that's what I'm bringing. We're going to win games."
According to Collen Kane of the Chicago Tribune, the Bears' new center "found himself biting his tongue on the sideline" last season hoping the Packers could contain Fields. Now that he's switched allegiances, his sole purpose is to ensure the second-year quarterback has adequate time and space to practice his craft.
Yeah, compare & contrast to the Center play we had last year.

Here's a name you can give @ShayneMarsaw @TTNLNetwork
It's @lucaspatrick62 welcome & 🐻⬇️ pic.twitter.com/lbZG07oZUG

— Bearlissimo (@Bearlissimo1) March 16, 2022
"I mean, he's got it," Patrick said. "He can sling it, he can run it, he can do everything. But what I would say from our games, specifically the game that was here [in Chicago], he's tough. He stood in there and he's tough. And he looked like he dealt with a lot this year not only coming in with that pressure he had but also physically dealing with some of the shots he took and some other things."
Some of Chicago's linemen did a poor job of protecting Fields in 2021 and failed to support the rookie when opposing defenses put the rookie on the turf. That wasn't lost on GM Ryan Poles.
"It [all] starts with the offensive line," Poles told The Athletic (subscription required). "It agitates me to see a quarterback get hit and be on the ground. I watch the five guys and their body language."
"If I see my guy on the ground, I'm running over there, getting him up, making sure he's clean, ready to go," the new GM added. "I don't know if I saw that enough in the tape that I watched, and that's critical. And also to protect your guy. If you see something cheap, something dirty, you need to set the tone that that's not gonna happen, because if you do let it happen once, it's going to happen over and over and next thing you know, your quarterback is hurt. So that [nastiness] mentality is critical and is something we need to add."
Poles also knows how important the O-Line is to the success of the team. In Super Bowl LV, the Chiefs lost 31-9, and the Buccaneers were in Kansas City's offensive backfield all game. A team with Patrick Mahomes, Travis Kelce, and Tyreek Hill couldn't score a single touchdown in the biggest game of the year, and it was all because of the poor play of their offensive line.
An undrafted free agent out of Duke in 2016, Patrick started 11 games at center for Green Bay last year, stepping in when rookie Josh Myers injured a knee in the team's first tilt against the Bears. Patrick has also played both guard positions in his five-year career and still carries a chip because no team selected him when he left college.
"It's a big chip, [especially] with my story, truly being a rookie minicamp invite tryout player and being sent home after that. So, technically all 32 teams said no. I'm coming [to Green Bay] and this is a team that said, 'yes, we want you,' which is an amazing feeling. And I think that opens even more doors of playing harder and showing more than the chip on your shoulder."
Playing harder and with an unforgiving attitude is just what the doctor ordered for head coach Matt Eberfflus, who is looking for high-effort, attacking, and physical players. Patrick describes himself as "physical, tough, smart, and disciplined," all hallmarks of the type of roster Poles and Eberflus are trying to constrict. Packers quarterback Aaron Rodgers is a big fan of the 28-year-old center.
"[I] love the kid," Rodgers said of Patrick earlier this year. "I tell him every single time he's out there that I love going to battle with him because he's the kind of a guy you know is going to have your back and you know is going to be in the right position at all times and doing exactly what he's supposed to be doing — and battle and scrap and claw and fight as hard as he can.
"There's not a specific value you can put on that because the role that he plays can be priceless at times."
If the Bears are going to contend in 2022 and beyond, the strength of their offensive line is going to carry them. Patrick will displace current starting center Sam Mustipher, who was one of the lowest-graded offensive linemen in the NFL. Only Trey Hopkins (51.4) of the Bengals, Josh Jones (46.7) of the Cardinals, and Calvin Throckmorton (43.4) of the Saints graded lower than Mustipher (51.8) among qualified starters per Pro Football Focus.
In that respect, Patrick is the type of offensive lineman the newly-minted GM spoke about at his introductory presser.
"We're going to [take] a relentless approach to fix our weaknesses," Poles said. "We're going to maintain great self-awareness of who we are. We're going to solve problems with open communication and candor. And we're going to consistently put players in a position to succeed. And the last thing—the most important piece—is we're going to take the [NFC] North and never give it back."