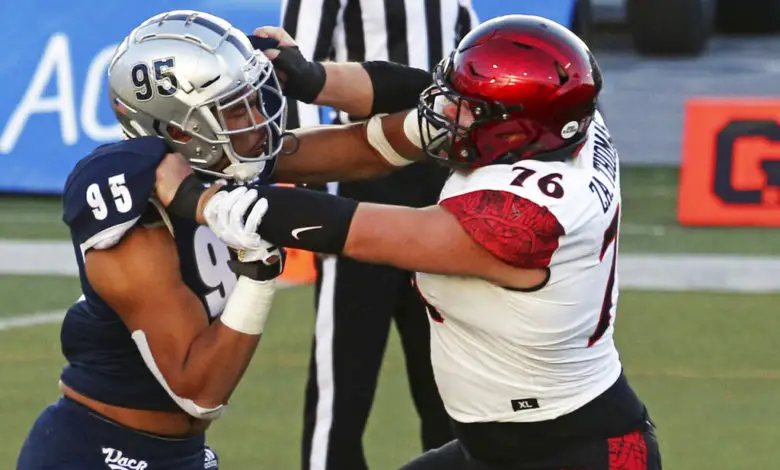 Bears Draft Profile: OT Zachary Thomas
Through the first five rounds of the 2022 NFL Draft, GM Ryan Poles exhibited a knack for finding players that fit Chicago's offensive and defensive schemes while combining freaky athleticism with good-to-great playmaking capability. With the Bears' first selection of the 6th round, Poles may have reached just a little bit to snag OT Zachary Thomas (San Diego State).
The Bears selected Thomas at No. 186 overall, he had a pre-draft grade of 50, and was ranked No. 224 on ESPN's draft board. Some analysts believed Thomas might end up undrafted because he's not physically imposing and has average overall strength. The best thing about Thomas is his versatility. At San Diego State, he played 17 games at right tackle and 14 times on the left side. He was also an emergency starter at right guard twice.
Here's his draft synposis via The Draft Network:
Thomas is a sufficient-level athlete with regards to body control and agility.
In the run game, he doesn't generate vertical movement and is more of a positional blocker, though he does show good temperament and finish.
In the passing game, Thomas has been good for the college level of football. He plays with good football IQ and is a sufficient reactor to twists inside.
The 6-5 303 lb. senior appears to have sufficient arm length and could become more consistent with his hand placement, and he has sufficient power in his punch and latch strength in his hands.
In the NFL, he is ideally suited on the interior but has the ability to get you out of a game at one of the tackle positions. He could afford to add more mass to his frame and will be valuable to a team largely due to his football instincts and ability to play multiple roles.
Offensive linemen that were ranked higher at the time Thomas was selected included G Jamaree Salyer (Georgia), G Cade Mays (Tennessee), and G Lecitus Smith (Virginia Tech). Salyer actually had a Round 3/4 grade. Taylor is penciled in at RT3/RT4 on Chicago's depth chart, behind veterans Larry Borom and Mario Edwards, Jr. and will compete with Braxton Jones for game day reps.
Here's what Lance Zierlein of NFL.com wrote about Thomas:
"Tackle-to-guard prospect with run-blocking talent to work with, Thomas is a fit for zone-scheme teams as a sticky move blocker with the ability to shift and stay connected while continuing to keep his feet moving. He lacks the desired mass and power to generate much downhill push, but improved hand placement could help. His play strength, in general, needs an upgrade, as does his protection posture, to prevent defenders from exploiting certain flaws. Thomas has late-round potential and could find a place on an NFL roster as a guard with emergency tackle flexibility."
Compared to fifth-round pick Jones, one Bears scout thought Thomas was "a little bit more physical" in the run game, and a "little bit more dense," in his lower body.  The rookie lineman is also one of the game's cleanest players. His stated goal was to play the entire 2021 season without drawing a single flag. Thomas didn't accomplish that but came pretty close. Over 1,444 snaps in 2020 and 2021 combined, Thomas was only penalized three times.
Also in our draft profiles series: