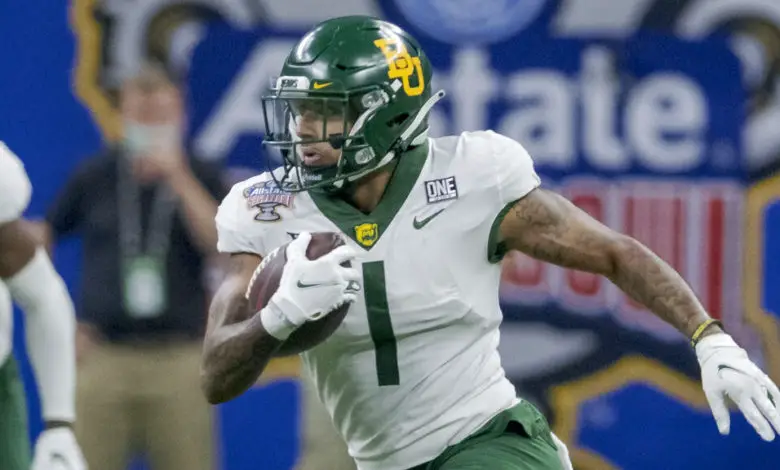 Bears Draft Profile: RB Trestan Ebner
When Ryan Poles selected running back Trestan Ebner (Baylor) I was slightly puzzled because I thought the Bears might go with a WR, such as Bo Melton (Rutgers) or Kevin Austin Jr. (Notre Dame). Running back is such a specialized position in the pass-happy NFL, and Ebner is a great pass-catcher by all accounts, so the pick, though slightly aggressive, makes a lot more sense. Ebner is 23, and the Bears had one of the older draft classes this year.
David Montgomery is the incumbent but he's entering the final year of his rookie contract and so far, Chicago's front office has not approached the fourth-year veteran with an extension offer. Khalil Herbert is a more than capable backup and may be better suited for Luke Getsy's offense anyway. Ebner offers another dimension to the position. That said, I couldn't find him on any 262-player draft boards. His pre-draft grade was 34, which is undisputedly UDFA territory, and he was ranked No. 334 on ESPN's board. There were 262 total picks in this year's draft.
Here's how The Draft Network profiled Ebner heading into this year's event:
Ebner is a senior running back that hails from the state of Texas. Since [his] arrival on campus in 2017, he has been a contributor offensively for [Baylor].
Throughout his career, Ebner has served as the change-of-pace back, providing good value out of the backfield on passing downs.
The 2021 season was Ebner's most productive season as a runner, and he finished the season with just under 800 yards rushing.
Ebner is a quick-twitch back that can make defenders miss in space. He has the lateral agility to jump-cut in and out of holes and is a wildcard in which hole he will decide to burst through.
While Ebner has an electric factor, he is a feast-or-famine runner. For everything good Ebner could bring you, he will occasionally have a lapse in judgment and brings on a significantly negative play—whether that's loss of yardage or fumbling the football.
In the NFL, Ebner's best opportunity to get on the field will be as a third-down back.
Poles indicated that taking a wide receiver in the second round might have been a disaster considering Kyler Gordon and Jaquan Brisker were available when the Bears made their selections.
"It really comes down to the preparation," Poles said. "It comes down to the board and where guys are valued. And where we sat, there were two good starting-level defensive players, and I would have made a huge mistake for this organization to say, 'let's leave them there, let someone else take them, and we're going to go offense where they're not on the same level.'
"And then you're kicking yourself a year or two later when that guy's an All-Pro. But, yeah, I just did what I needed at the time, so again it comes back to discipline and doing things the right way, and I felt like that's going to be a decision that we're all happy with."
There were slim pickings on Saturday as only 11 of the 158 total picks were wide receivers. Instead, Poles chose to take advantage of a deep class of running backs by taking Ebner. He's viewed as a capable threat out of the backfield and a core special-teamer.
Ebner will most likely supplant Darrynton Evans on the depth chart, but with the Bears carrying fullback Khari Blasingame, his best hope of earning a roster spot will be if he stands out on special teams in camp and during the preseason schedule.
"I think that's his calling card and his best value, honestly," area scout Brett Ackley told Adam Jahns of The Athletic ($). "In high school, he played a little bit of receiver, played some quarterback, kind of moved around, but that's the first thing that stands out when you watch him. The guy runs routes like a receiver, he catches the ball naturally. It showed up consistently on film and at his pro day, and that's really, I think, what makes him dynamic and a special weapon. He gives you that added edge at receiver."
Bears Insider's previous draft profiles: