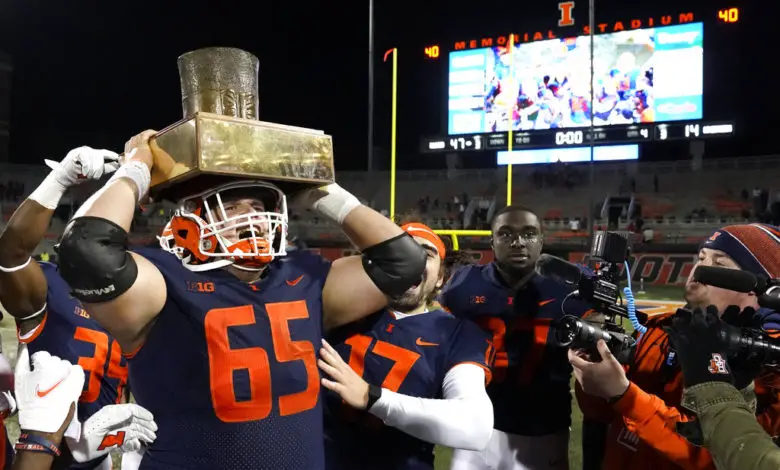 Bears Draft Profile: C Doug Kramer
Chicago continued to address their offensive line in the 2022 NFL Draft by selecting C Doug Kramer (Illinois) who is also a die-hard Bears fan. Kramer profiles as a backup at best, at least initially, as the short but stocky lineman has limited experience. Like fellow draftees WR Velus Jones Jr. and EDGE Dominique Robinson, the rookie center is old for this year's draft class. He'll be 24 when the Bears report to camp in July.
This pick looks like another reach by GM Ryan Poles, but time will tell. It will be fun to root for the hometown product, but Kramer had a draft score of 43 and was ranked No. 275 on ESPN's big board. The Bears selected the Hinsdale, Illinois native in the 6th round with the No. 207 pick.
Here's his final draft analysis courtesy of ESPN:
Kramer is quick, he has a low center of gravity and takes good angles on zone runs.
He blocks to the echo of the whistle, but lacks the playing strength to consistently sustain in a phone booth.
Kramer flashes a strong punch and digs in during pass protection. He leans and falls off blocks, but doesn't have a great change of direction.
The rookie played center at Illinois but is small for the position at 6'2" and 305 lbs. The Bears believe he can overcome that with his technique and work ethic.
"Not the tallest, not the biggest, but maybe when the ball is snapped he may be the best upfront," said Bears scout Jeff Shiver. "He stays so low. He keeps good leverage. Ya know? And he can work low really well. If he was the typical high blocker, I would say, 'Man, this guy's going to have trouble.' But he stays so low, and he's just so steady."
One of the team's biggest needs heading into the draft was the offensive line, and though Poles didn't add to that room on Day Two, he made four selections on Day Three after a flurry of trades netted eight new picks. In describing those selections, the rookie GM kind of lumped the entire group of the "big uglies" together.
"We added competition," Poles said. "The makeup of those guys also helps that as well. So it's all in an effort to get better, not only to improve the skill set upfront but also just making the entire group function at a higher rate."
Kramer will have to be the gamer that Poles and offensive line coach Chris Morgan believes he is because the rookie center will enter camp as the primary backup to the recently signed Lucas Patrick. That puts veteran Sam Mustipher, who graded out as one of the worst linemen in the league last year, at No. 3 on the depth chart. Head coach Matt Eberflus was putting his linemen into different positions at minicamp, so maybe the coaching staff thinks Mustipher is a better fit at right guard. Even after the draft, the Bears do not have an NFL-caliber player at that position. Dakota Dozier and Willie Wright are penciled in at starter and backup, respectively.
The addition of Patrick, who is arguably Chicago's best free-agent signing of the offseason, should elevate the play of the other offensive linemen, rookies included. The Bears couldn't have picked a better mentor for Kramer.
Kramer does possess one trait that likely enamored him to the front office and coaching staff, and that's his nasty demeanor. The Bears want to be a more violent football team, and Kramer has been lauded for his ability to close off bubble screens and completely level linebackers. That tenacity comes with supreme intelligence, too. Almost every scouting report on Kramer praises his coachability, leadership traits, and positive attitude.
You can find profiles of Chicago's other draft picks at Bears Insider, and eventually, I'll cover them all.