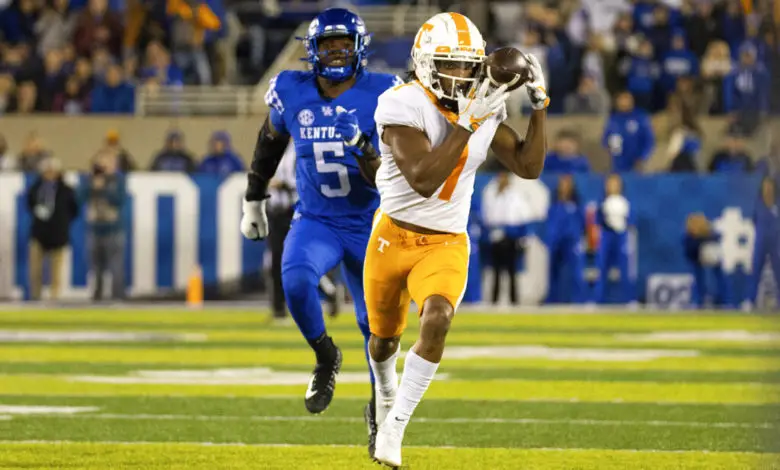 Bears Draft Profile: WR Velus Jones Jr.
The Bears finally took a wide receiver in the third round of this year's NFL Draft with selection No. 71, and though most Bears fans were less than enamored with Velus Jones Jr. (Tennessee), GM Ryan Poles was very excited about Chicago's newest addition to the team's receiver room. Though he was the 14th wide receiver selected in a very deep draft for the position, Jones wowed the Bears scouts at this year's Scouting Combine in Indianapolis.
Some, including me, argued that wide receiver was Chicago's biggest need entering this draft, so at first glance, the choice felt somewhat disappointing.
The nearly-25-year-old fifth-year senior is a special team star who will remind Bears fans a great deal of Cordarrelle Patterson or a taller version of Mighty Mouse Jakeem Grant, Sr. The best part of this selection is that Poles and second-year quarterback Justin Fields spent time together watching films of Jones. As a kick and punt returner, the rookie WR is elite and will likely make an early impact. That said, he is somewhat limited as a pass-catcher and offers little more than working as an occasional deep threat and as a speed threat in the screen game. His pre-draft grade was 70, and he was ranked at No. 105 on ESPN's big board.
Here's his final draft analysis per ESPN:
Jones is an instinctive open-field runner with good contact balance after the catch and in the return game.
He tracks the ball well, and he's fast enough to make the occasional catch downfield.
The [over-aged senior] is not a finished product as a route runner, but he has some upside in that area. He's at his best working out of the slot.
Before the draft, new head coach Matt Eberflus emphasized that the Bears were looking for impact players that could provide game-changing plays. Jones is a natural speed fit, though it's doubtful he'll start ahead of Darnell Mooney and Byron Pringle because he's not a very accomplished blocker. Mooney, you might remember, was a 5th-round pick, and Pringle was an undrafted free agent.
"You want explosive, athletic ability there that can produce chunk plays," Eberflus said at the combine. "So if you throw a screen, you want a guy that can take it and go for 15 [yards] or all the way. The controlled passing game is just that, but the athletes are the guys that make you miss. … So you have guys that are quick, explosive, and strong.
"They have to be strong at the point of attack to be able to block. We're gonna put a big onus on the running game. They have to be able to do that. Then you have to have different traits at different positions. One guy might be quick and he's really a short-route runner. Another guy can do it all. That would be our No. 1 receiver. Should be able to do that. And the other guy should be able to take the top off the defense. That puts stress on the defense."
Poles understands that fans might not have loved this pick, and said so at his Friday night press conference. He wants Bears fans to look beyond the obvious things like age and limited reps and focus instead on Jones' playmaking ability.
"I was looking for those guys that are explosive and they're playmakers and they can help in many different areas," Poles said, "and that's what this kid is, and when you get a chance to meet him, you'll understand that he's different.
"He's special. There's something about him … there is just an aura about him. Not only can he help our offense, [but he can also] help in many different ways. I'm not going to compare him to Deebo Samuel, but he has that flexibility where you can put him anywhere: Backfield. Slot. Outside. And then he's a returner, he's a gunner. There are so many different things that he can do. And then, always adding that element of speed is important because as a defense, you have to think, 'where is he?' You have to find out where he is and then all of a sudden that opens up other things for other people. So, he's going to be a good player."
Velus Jones Jr. is a very good weapon with the ball in his hands.

He's an explosive athlete, but he also has very good contact balance and creativity in the open field. #Bears pic.twitter.com/CsXn6ODfji

— Jacob Infante (@jacobinfante24) April 30, 2022
That Jones is old for this draft didn't bother Poles in the least.
"Sure, I wish he was 19 years old, but you can't have everything," Poles said.
The speedy receiver's ability to do so many things gives offensive coordinator Luke Getsy a lot of options. Putting Jones in the backfield where he will go head-to-head against an opposing linebacker on occasion will give Getsy the kind of mismatch that worked so well for him when he coached for the Packers.
His speed is what separates him. The 4.31 he ran in the 40-yard dash shows up on the field.
"I mean, he just runs by guys," Bears national scout Sam Summerville told Adam Jahns of The Athletic ($). "And every time he gets the ball in his hands, you can see him outrunning angles. And, you know, he's a really exciting guy to watch because of that."