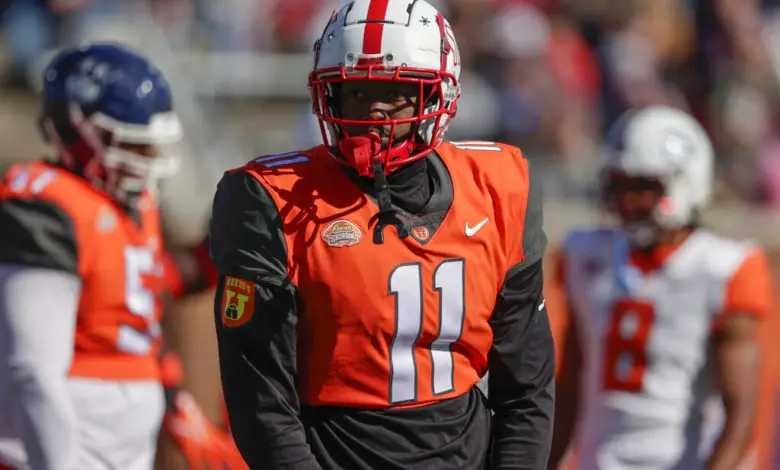 Bears Draft Profile: EDGE Dominique Robinson
If you're looking at common denominators among most of the Bears' 2022 draft picks, two quickly jump out at you: freak athleticism, and strong showings at this year's Reese's Senior Bowl. EDGE Dominique Robinson (Miami Ohio) checks both boxes. Like WR Velus Jones Jr., Robinson is one of the older draft-eligible players on this year's board.
Robinson, who will turn 24 just as the Bears start training camp in July, made The Athletic's Bruce Feldman's Freak's List for 2021. Per Feldman, "He's grown to over 6-4, 256 pounds, has an 82.5-inch wingspan, bench presses 350; vertical jumped 34 inches and clocked a 4.62 40. His 4.31 pro agility time also is excellent."
Robinson's pre-draft score was 58, and he was ranked No. 179 on ESPN's big board, though most analysts saw the EDGE/OLB as a potential top 100 pick. He may represent GM Ryan Poles' biggest draft day steal, and he's definitely the team's best Day Three selection.
Here's his final draft analysis from ESPN.
Robinson played wide receiver in 2019 before moving to defensive end in 2020, and he had 4.5 sacks last season.
He shoots his hands and flashes the ability to stack blockers. He gets stuck on some blocks and gets moved out of his gap at times.
Robinson has good range and chases with good effort.
The hybrid defensive player has the burst, bend, and change of direction to develop into a disruptive edge rusher. He is a developmental defender who flashes on tape thanks to his traits.
Robinson is raw and has had to gain quite a bit of weight after converting from WR. Originally recruited by the Red Hawks as a quarterback, the Canton, OH native will benefit from being a pass-catcher when he has to drop into pass coverage. He had two sacks and 2.5 tackles for loss in three games played during Miami's COVID-19-shortened 2020 season and decided to utilize the extra year of eligibility to return to Miami for his fifth season. Poles indicated that this draft had a ton of depth because so many players took advantage of that extra year.
In 2021, Robinson had 28 tackles, 8.5 tackles for loss, and 4.5 sacks and was named third-team All-Mid-American Conference.
The rookie will enter camp as Chicago's third-string right defensive end behind Robert Quinn and Mario Edwards Jr. He's still getting his feet wet on the defensive side of the ball, and has a long way to go in improving his technical ability off the edge. That said, as a third-down pass-rush specialist who will eat snaps as a depth developmental project, Poles couldn't have done much better this late in the draft.
His agility, length, and raw athleticism appealed to Chicago's front office and coaching staff, and Robinson seems like the kind of project that will endear him to head coach Matt Eberflus. He was a rotational player at Miami once he converted to defense, yet still managed to showcase his talents with a number of eye-popping plays that made scouts recognize his true potential. The skillset and freaky athleticism make Robinson well worth the gamble despite his age and lack of experience.
Here are our previous draft profiles if you've yet to read them: