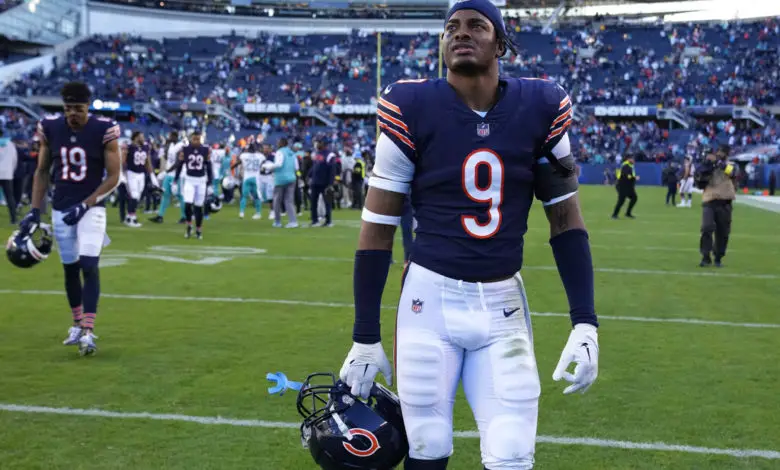 Re-Grading Chicago's 2022 Draft
Now that the season has ended, it's time to take a look back at the new regime's first draft class. The front office did very well at the top end but struggled with some of the lower picks. That said, three rookies were recognized as the best among their peers at their positions. That gives Chicago a foundation to build upon next year.
Gordon had an up-and-down year but did improve as the season progressed. A lot of fans thought GM Ryan Poles should have selected a wide receiver, and he passed on Robinson, Metchie, Tyquan Thorton, George Pickens, Alec Pierce, and Skyy Moore. You could make a good argument that Pickens would have been the better pick.
Gordon had his breakout game in a 27-24 loss to the Falcons and then intercepted Jalen Hurts and Josh Allen in successive weeks. He finished the season with six passes defended. McCreary started 17 games but ended the season with one takeaway. He has 70 tackles, including two TFLs. Booth played six games, started one, and finished with 12 solo tackles. Gordon played 14 games with three picks, a forced fumble, and he also recovered a fumble. He finished with 71 tackles, including two TFLs.
Perhaps Poles ignored other positions, but he ended up with the best cornerback of the second round. Pickens is a bona fide WR2, but the Bears already have a slew of No. 2 types in Darnell Mooney, Equanimeous St. Brown, N'Keal Harry, and Chase Claypool. You may not like Gordon over Pickens, but Poles did fill a need and he deserves a B+ for the pick.
Holy Jaquan Brisker! The rookie with a really damn impressive one-handed INT. He can play, Folks. #Bears #NFL pic.twitter.com/BJiVEjBKs1

— Zack Pearson (@Zack_Pearson) October 25, 2022
If Poles made a mistake in selecting Gordon over Pickens, and that's debatable, he certainly made the right choice when he selected Brisker. The rookie safety is Chicago's hardest-hitting defender and was recently named to the Pro Football Focus All-Rookie Team. Here's what they said about the rookie safety:
"Brisker always seemed to be around the ball for Chicago as a rookie. He finished his first season with 28 defensive stops, the 10th-most of any safety in the league. And he did it all from a number of alignments, with 371 snaps coming from the slot, 150 along the line of scrimmage, 289 deep, and 100 from the slot."
The rookie also led the team in quarterback sacks with four, though that's a damning reflection of Chicago's defensive line and linebacking corps. Brisker finished the season with 104 tackles, four quarterback hits, five TFLs, one forced fumble, and one recovery. Pitre had more tackles and takeaways, but Brisker grades higher because of the sacks.
No draft pick was scrutinized more than Jones on draft day, and nothing's changed since. I liked Lucas and Woods more than Jones and Ridder would have made a heck of a backup to Justin Fields. Jones entered his rookie season as a very unpolished 25-year-old with one great season of NCAA football. He also ran a 4.31 in the 40-yard dash and was an extremely talented punt and kickoff returner.
The growing pains were obvious and Jones really struggled until the final few weeks of the season. Still, he oozes athleticism and leaves the Bears something to work with next year. He didn't see the field that much this year yet still accounted for 835 all-purpose yards with two scores. He turned the ball over three times, and always at the most inopportune time. That's alarming, but can be fixed. That said, Lucas would have been a much better and safer selection.
Loved the blocking on Khalil Herbert's screen touchdown.

Equanimeous St. Brown sealed off the DB perfectly, and Braxton Jones absolutely destroyed Jalen Mills in space. Kudos obviously goes to Justin Fields for the tough throw, too. #Bears pic.twitter.com/uPFvOmF0Cd

— Jacob Infante (@jacobinfante24) October 25, 2022
The Bears got a starting left tackle with a legitimate path toward stardom with the 25th pick of the fifth round. That's all you need to give Poles an A+ for selecting Jones out of Southern Utah. The rookie tackle was the steal of the fifth round if not the entire draft and was also named to PFF's All-Rookie Team.
"One of the steals of the draft class so far. The Bears' fifth-rounder did enough to put himself as their undisputed long-term starter at left tackle. He finished with a 79.4 run-blocking grade and a 70.5 pass-blocking grade on the season."
Jones was on the field for 1,033 snaps and drew just 12 penalties. He did allow seven sacks but that's hardly a sin for a rookie, especially with a quarterback who still holds the ball a little too long. He was Chicago's second-best offensive lineman behind Teven Jenkins, but the margin was razor-thin. Jones is still growing into the position, but he's going to be an absolute beast on the OL.
Robinson was put into an unenviable position when Poles traded Robert Quinn and Roquan Smith. The rookie became a starter on a patchwork defensive line that was the league's worst. The Bears finished the season with just 20 sacks, and Robinson had 1.5 of that total. The bad news is that he recorded those sacks in the season-opening win over the 49ers, and did not register a single QB hit after that game. Engbare had a better season statistically.
Robinson is not guaranteed to make the 2023 roster. Poles has his work cut out for him at several positions, but the defensive line needs a complete overhaul. Justin Jones could be the only starter to return next season.
Thomas didn't make the team and then signed with the Rams practice squad. He was flexed for one game. If Poles could have this pick back I'm sure he would have chosen Rodriguez, who has star potential, or Nailor, who is at least serviceable.
Ebner was picked for his specific skill sets, mainly his burst and his ability to catch the football. But he averaged 2.3 yards per carry and caught two of six targets for eight yards, even though David Montgomery and Khalil Herbert missed time with injuries. Head coach Matt Eberflus and offensive coordinator Luke Getsy seemed more comfortable with Darrynton Evans.
Nobody knows if Montgomery will return but it seems unlikely. That said, Poles may try to find a backup to Herbert in the draft or free agency. Ebner could be an asset on special teams, but he won't get a chance to showcase his skills.
Kramer went on Injured Reserve after the team reduced its roster to 53 players and missed the entire season. He'll get a look during Chicago's OTAs and when the team starts training camp in July.
In retrospect, it's clear that Poles isn't the master of the later rounds that his predecessor Ryan Pace was. That's significant because Poles' 2023 draft is a little backend-heavy again. The Bears had little depth at offensive line when the 2022 Draft started, and this feels a lot more like a quality over quantity pick. In the first-year GM's defense, last year's draft class was pretty weak after Round 4. Carter certainly doesn't feel like the best-available choice.
Hicks is an exceptional seventh-round choice. Not only was he extremely excited to play for the Bears, but the Cal product proved to be one of Chicago's best special teams players. Hicks also recovered a fumble while playing safety. He's not a lock to make the 2023 squad, but Hicks proved he deserves every opportunity to do so.
Would Gill have been available as an undrafted free agent after the draft? Probably. That said, Gill would have made the All-Rookie Team if PFF included special teams players. Gill is going to be with the Bears for a long time and improved as the season wore on. But he was solid all season nonetheless. Only two punters in the history of the franchise have finished with a net average above 40 yards, and Gill just missed at 39.6. That ranks him third behind Pat O'Donnell and Adam Podlesh.
Gill does need to work on his skills as a holder for Cairo Santos. The veteran kicker had his worst season as a Bear, and though that's certainly not Gill's fault, he shouldn't be excepted, either.
I think the Bears found a gem in Jack Sanborn (#57).

Starts shifting before the TE even goes in motion, reacts to the play LIGHTNING fast, avoids the blocker and gets to Aaron Jones.

Heck of a play from the undrafted LB. pic.twitter.com/4Jqcwt9Opi

— Tyler Brooke (@TylerDBrooke) December 5, 2022
Poles boosted the value of his rookie class by signing Sanborn as a UDFA. He had his breakout game in Chicago's first loss to Detroit and played admirably after Smith was traded to the Ravens, In fact, Pro Football Focus named Sanborn to its All-Rookie Team.
"Sanborn was a revelation in his albeit brief stint as the starting linebacker for the Bears. In six games as a starter, he racked up 24 defensive stops. Extrapolate that to a full 17-game season, and it would have ranked second in the league. That's quite the start of a career."
The rookie linebacker finished the season on Injured Reserve but he'll be a big part of Chicago's rebuilt front seven in 2023.