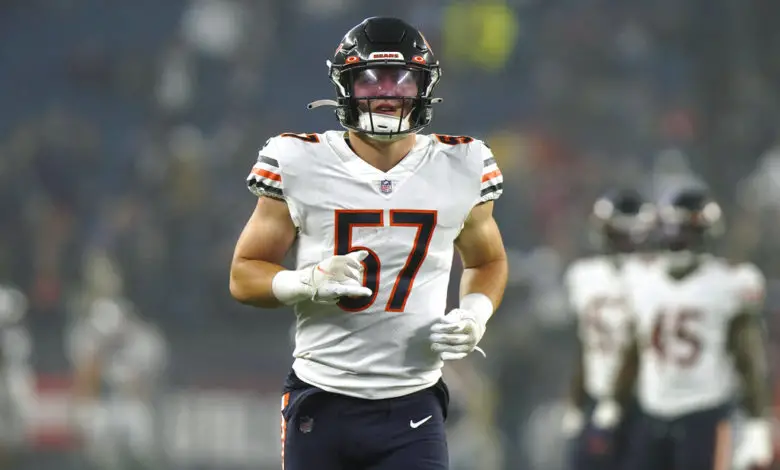 Bears Linebacker Jack Sanborn Has Breakout Game Against Detroit
The Bears lost a heartbreaker to the Lions on Sunday, in a game that proved Justin Fields can't do it all by himself. The defense was atrocious and rarely pressured Detroit quarterback Jared Goff, who at times looked like the second coming of Josh Allen. One Bears defender had a great game, however, and that was Jack Sanborn.
The rookie linebacker had two sacks and led the team with 12 tackles. He also had a huge interception that was nullified by a penalty on Jaylon Johnson.
Penalty shmenalty… it's Jack Sanborn. pic.twitter.com/HDK0PQW3Ol

— Bearlissimo (@Bearlissimo1) November 13, 2022
Sanborn is from Lake Zurich and played collegiate ball at Wisconsin. He was projected as a Day 3 pick in this year's draft but nobody selected him. He signed with the Bears as a UDFA and quickly became a fan favorite. Sanborn was Chicago's best player in their first preseason game, a 19-14 win over the Chiefs. He had an interception and a fumble recovery in the victory.
By all rights, Sanborn should have been drafted. He had a pre-draft score of 51 and was ranked No. 216 on ESPN's draft board, making him a legitimate sixth or seventh-round option. Nobody called his name, and signing with the Bears was a no-brainer. Sanborn has been a fan his whole life.
When the Bears traded Roquan Smith to the Vikings on November 1, Sanborn was immediately elevated to starter. The rookie linebacker has 19 tackles in the two games since Smith was dealt. That's a 17-game pace of 163 tackles, which would match Smith's best season (2021). The trade looks like a big win for GM Ryan Poles, at least so far. The rookie GM netted a second and fifth-round pick for the soon-to-be-free-agent Smith. Poles was able to then use his own second-round pick to acquire WR Chase Claypool.
Sanborn said last week that he was prepared for his "holy shit" moment," and was one of Chicago's better defensive players against Miami. Asked for a bright spot on defense in the Bears' 35-32 loss to the Dolphins last week, defensive coordinator Alan Williams named the rookie linebacker.
"Didn't have errors," Williams said. "Tackled well. You come out of that game going, 'OK, [that was a] step forward. Now let's take one more step forward.'"
Remember when nobody drafted Jack Sanborn?#Badgers pic.twitter.com/ISEOPzNNpy

— Evan Flood (@Evan_Flood) November 13, 2022
Sanborn led the defense once again in the loss to the Lions. The rookie was all over the field and showed much better lateral movement than he did last week against the Dolphins. He was also the only Bears defender to sack Goff on Sunday. Sanborn was Chicago's lone bright spot on defense for the second straight week. It's tough to brag when your team surrenders 66 points in back-to-back games, however.
"Football player," Williams said last week. "The No. 1 job of a linebacker is to find the ball, and hit the ball. And he did that. That's a trait he [has]— fast trigger. He sees it well and goes and gets it."
The Bears head to Atlanta to play the Falcons in one week. The Falcons are 4-6 and using the last few Sundays as a template, Marcus Mariota should be expected to have a big game against Chicago. The game has all the earmarks of another shootout. If Sanborn can continue to play at the same level, he will have solved a need for next season and beyond.