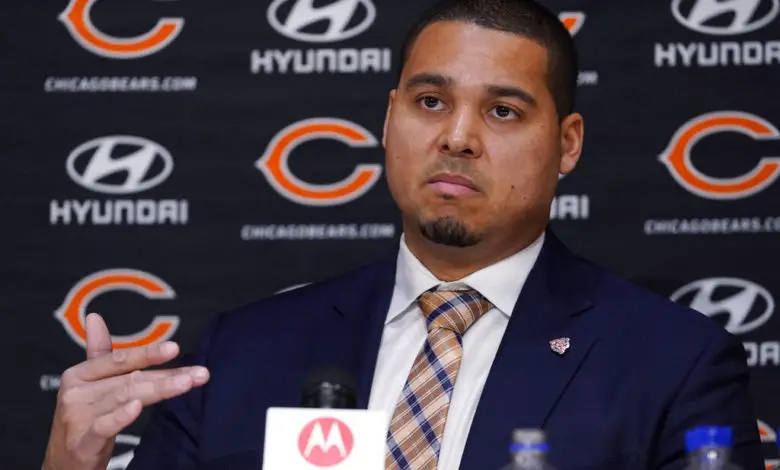 Ryan Poles Quickly Putting His Stamp on Bears Roster
The 2021 Chicago Bears and everything Ryan Pace built during his tenure are quickly becoming a memory. Newly-minted GM Ryan Poles is conducting a teardown the likes of which most Bears fans have yet to witness. The dismantling started when he dismissed most of the former regime's coaching staff, and has continued through the start of free agency.
The biggest names to find new life in distant NFL cities are Khalil Mack and Allen Robinson. Both will be playing on the West Coast in 2022, Mack with the Chargers, and Robinson with the Rams. The wide receiver inked a three-year deal with Los Angeles earlier Thursday. Poles also cut Tarik Cohen and Danny Trevathan, two mainstays during the Pace era. Jakeem Grant Sr., Eddie Goldman, Akiem Hicks, and James Daniels are gone, too.
Only 3 Bears remain from the program cover of their playoff game against the Eagles:
Eddie Jackson
Roquan Smith
Cody Whitehair pic.twitter.com/I6un0ZJ9y9

— Kevin Fishbain (@kfishbain) March 16, 2022
New arrivals include DT Larry Ogunjobi, OL Lucas Patrick, LB Nicholas Morrow, and recent wide receiver signings Equanimeous St. Brown and Byron Pringle. The team's remaining core consists of Justin Fields, Darnell Mooney, Jaylon Johnson, Roquan Smith, Robert Quinn, and David Montgomery. It's not a given Quinn and Montgomery will be Bears once training camp starts in August as Poles continues to get leaner and meaner on both sides of the football while weaponizing Fields with players that best fit Luke Getsy's offense.
Eddie Jackson, who has underperformed for the better part of two seasons, could be a trade candidate as well.
Poles already picked up two draft picks in the Mack trade, the No. 48 overall this year and a sixth-round next year, and based on his moves in free agency, it's expected the executive intends to do most of the heavy lifting during the draft. With two second-round picks this year, Chicago also has the luxury of trading down to accumulate more picks, a change of pace from, er, Pace, who usually surrendered picks to move up. That worked well when he acquired Fields but hasn't returned better results overall, though the jury is still out on last year's second-round pick Teven Jenkins. The left tackle missed most of last season due to injuries though it appears Poles his high on him and guard Larry Borom.
Some of the decisions the Bears' front office has made have been less than popular with the fans who have grown accustomed to the stars and scrubs approach employed by Pace. When one becomes conditioned to not expect much in the way of wins, it's nice to have favorites to stomach loss after loss. At least Poles knows the goal is to win championships and not the PR game. That type of shock therapy takes some getting used to for the casual fan.
At 36-years old, Poles is one of the youngest GMs in the league, but that doesn't equate to inexperience. He's certainly learning a lot while on the job, but if you want to know just how quick a learner the executive is, go back to his introductory press conference and compare that to the way he interacts with the media today. He seems more like a savvy front office veteran than a rookie GM.
GM Ryan Poles on Lucas Patrick:
Thank you to @NFLAgents_net! pic.twitter.com/xeowrNLpY7

— Bears Communications (@BearsPR) March 16, 2022
We can't grade his free-agent acquisitions until players take the field, but Poles has shown a low-risk high-reward approach to building his roster. With that in mind, don't expect the GM to reach for players in the draft, especially considering he has no first-round pick this year. What's more impressive is that Poles has barely put a dent in his 2023 salary cap riches that should be upwards of $100 million dollars. He has a plan, and it looks like he intends to stick to it.  Knowing his team needs a feature wide receiver, help on the offensive line, a piece or two for the defensive backfield, and possibly another linebacker, expect Poles to attack those holes with the highest rated players at each position with each of Chicago's picks.
Making unpopular decisions also shows that Poles has tunnel vision when it comes to fielding a winning football team. A great exhibit of that quality is that Poles came to the Bears with a single-mindedness to immediately hire head coach Matt Eberflus. The two quickly built a quality staff before other teams could interview those coordinators and offensive coaches. Heck, Getsy was rumored to be one of the favorites for a head coaching position with two organizations.
"We are thrilled to be able to add someone of Ryan's background and football expertise to our organization," said Bears Chairman George H. McCaskey when Poles was introduced to the media. "His accomplishments with the Chiefs speak for themselves and amplified the team's standing as one of the premier franchises in professional sports. We are confident that under his leadership, we will reach our goal of bringing a Super Bowl championship to Chicago."
There's no doubt this is Poles' roster. Hopefully, he'll make winning more than the occasional anomaly it was with the previous regime.