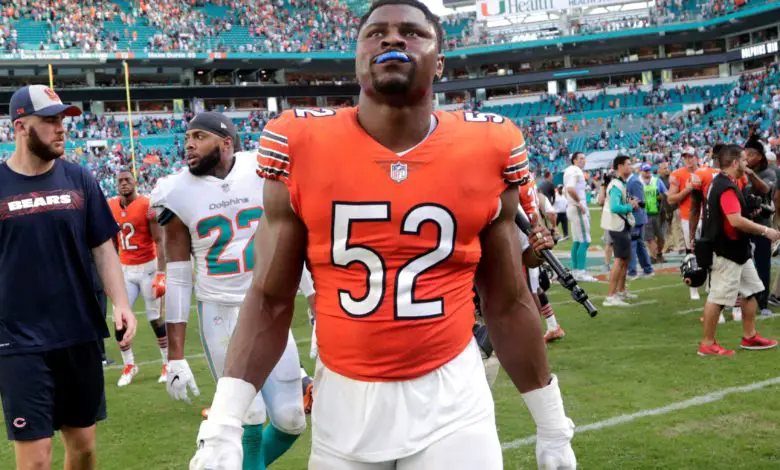 Khalil Mack Reportedly Traded to LA Chargers
The Bears finally pulled the trigger on the much rumored trade of star linebacker Khalil Mack Thursday. NFL insider Ian Rapport reported Chicago shipped Mack to the Los Angeles Chargers in exchange for a second-round pick in 2022 and a sixth-round pick in the 2023 NFL draft. The Chargers will also take all the remaining $63 million left on all-pros contract.
The #Chargers are taking on all of Mack's contract — three years at $63.9M. The #Bears move on with the picks. https://t.co/hDXR9qZa1Z

— Ian Rapoport (@RapSheet) March 10, 2022
Things started very well in 2018 after the Bears acquired Mack from the then Oakland Raiders for a package that included two first round picks and signed him to a six-year $141 million contract extension. The Buffalo product immediately showed what kind of talent he has with a 12.5 sack season.
His production dipped a bit in 2019 and 20, yet, he still had a combined total of 17.5 sacks those years. Chicago won a division championship in 2018 and made a wild card in 2019 before missing the playoffs the last two seasons. Injuries limited Mack to just seven games in 2021 and the Bears decided to move on.
Chicago definitely got good production from Khalil early in his contract so it's hard to say that he was a bust. That said, to give up two first round picks you have to hope for a bigger impact than what the Bears got. Anyway, the move gives Ryan Poles new cap space to try and improve his team. We will find out what he does with it.