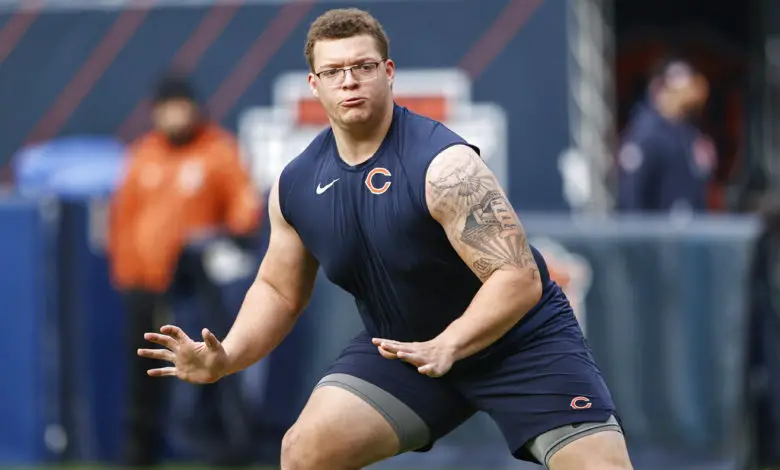 Poles Wants Offensive Line to Be Quicker and Lighter
Bears' GM Ryan Poles has a long laundry list to work through this offseason, and at the top of his list is reconstructing the team's offensive line. After all, if the newly-minted wants to weaponize second-year quarterback Justin Fields, he has to start by keeping him upright long enough to complete passes downfield. In that respect, Poles wants his offensive line to be quicker and lighter.
"The message has been clear — we've got to change body types a little bit," Poles said. "We've got to get lighter, we've got to get quicker. Through that, I think there's some young talent that just needs to be pressed. That's part of our job is to create competition and bring the best out of them. We'll do that, and we'll see if the cream rises to the top."
"Especially with the O-line play a lot of times — and I don't want to speak for the coaches — but it's going to end up being the best five to roll out there."
That may mean moving Teven Jenkins back to right tackle, the position he played at Oklahoma State when the Bears made a trade with the Panthers to move up 13 spots to draft him last year. Jenkins missed most of the season with a back injury, and his play once he returned a the end of the season reflected all the lost time. He allowed 11 pressures in four starts and was flagged for seven holding penalties in the 160 snaps he played.
The Bears get some protection for Justin Fields with Oklahoma State OL Teven Jenkins at No. 39 in the #NFLDraft pic.twitter.com/nrzrLh5KFm

— NFL on ESPN (@ESPNNFL) April 30, 2021
Jenkins has first-round talent when healthy, and ran a 5.01 40-yard dash when tested during Pro Day last year. For the sake of comparison, a dozen prospects ran a sub-5.0 40-yard dash at last week's combine, led by Dare Rosenthal (4.88) of Kentucky. Kellen Diesch of Arizona State, Trevor Penning of Northern Iowa, and Chris Paul of Tulsa all ran the drill in 4.89 seconds.
The trade also netted Chicago a fifth-round choice last year, which they used to select guard Larry Borom. He and Jenkins combined to make 10 starts in 2021.
Poles may have been specifically talking about Jenkins and Borom when he said that some of "his young talent needs to be pressed." Jenkins'  draft profile described him as "an intolerant run blocker, looking to finish and bury his opponent," comparing him to Joe Thuney. Eric Edholm of Yahoo! Sports used the term "mauling" while describing the tackle as an "aggressive, competitive finisher" who "loves to deliver knockout blows" to opponents. That fits right in with Poles' desire for his team to play "tough and violent."
Borom was also considered a bit of a project when chosen at No. 151 overall, but analysts lauded his athleticism. His draft profile mentioned that "if a team can fix his hand placement and get him working inside opponents' frames, we could see a jump in his block sustain and push as a downhill, phone-booth blocker in a power scheme."
If Poles, head coach Matt Eberflus, and the team's assistant coaches can maximize the potential of either or both players, Chicago may be one elite starter shy of fielding a respectable offensive line. That could be free agent James Daniels, who played guard for the Bears last season, or a bigger splash in free agency, such as Terron Armstead of the Saints. Daniels is expected to command something in the range of $7-10 million per season, while Armstead, a left tackle, could be looking at a $20 million or higher annual salary.
The Bears may also look to the second wave of free agency to fortify their offensive line. Linemen expected to sign for less than $10 million per season include guards Laken Tomlinson of the 49ers and Connor Williams of the Cowboys, left tackle Duane Brown of the Seahawks, and center Ben Jones of the Titans. Poles could theoretically net three of those four for $25 million or less. Williams, who is only 24, is very intriguing because he can play either guard or tackle, and is expected to sign for $6-7 million on a two-year deal. Brown is 36, but he's made the Pro Bowl five times and has rarely been injured. Jones is arguably the best available center in free agency.
Re-signing Ben Jones has to be priority 1 for the Titans this offseason pic.twitter.com/azEq9FHwo0

— James Foster (@NoFlagsFilm) January 5, 2022
Poles said he would enjoy looking for gems among the league's afterthoughts. He admitted he plans to attack that market vigorously.
"What I've always loved is … you're going to have some players that, they're motivated, they got a chip on their shoulder, and they want to get back into free agency and go at it again," Poles said recently. "So they play with a purpose. And I've mentioned this before, but it's very hard to stay super motivated. You got to be a special human being to be in that first wave (of free agency) and keep going. You want your name etched in the stadium. That's what kind of mentality you got to have. So I definitely think there's a lot of good value down there, plus … the mentality comes with it."