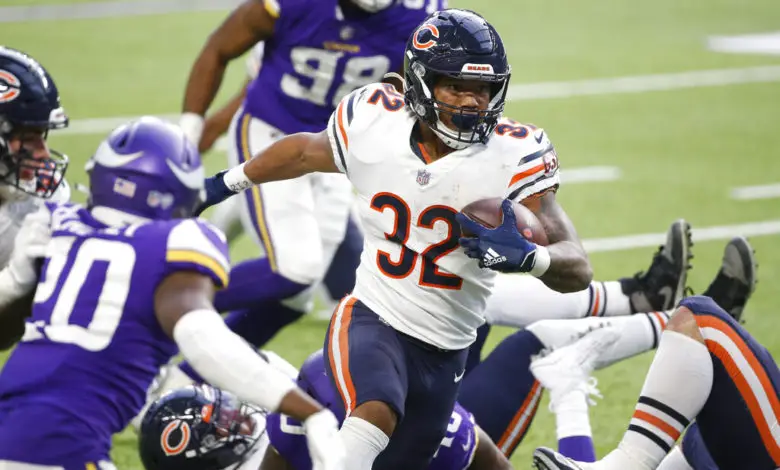 Looming Decision on Future of David Montgomery Awaits Ryan Poles
It was just a month ago that the Bears named David Montgomery their offensive player of the year. Since then Chicago has hired a new coach and GM, and a looming decision awaits new GM Ryan Poles regarding the star running back's future with the Bears.
Montgomery will be entering the final season of his rookie contract in 2022. He has played well enough to earn a contract extension this offseason, but there has been an applied risk to extending running backs that didn't exist in the NFL just a few years ago. Further, Montgomery is one of those players who is probably overrated by Bears fans but underrated by his peers. He didn't get much love from NFL analysts entering this season, either.
David Montgomery doesn't like being ranked as the 25th best RB 👀

— NFL Stats (@NFL_Stats) June 30, 2021
Three years into his initial four-year deal, the Iowa State product has gained 3,732 yards from scrimmage with 24 career scores. Outsiders see the running back as a player with average speed and strength who has an uncanny ability to consistently break tackles and punish defenders. If that sounds a little like Walter Payton, there is some merit to that because both players possess the same drive and sheer will to fight for extra yards. Like Payton before him, Montgomery is an excellent blocker, too, but any comparisons should end there.
Where the two players differ is in durability. Payton was an iron man who never missed a game. Montgomery has missed games due to injuries in each of the last two seasons. Number 34 was also a much better athlete with an insane offseason conditioning routine that would probably kill most men.
Montgomery is also not quite the passer that Payton was either.
It's fair to say that Matt Nagy hurt the production of his running backs in 2021, often abandoning his running game for no apparent reason, particularly in short-yardage situations. One would think that featuring a player whose strength is breaking tackles would be the primary option when the team needed just a yard or two. Shockingly, Montgomery, a third-round steal by former GM Ryan Pace in 2019, was used more as a predictable decoy in Nagy's offense.
It's also fair to say that as former outsiders, Poles and Matt Eberflus may not have the attachment to Montgomery that Bears fans do. The third-year running back rushed for 849 yards this season but averaged just 3.8 yards per carry. Pro Football Focus ranked the 24-year-old No. 13 entering this season and Montgomery finished No. 17 in rushing yards, though he did miss four games. Without the familiarity of working with the team's most valuable offensive weapon previously, Poles has to decide whether to extend Montgomery or risk losing him to free agency after next season.
Trying to decipher what Poles may do is difficult as well. The Chiefs employed a running back by committee offense while Poles was there, but Ebefrlus and offensive coordinator Luke Getsy may prefer a more stable running game. Kansas City hasn't signed a feature running back to a second contract since Brett Veach became their general manager in 2017, and it's not yet known how much the philosophy of Chicago's new GM differs from that of his mentor.
If Poles enters into extension negotiations with Montgomery, Browns running back Nick Chubb could provide the template. Cleveland gave Chubb a three-year $36.6 million deal last September, but that may be too steep a price for a team that has so many other needs. The Cleveland running back has been statistically better than Montgomery, but the value of each to their respective organizations is pretty similar.
Poles and Eberflus could pivot to second-year running back Khalil Herbert, which would make Montgomery, who will become a free agent in March 2023, a potential trade candidate to acquire more draft picks. Herbert filled in admirably this season when he was called upon to start, rushing for 344 yards on 78 carries (4.41 yards per attempt) in Weeks 5-8, all against playoff teams.  A sixth-round pick of the Bears last year, the 23-year-old Hebert could be used as more than a complementary piece in Getsy's offense.
It's likely that Poles will let Montgomery play out his current contract and enter free agency next year, but a trade can't be ruled out, especially if Tarik Cohen is healthy enough to serve as Herbert's backup next year. It wouldn't make much sense for the front office to trade its star running back for draft picks and then burn one to acquire his replacement given the team's current deficiencies.