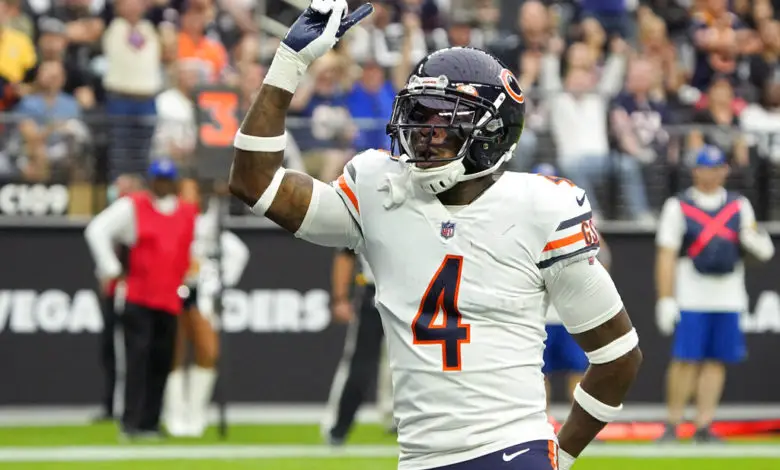 Eddie Jackson May Move to Slot Corner in Bears' New Defensive Scheme
You would think that a guy who hasn't had an interception since 2019 is probably not a good option to play cornerback. That goes double for a player who was repeatedly burned at free safety and missed so many tackles in the first half of the season that football analysts started labeling him a fraud. But, in the new defensive scheme being implemented by Bears head coach Matt Eberflus, Eddie Jackson may move to slot corner, and you'd probably be shocked to learn that's what he'd prefer.
Jackson was very, very good before this season, so much, in fact, that former GM Ryan Pace gave him a 4-year $58.4 million deal that included a $12 million signing bonus on January 3, 2020. $33 million of his contract is guaranteed.
Man, this is an incredible play from Eddie Jackson. pic.twitter.com/yrhoLHAR32

— Austin Gayle (@austingayle_) December 6, 2019
Give me 2018 Eddie Jackson back this season

— Austin F (@PodGuyFuges) July 12, 2021
For some reason, the wheels kind of fell off the cart this year. It's no surprise, and with so many players coming out to say that Matt Nagy lost the locker room and basically stopped coaching, maybe that's why. At times, WR Allen Robinson looked like he quit on his teammates, and you wouldn't be wrong for thinking Jackson did, too.
"He was extremely disappointing," one scout said according to Bob McGinn of Go Long Go. "I don't think he's committed when he approaches the line of scrimmage or that he's got a willingness to make a one-on-one tackle anymore. He was avoiding tackles in the beginning [of the year]."
Another scout added that Jackson "completely shut down [this season]."
While Jackson was at Alabama, he played safety after being converted from cornerback, and he played well. But his strengths were those commonly associated with his former position. The free safety excelled in man defense and displayed great ball skills. In fact, he was lights out, giving up just 49.6 percent completions into his coverage with a QB rating against of 49.9.
However, his senior-year deficiencies would be considered glaring for a player assigned to deep coverage as a free safety. For instance, and as Bears fans saw this season, he was labeled a shy hitter with a slight frame who didn't read deep zone drops very well. Scouts also described Jackson as a poor tackler, often going too high while lacking the strength to bring down a bigger receiver.
Former Bears linebacker Lance Briggs criticized the safety's tackling after an October loss to the Packers, a game in which Aaron Rodgers boasted he "still owns Chicago."
"Eddie Jackson – we've talked about this before and his name keeps coming up for all the wrong reasons," Briggs said in his postgame appearance for NBC Sports Chicago. "You are the safety, you are the last line of defense. When you come up and you make that hit on Davante Adams, and he gets past you, it's gonna be a touchdown, kid. You have to make that play. Get him down, by any means necessary. I don't care how you do it… at the worst, a flag still keeps him out of the endzone."
That was pretty much par for the course as far as Jackson's season was concerned, and his fat new contract didn't help. He may have been the only member of the 2021 team that was torched more than Nagy, both figuratively and literally. The good news is that most analysts expect Jackson to bounce back in 2022. He has to because he probably can't play any worse than he did this season.
There's another angle to Jackson's story, however, and it sprung from an idea former defensive coordinator Sean Desai came up with when the Bears were struggling with injuries and players being placed into COVID-19 protocol. In a 20-9 win over the Raiders in Week 5, Jackson was moved to slot corner out of necessity and shut down Las Vegas tight end Darren Waller to 45 yards on four receptions. Jackson moved back to the corner for the final three games of the season, two of which the Bears won. His play improved dramatically.
In a Tampa-2 scheme, Jackson could thrive playing cornerback, something Eberflus is no doubt acutely aware of. Jackson seems to be posturing for a full-time move to slot corner as well.
"It's like, I just feel like you're more involved in the game," Jackson said after the Bears beat the Seahawks in late December. "Just being at safety all the time, you know, being back, it's like it depends on what kind of scheme you're up in, but when you're in nickel it's like you're always in that action. "
"You get more in the game, you know what I mean?" Jackson added. "You play closer to the line, it's like you're more involved. You get more targets, chances to make plays. And it's really nothing special, just going out there and winning your leverage and playing off of instincts, reacting and stuff."
The Bears already have one of the league's premier corners in Jaylon Johnson.
"Is [Johnson] a No. 1 (corner)?"  one scout rhetorically asked according to Ginn. "No, but he's a hell of a 1B. I like his attitude. He is willing to come to the line of scrimmage and make tackles against fullbacks, tight ends, or jet sweeps."
Pairing Jackson with Johnson would allow GM Ryan Poles to find a better free safety in free agency or the draft. Saints defensive back Marcus Williams and Tyrann Mathieu immediately come to mind, but they'll be a little too expensive (each projected to earn approximately $16 million per year), especially with the contract Jackson carries. Then again, Poles may ask Jackson to restructure his deal to free up more short-term cap space. Other free-agent targets could include Quandre Diggs of the Seahawks (3-year/$30M) and Xavier Woods of the Vikings (2/$12M).
As far as the draft is concerned, Lewis Cine (Georgia), Jaquan Brisker (Penn State), and Daxton Hill (Michigan) should all be available when the Bears make their first selection at No. 39. All three grade as first-round talents who will drop because of the wide receiver, offensive line, and linebacker depth of the draft. Hill possesses some of the class' best speed at the position.
Mid-to-late round options could include Kerby Joseph (Illinois), Nick Cross (Maryland), and Bryan Cook (Cincinnati).
It's not difficult to give up on Jackson after such a poor effort this season. Sometimes players need a change of scenery, and that doesn't necessarily mean a trade to another team or cutting a player who has already proved himself as an elite NFL player. Maybe all Jackson needs is a move to cornerback. If that's the case, I'm sure Poles and Eberflus have already talked about it, and a change position change could already be in the works.