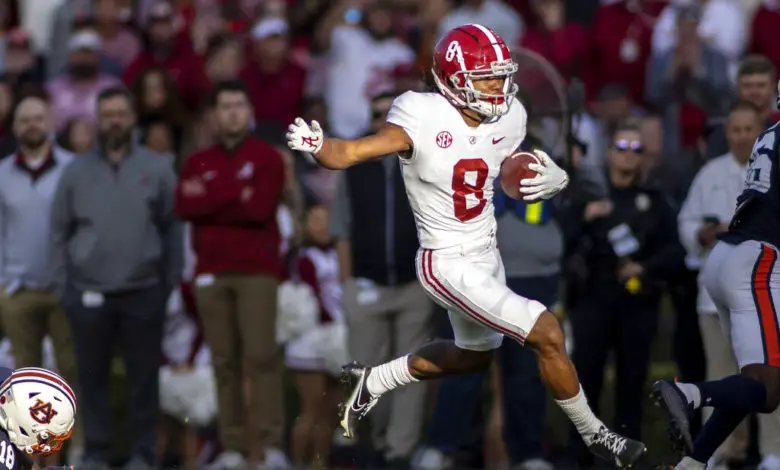 Bears Seven-Round Mock Draft 3.0
Now that the NFL Scouting Combine is over, we have a little bit of a better sense of what GM Ryan Poles intends to do to help weaponize second-year quarterback Justin Fields. According to most sources, the Bears seemed most interested in wide receivers, and they should be. It was reported that 14 receivers posted a 40-yard dash time of 4.39 or less. That means Poles should find first-round talent at No.39. With that in mind, here is our Bears seven-round mock draft 3.0.
There were some changes at this year's evaluation event as the league did away with the Wonderlic test, and on-field drills were simulated to better mimic game-related movement. Wide receivers and tight ends ran crossing routes instead of wheel routes, for example, and running backs ran option routes instead of corner and post-corner routes.
You can compare today's post to Mock 1.0 and Mock 2.0 which were posted earlier this year. Believe it or not, the NFL Draft is just eight weeks away, so we'll update our mock after free agency begins later this month and then twice in April, before submitting final selections on Draft Day, which will be April 28. This year's event will take place in Las Vegas, NV.
The biggest takeaway from this year's scouting combine is this: The Bears are going to back into a first-round talent wide receiver prospect who will most likely be a high-impact rookie. In a draft class as deep as this year's, one player who would traditionally have first-round value will become a Chicago Bear at No. 39.
I still have the Bears grabbing Watson at No. 39. but it depends on where/if Aaron Rodgers plays next season. If the reigning MVP decides to stay with the Packers, there is no way Watson will fall to the Bears and he could end up on the Packers, replacing Davante Adams. However, if Rodgers retires, or is traded, I could see Green Bay selecting Sam Howell at No. 28, forcing the Lions to slightly reach for Desmond Ridder at No. 34 (currently ranked No. 42). That would leave potentially four first-round talents available when the Bears make their first selection, ranked in (my) order below.
In my full seven-round mock I have Dotson going to the Texans at No. 37, Bell going to the Jets a pick later, and Watson dropping to the Bears at No. 39. I will not deny I have a bias for the North Dakota State phenom, and truth be told, I would be happy with any of those selections. I'm crossing my fingers on Watson, though his combine could push him up into the first round.
Watson put on an absolute show at Lucas Oil Stadium and was the best combination of size and explosive athleticism at the combine. The wide receiver checked in at 6-foot-4 and 208 pounds, ran a 4.36 40-yard dash (some bloggers inacuurately reported it as 4.28), had a 38.5-inch vertical jump, and a position-best 11′ 4″ broad jump, seventh-best all-time. His Relative Athletic Score (RAS) ended up at 9.98. Just… incredible.
Watson was smooth in the on-field drills too, looking every bit like the do-it-all dynamo who has the potential to develop into a WR1 in an elite NFL offense. If Rodgers stays in Green Bay, Poles, who has interviewed Watson twice already, won't hesitate to grab the wide receiver if he is available when he makes his Round 2 selection.
Backup selection: Zion Johnson, OL, Boston College
Imagine Poles taking wide receivers with his top two picks despite having equally large holes at offensive line and defensive back. It could happen, however, if Poles signs an offensive tackle and defensive back in free agency, two positions he's likely to pursue heavily when the market opens on March 16.
Metchie is interesting because he's recovering from an ACL injury. The Alabama wide receiver was once ranked No. 43 overall, clearly a solid Round 2 selection, but his stock has dropped, because of the injury. The Patriots and Dolphins are said to be considering Metchie in the first or second rounds, though that is probably a smokescreen designed to conceal their hands. Obviously, the ACL tear is going to worry anyone, but Metchie indicated at his pre-combine interview that he should be ready by the start of training camp in July.
He's smaller in stature than Poles might like, but Metchie outperforms his size because he is a yards-after-the-catch machine. He's tough, can take a hit or two, and tracks the ball as well as any of the receivers in this year's draft. By all accounts, Metchie is a pristine route-runner, something that will make OC Luke Getsy incredibly happy.
That said, he'll need to work on a few things, the most glaring of which is his tendency to drop the ball when he tries to catch it into his body. He has a correctable flaw of turning his head pre-snap, which can sometimes give away his route. Metchie's initial burst is average at best, but that's not a bad thing, it's just not an elite skill. However, Metchie wasn't that fast before his injury, so he needs to get off the line quicker. He'd likely play the slot in Getsy's offense, serving as a WR3 and special teams player. Prohections on his post-injury 40-yard time range from 4.1 to 4.45 by most scouting services.
Backup selection: Isaiah Weston, WR, Northern Iowa
At 6-foot, 195-pounds, the cornerback has the length to play immediately at the next level. Taylor has good speed so he can stay with receivers, is a big-hitter, and is incredibly agile. The 23-year-old is also a tremendous run-stopper and could play in the slot to cover tight ends despite the obvious size disadvantage.
Obviously, length is important in terms of making plays on the ball. The Tennessee CB also uses his arm length well to disengage from blockers on running plays, as well as feeling for his opponent in pass coverage. Furthermore, he can use the length and physicality to squeeze his man to the sideline. That said, Taylor isn't the greatest tackler, and needs improvement in that area, especially if Eddie Jackson stays at safety.
Backup selection: Bryan Cook, S, Cincinnati
I still love the Iowa State tight end for the Bears with this selection and I am going to die on his hill. His latest projections have him ranked at No. 150 so the stars for a pairing might be aligning quite nicely.
The Bears love Cole Kmet, but by the time summer starts he could be the only tight end on the roster. Kolar, a late fourth-round talent, could fall to the Bears and would be a perfect backup to Kmet. A 6-foot-6 blend of elite pass-catching skills, athleticism, and steady bocking, Kolar's stock took a gut punch this fall because many of his peers had outstanding seasons. That said, his production remained consistent, and he has arguably the best hands of any pass catcher in the draft. He's everything a pro scout looks for in an immediate impact tight end.
. Backup selection: Cade Mays, OG, Tennessee
Though he will never be confused with Brian Urlacher, if you were looking for a slightly smaller, tastes-great, less-filling facsimile of the player the Bears drafted ninth overall out of New Mexico in 2000, Domann is your, er, man. The Nebraska product is built like a prototypical linebacker at 6'1″, 226 pounds, but has the versatility to cover a lot of defensive positions. He's an explosive athlete who accelerates quickly in the open field and can pay play overhang slot and safety in certain situations. That sounds like a perfect match in a Cover-2 scheme.
Domann possesses the range and hustle to track plays from sideline to sideline, as well as hawk on passes in the short and intermediate gaps. he plays light, is agile, and remains active on his feet, and competes to the whistle. When positioned properly, Domann has the athleticism to close quickly in the box, and can use his above-average explosiveness to bring a ton of heat when blitzing. Sounds a lot like Urlacher, yes?
There are a few caveats. For one, Domann has had two ACL injuries and will enter his first pro season as a 25-year-old rookie. He can be a bit grabby in pass coverage, and struggles in long range assignments, something that is magnified by the soft cushion he employs when defending pass-catchers. Domann also struggles with play-action, something he'll have to improve on to earn defensive snaps. At worst, he's a solid special teams player who can give you reps as a third or fourth OLB.
Backup selection: Matt Waletzko, OL, North Dakota State