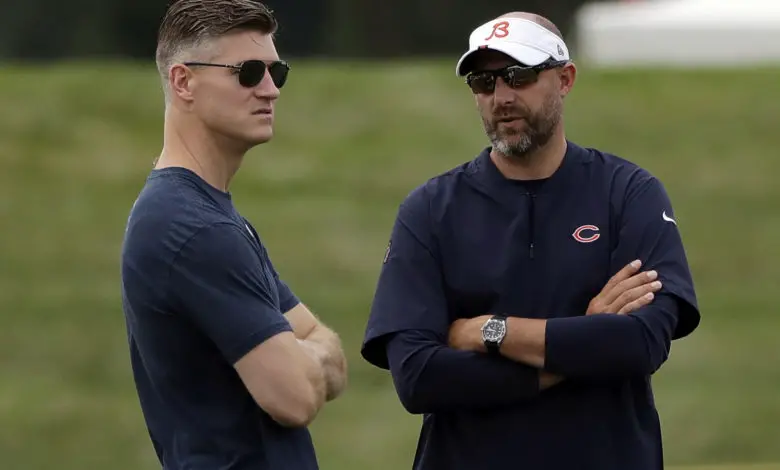 First and Long: Pace Trades Up Again, Bears Select OT Teven Jenkins, Texans Grab Replacement for Watson, McMichael Diagnosed With ALS
Though I'm not a fan of trading away so many draft picks, by all accounts, GM Ryan Pace has hit two home runs as he enters the third of the three-day NFL event. Yesterday he moved up from No. 52 overall to select OT Teven Jenkins of Oklahoma State, who was more than a little upset that he fell out of the first round.
"I went to sleep with the mindset that everybody who passed on me, 32 picks, I'm going to be able to make sure everybody rues that day they didn't pick me," he said.
"Basically, I want to impose my will against another man and use that force against him until he gets worn out and tired. And I don't care how long it takes, how big he is, or how much he gets paid. I'm going to do that 24/7 and I'm going to do that all game."
If anything, the young man will do well to protect first round choice Justin Fields, and he should be an excellent Twitter follow.
It's been a heck of ride for @TevenJenkins. The @ChicagoBears are getting an elite-level talent!#LetsRide | #GoPokes🏈 pic.twitter.com/FHmbgDsMVM

— OSU Cowboy Football (@CowboyFB) April 30, 2021
Pace acquired the choice along with a fifth-rounder (No. 151) from the Panthers in exchange for his picks in the second round (No. 52), third round (No. 83) and sixth round (No. 204), but the selection was universally loved, even at such a high cost.
The beleaguered general manager has definitely gone chips in this weekend, navigating the draft like its his first ever, or potentially his last. He and Matt Nagy need to produce an immediate winner, and absent any marked improvement, both could find themselves victims to the sport's annual Black Monday churn next January. Barring any more trades, Pace has four more picks today, and one is likely to be a wide receiver. The Bears also need a cornerback, an outside linebacker, would probably like to get some more depth for the offensive line.
Day three picks for the Bears: 5th round (No, 151 from Panthers), and picks 208, 221 and 228 in the 6th round.
Bears News & Notes
There's a Flag…On the Play
If any offensive lineman can instantly become a fan favorite in Chicago, it's going to be Jenkins. Tom Thayer is going to love this kid, and I imagine even Dan Hampton will be singing his praises, too.
Teven Jenkins had the 2021 Pro Day "Quote of the Year":

"I'm a tough, physical, nasty mother******."

— Andrew Siciliano (@AndrewSiciliano) April 30, 2021
Northern Exposure
Things are getting serious in Green Bay between the Packers and Aaron Rodgers. The three-time MVP is now threatening retirement over reporting to camp in July.
Sources: The Packers reportedly told Aaron Rodgers they were going to trade him in the off season, then backed off. It's been a bleep show between them ever since. And within the last week Rodgers told the team.. trade or no trade I'm not coming back. Buckle up folks

— trey wingo (@wingoz) April 29, 2021
NFC North 2nd and 3rd round picks, with scouting reports from NFL.com,  and grades from CBS Sports:
Lions – Levi Onwuzurike (2), DL, Oregon State, A-  |  Alim McNeill (3), DT, North Carolina State, C- | Ifeatu Melifonwu (3), DB, Syracuse, A-
Bears – Teven Jenkins (2), OT, Oklahoma State, A+
Vikings – Kellen Mond (3), QB, Texas A&M, B+ | Chazz Surratt (3), LB, North Carolina, B | Wyatt Davis (3), OL, Ohio State, A- | Patrick Jones II (3), EDGE, Pitt, B-
Packers – Josh Myers (2), C, Ohio State, B | Amari Rodgers (3), WR, LSU, A-
Three Yards and a Cloud of Dust
Among all active players during the 2020 season, 66% of them were drafted in the 4th or later, or went undrafted.
There were eight quarterbacks selected through the first three rounds of the draft, the most in NFL history.
Colleges with the most draft picks through yesterday: Alabama (8), Ohio State (6), Georgia and Notre Dame (5).
NFL News & Notes 
Tim Tebow recently worked out as a tight end for the Jaguars.
The Buccaneers drafted QB Kyle Trask at the end of the 2nd round, and he'll be the heir apparent to Tom Brady, who may still be playing at the end of the rookie's first contract.
Brady is subtly recruiting retired WR Julian Edelman to join him in Tampa Bay.
Vikings QB Kirk Cousins wasn't thrilled that Minnesota selected Mond in round two.
The Texans sent a message to Deshaun Watson that he's no longer in their plans after drafting QB Davis Mills of Stanford.
Despite 22 civil lawsuits alleging gross sexual misconduct, teams still appear to be interested in trading for Watson.
From the Podium
"[Jenkins] is a  powerful tackle. He can bend. He can play with leverage. He consistently moves guys out in the run game, which is awesome to see. Beyond that, he's got the athletic ability to get to the second level and block in space. In pass pro, a really good anchor, so he handles power really well. And then of course he plays with a lot of toughness and finish. We went into this draft looking for that trait, and he definitely has that trait, that toughness, that nasty style of play." – Ryan Pace
"Andy [Dalton] is our starter, and we're gonna have a really good plan in place to develop Justin and do what's best for our organization and win games." – Pace
"I mean, it's pretty simple for me to manage [the epilepsy]. I just have to take three to four pills a night, every night. It's nothing crazy. It's a thing that's been there for the past seven or eight years, so I'm used to it, and I'm just going to continue to deal with it and continue to play the game that I love." – Justin Fields
The Voice of God
The Autumn Wind is a Pirate by John Facenda.