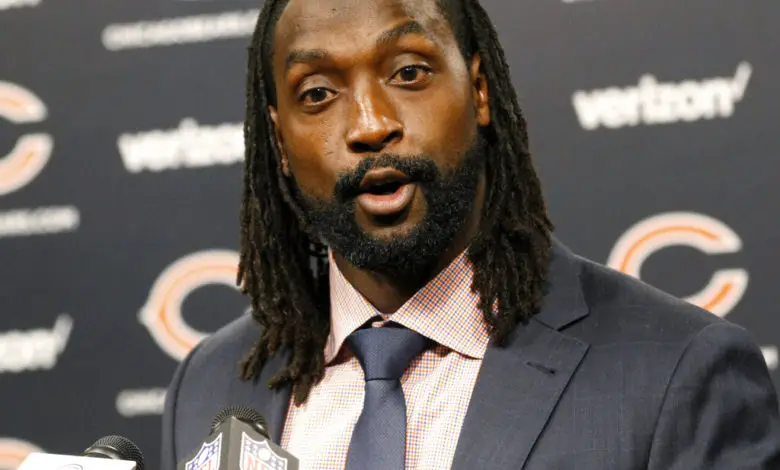 Chicago Bears Combine Notes and Quotes
On-field drills at this year's NFL Scouting Combine started Thursday night, with the tight ends taking the field first, followed by two combined groups of quarterbacks and wide receivers. The Bears are said to be heavily scouting wide receivers in this year's draft, and the class of soon-to-be-rookie receivers is as deep as it is fast. Take a look at these official sub-4.4 40-yard times.
Watson's performance may have vaulted him into first-round consideration. The North Dakota State senior notched freakish scores and shined in on-field drills. Watson looked agile, fast, and strong in The Gauntlet, and was reportedly very impressive in the 15-yard square-in, among other drills. At his height, with his speed and skill, and building off a strong Senior Bowl, Watson's stock is rising as quickly as any player in this class.
Another name to watch for is Isaiah Weston of Northern Iowa. The 6'3″ 215-pounder ran a 4.42 40, posted a 40″ vertical jump, and registered an 11-foot-3 broad jump, second only to Watson.
https://twitter.com/mattalkire/status/1497299870381662211
Bears' GM Ryan Poles and head coach Matt Eberflus were in attendance at this year's evaluation event. Most of the questions asked by reporters focused on the duo's plan to build their offense around second-year quarterback Justin Fields.
"I think [having Fields on a rookie contract] just gives you the ability to do more to help build the entire roster," Poles said. "The other thing is just always keeping in mind guys that can help him and how he can help them as well. But it's the support for that player. What does he play well with? What does the offense need to perform well? And also looking at historical information of what has helped second-year quarterbacks be successful. So all of that comes into play.
"It's sometimes it can be a slot receiver, sometimes it can be a second tight end, it can be a big (receiver) outside," Poles continued. "There's just a relationship piece that they can go to that they trust, that they work with all offseason, that they get that connection with. It's almost like they get battled out with that guy. I think that's important."
Fields has that in third-year receiver Darnell Mooney who also earned high praise from Poles.
"[Mooney] has a quiet confidence about him," Poles said. "He's hungry to be special. I'm always looking for guys that, they just raising their own bar in terms of where they want to go. He wants to be special. You can feel that in him. I think we've all been around people that want to be the absolute best they can be and it's contagious and it gives you energy. It gives you hope."
Poles will also be tasked with rebuilding the team's offensive line and though he didn't mention any names, he indicated there's much work to be done.
"The message has been clear — we've got to change body types a little bit," Poles said. "We've got to get lighter, we've got to get quicker. Through that, I think there's some young talent that just needs to be pressed. That's part of our job is to create competition and bring the best out of them. We'll do that, and we'll see if the cream rises to the top."
Of course, Eberflus fielded queries about upcoming changes to the defense. The new head coach is transitioning his team from a 3-4 to a 4-3 with a focus on the Tampa-2 scheme made famous by Tony Dungy and emulated by Lovie Smith when he was with the Bears. Eberflus was likely scouting three-technique linemen in Indianapolis.
"It's disruptive," the head coach said. "You've got to be disruptive. You've got to do a couple of things as a three-technique. No. 1, you've got to win your one-on-one matchup, OK? And when they run zone away from you, you've got to be able to stay in the B gap. It's that simple. Those are the two things we look for, and they come in all shapes and sizes. And you've seen it. But explosive athletic ability is the No. 1 trait."
Khalil Mack and Robert Quinn are Chicago's mainstays, and Trevis Gipson should excel in the new scheme. Talk of trading Mack seems premature, and though Poles would like to find ways to address a dearth of draft picks, it might be tough to find a player to match Mack's abilities and leadership. There are better ways to save cap space and accumulate picks.
Jaylon Johnson is also a rising star in Chicago's defense, and Eberflus had high praise for the young cornerback. The new scheme will stress a fanatical desire to win the takeaway game.
"You have to have quickness," Coach Eberflus said when asked about Johnson. "You have to have instincts. And when I say instincts that means ball instincts. You want to be able to, yes, react to plays and all that. But we want guys who are ballhawks at the corner position. And the reason I say quickness first is because if you get the ball, you have to be quick out of transition. At the top of your route, you're going to have to do a great job of transitioning. Either what we call busting the triangle up or taking the ball away.
"Those two things. And then really the last thing for us would be speed. You have to have speed at that position. Because you have to have makeup speed. You're going to be out of position sometimes. The receivers are some of the best guys on the field."
I could watch Charles Tillman "Peanut Punch" the football for hours. Beautiful. pic.twitter.com/BmialLyG26

— Zack Pearson (@Zack_Pearson) March 8, 2019
Speaking of athletic defensive backs, former Bear Charles Tillman attended this year's combine and offered some advice for Bears players who will be asked to play selfless defense in 2022.
"The players have to buy into it," Tillman said. "Whatever the coaches are telling you, you've got to believe it. You've got to be a soldier and [understand], 'all right, this is a new culture.'
"You have to be selfless to play in that kind of defense," he added. "Your success is my success. I'm happy, we're happy, we're winning games. We had that. To have that, again, guys have to buy in. I'm playing for you, you're playing for me. The good teams, the good locker rooms, they get that, they feel that and I think that's the coaches' job. You've got to make these guys really think that they're brothers. I've got to be willing to put it all on the line for you so you can get a ring. And when your guys think like that, that's when you know you've got a good team."