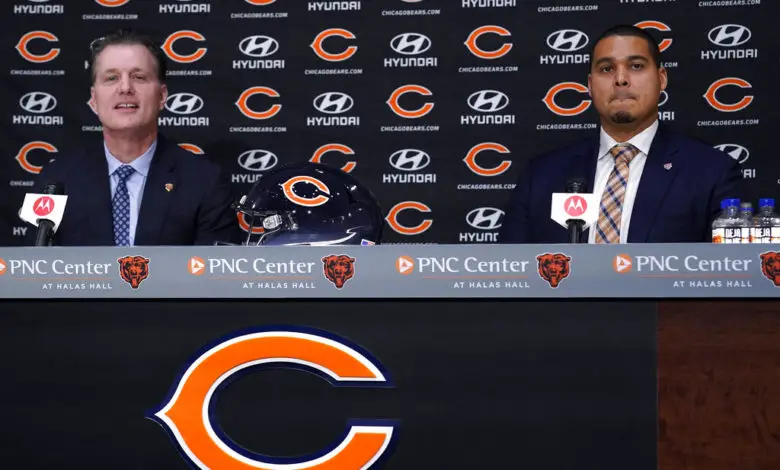 Poles and Eberflus Are Fire and Ice
If I didn't know any better, I'd say Monday's introductory presser was produced by Ricky Bobby himself. Ryan Poles and Matt Eberflus aren't quite Shake-n-Bake, but they are a whole lot of fire and ice. I'm no marketing major, but that's got to be a lot more commercially viable than The Magic Man and El Diablo.
Before I get into the Poles-Eberflus relationship, and how that will affect quarterback Justin Fields, it's worth pointing out that Ted Phillips was not among the participants at Monday's festivities. Of course, George McCaskey was there, and Fields made a surprise visit, but it was Poles who stole the show.
The fact that Fields was talking to the media on a day that belonged to others tells you all you need to know about how the franchise, the GM, and the head coach feel about him.
https://twitter.com/FTB_Vids_YT/status/1488227318757617664
But no Ted Talk?
The absence of Phillips should have been more than enough shock and awe for a nation of Bears' fans who have grown accustomed to the president and CEO's appearances at anything involving microphones and media. But then Poles threw a post pattern when we were all expecting a screen pass. Flashing some dolerites that might make Stonehenge a little jealous, the GM commanded the room with his take-no-prisoners attitude:
"We're going to take the [NFC] North, and we're not giving it back."
"[The new identity of the Chicago Bears will be] tough and violent."
Ladies and gentlemen, there's your fire.
We'd expect those types of comments from a head coach, not the guy who is going to spend the next portion of his career tethered to his cellphone while watching games from the Halas Suite at Soldier Field. Poles is a "suit" now, and he's supposed to use corporate-speak and stress things like positivity, culture change, analytics, and impact. He's supposed to show respect and avoid any semblance of controversy. Instead, he put the Packers, Vikings, and Lions on notice.
Don't get me wrong, Poles was also warm, knowledgeable, respectful, and showed a keen sense of analytics.
"What am I about and what's my philosophy?" Poles asked rhetorically. "We're going to build through the draft. We're going to acquire young, fast, and physical football players. We're going to be selective in free agency, and we're going to connect evaluation with valuation.
"We're going to have a relentless approach to fix our weaknesses," he added. "We're going to maintain great self-awareness of who we are. We're going to solve problems with open communication and candor. And we're going to consistently put players in a position to succeed."
After that, he displayed the mentality that gave him at least a shot to be an NFL offensive lineman. Don't forget, the Bears once signed Poles as an undrafted free agent tackle out of Boston College. Fifteen years ago the 36-year-old was a 6-5, 295-pound player. Though it looks like he's lost some of the weight he certainly hasn't surrendered any of the toughness.
Eberflus didn't even try to top that. The new head coach was more interested in talking about hustle, effort, and accountability.
"We will play at a high tempo, a high effort, attacking, physical style, built upon speed, quickness, and explosive athletic ability," Eberflus said. "We will carry ourselves with an attitude of energy, passion, and intensity. We will play with maximum effort on every play. My next piece of advice for the players is to get [their] track shoes on because we're running.
"What we want to do is build the foundation," Ebeflus continued. "This first year we want to build this foundation of what we're going to look like, of what Chicago fans, alumni, can be proud of. And the foundational pieces are hustle, [and] effort. We're going to be an effort-based team. That's the No 1 piece. And we're going to have measurable ways for standards of performance that are going to be detailed. Every single rep. Every single practice. Every single game. It's going to be an effort-based team."
That's about as cool as it gets. The new head coach really didn't say anything to fire up Bears' fans or rile up his divisional opponents. He's going to switch to a 4-3 defense and wants to do a thorough evaluation of Fields before designing an offense that caters to the quarterback's strengths.
"Right now we're looking at everybody through the same lens," Eberflus said when asked about Fields. "We're going to go back and we're going to watch those guys with a fresh eye and we're going to see where they are in terms of what they need to develop.
"I'm a big process guy, so I want to be able to help the player," Eberflus added. "When you look at the player-coach relationship, it's got to be like this. One of the ways we help all players, from Player A to Player Z, we're going to develop a plan for those guys to get better."
I asked the new #Bears coach about Justin Fields and reverse-engineering an Offense. pic.twitter.com/JGiX2FeFRJ

— Laurence Holmes (@LaurenceWHolmes) February 1, 2022
Having Fields in attendance helped in two ways. First, nobody can say he didn't get the message. Additionally, he showed his new head coach and GM that he's immediately on board with their plan. That is what a player who will now be the face of the franchise is supposed to do. It showed maturity, and a willingness to put the team and the process first. In that respect, the coach and his quarterback are already light years ahead of where the team finished its 2021-22 season.
"I'm very excited," Fields said. "Having a defensive head coach, I feel like there are some positives to that. I feel like being on the offense, you kind of know what the defense is doing, but you don't know what they're fully doing. When you have a defensive head coach, he's able to explain to you what their jobs are, what their certain assignments are in a certain coverage, so I think that's one plus on having a defensive head coach. It definitely feels good to have a clean slate."
Fire and Ice are off to a fantastic start, and they have a quarterback buying in from day one. Considering the franchise and its middling history since team founder George Halas died in 1983, it's fair to wonder if any of this is real. Time will tell, but the excitement is fresh and palpable.