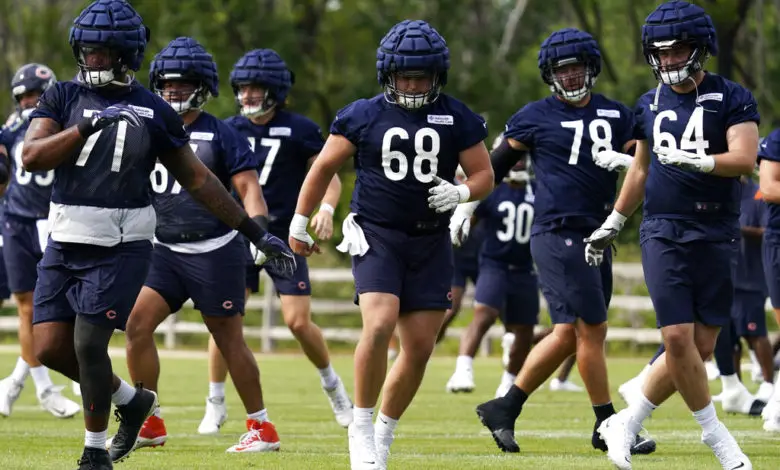 Getting to Bears Final 53-Man: Offensive Line
There are a few days until Matt Eberflus and Ryan Poles have to take the Bears roster from 80 players down to 53 and today I'll break down the offensive line. If you are unaware, the NFL requires teams to set their rosters by 3:00 pm on August 30. Chicago has the sixth position on the waiver wire and could add some players, too. That will put some players on the bubble who may have thought they had locked up a spot on this year's roster.  
Poles loves to build from the trenches out, and that makes most Bears fans happy. The rookie GM and his first-year head coach have worked very hard to reshape this group. Some moves have yet to yield positive results, but overall, the room is improved from last year. 
THE STARTERS 
The offensive line is shaping up well. The group has had its share of ups and downs, but Cody Whitehair remains a constant. Whitehair was a full-time starter at left guard last year and that won't change in 2022. Even better, he's been removed from any speculation he could end up playing center.
That's because the Bears added Lucas Patrick in free agency. The team's starting center is starting to do more cardio work as his return from a broken right thumb nears. Patrick is still wearing a cast but could be cleared to play against San Francisco on September 11. Keep an eye on practices this week and next. Patrick, a former Packer, is fully fluent in offensive coordinator Luke Getsy's new scheme. Patrick has remained engaged in team meetings despite the injury. He was Poles' premier addition to Chicago's offensive line.
The Bears have been lacking consistency at tackle since the opening of camp. Eberflus has tinkered a great deal with several players in the mix, but it looks like rookie Braxton Jones and second-year tackle Larry Borom have cemented themselves on the left and right respectively. Jones has been the recipient of high praise from Robert Quinn but has struggled against the veteran edge rusher in practice. Borom has looked sharp in the run game, especially working next to Teven Jenkins. I still have concerns about his pass protection skills, but he looks at least serviceable in that respect. 
This was my favorite play from Braxton Jones yesterday.

Jones made this play successful, coming off and sealing the LB.

He turned a possible TFL into a 6 yard gain. Great awareness from the 5th round rookie in his first game. #DaBears pic.twitter.com/MmJPT4MYuR

— Josh DeLuca (@JoshDeLuca4) August 14, 2022
Jenkins has come from way behind to place a stronghold on the right guard position. Forget the trade rumors and talk of an attitude problem because Jenkins is going to be the starter. The Bears have lacked talent at right guard since the departure of Pro-Bowler James Daniels. Jenkins has shifted that paradigm and looks like he was made for the position. The second-year lineman has been a mauler this summer, and in an offense that asks more of its guards, he has the intelligence and physicality to succeed.
"He's got great size and he's got good strength," offensive line coach Chris Morgan said. "He's a smart football player. Those are all things you want inside, that translate inside. Things move fast inside." 
THE DEPTH 
Patrick will start the regular season on Chicago's injury report. Sixth-round draft pick Doug Kramer will start the year on IR along with Dakota Dozier. This really hurts the team's depth. Expect Poles to dig a lot deeper into the interior to compensate for those missing pieces. The Bears do have some rookies who have stepped up. The more pieces Eberflus and Getsy can continue to evaluate, the better. 
Michael Schofield joined the Bears last month with high expectations though he has been a bit of a letdown.  That said, he's pedigreed and experienced. In fact, that's precisely why Eberflus handed Schofield a starting position when he signed. The Oakland Park native needs to step it up, but can still be a solid backup to Jenkins.  
The Bears brought Sam Mustipher back on a one-year deal as one of Poles' first roster moves. Mustipher has done everything the coaches have asked of him. He's worked at center and guard and he's worked with the starters and the second team. The coaches see that flexibility as an asset.
"I'm just going to do whatever it takes to help the Bears win," Mustipher said. "I try not to look at it like [I'm an asset]. I just kind of try to take it day by day and wherever they need me, that's where I'm going to be at and that's my job." 
Zachary Thomas looked really strong this week. He was also a sixth-round pick in the 2022 draft. The rookie is a disciplined player, a common theme of the team's improving culture. At San Diego State, Thomas took just three flags in his last 1,444 snaps.  
Ja'tyre Carter was the final offensive lineman pick by Poles this year. Carter was taken in the seventh round out of Southern and is an intriguing developmental prospect. The coaches like him and he could sneak onto the roster. Going to the practice squad is also an option for Carter. His success at Southern makes him worth stashing and developing. Carter only allowed one sack during his senior season.
Riley Reiff was signed at the start of camp as an experienced veteran who could immediately step in and help. Maybe it's lingering injury issues, or maybe it's rust, but he hasn't done enough to earn a starting position. The 33-year-old is entering his 11th NFL season with 139 career starts under his belt. Most likely, Reiff will slide in as the first backup tackle on either side. He has the vision and experience to mentor the Bears' younger tackles.
Reiff finally saw some game action in Saturday's 21-20 win over the Browns and though he was awfully rusty, he needed the reps.
"It's good to get out there with the fellas, at least get a few hits in and take a few pass sets," said Reiff, who got one hit that earned a 15-yard penalty for unnecessary roughness when he was following running back Khalil Herbert and dove in a little late. "I'm getting old, but I felt good out there today."
Barring any late pickups, Shon Coleman should be the last tackle to make the roster. He previously played for the 49ers and is therefore very familiar with the Shanahan offense. He is not quite in peak form since he opted out of the 2020 season to avoid the risks of COVID-19. As a cancer survivor with a likely compromised immune system, that was a smart decision. Hopefully, Coleman's conditioning returns to pre-2020 levels and he can be a depth contributor in Chicago.
HOW THE ROSTER IS SHAPING UP 
Teven Jenkins putting dudes into the ground 💪 #Bears pic.twitter.com/CuN8MoelFQ

— Chicago Football Connection (@CFCBears) August 28, 2022
The offensive line took a big hit with the departure of Daniels and Jason Peters. The two veteran linemen were among the strongest on the Bears line last year. Poles put in the hours and brought in a lot of solid linemen after leveraging the draft through trades to create developmental depth. Jenkins has been a surprise bonus at guard.
The Bears are likely going to cut Lachavious Simmons, Dieter Eiselen, Jean Delance, and Corey Dublin. It looks like Chicago will start the 2022-23 season with seven interior linemen and four tackles. If the front office gets desperate enough, Carter and Thomas have college experience at tackle.
Jenkins has an NFL start under his belt at tackle as well. He could be a short-term fill-in if injuries take their toll on the line. If anything, it looks like Eberflus favors flexibility and versatility in his backups. Poles drafted precisely that way. The offensive line will be a work in progress at the start of the season, but Poles, Eberflus, and Getsy believe the group will gel by midseason. 
Previous In this series: