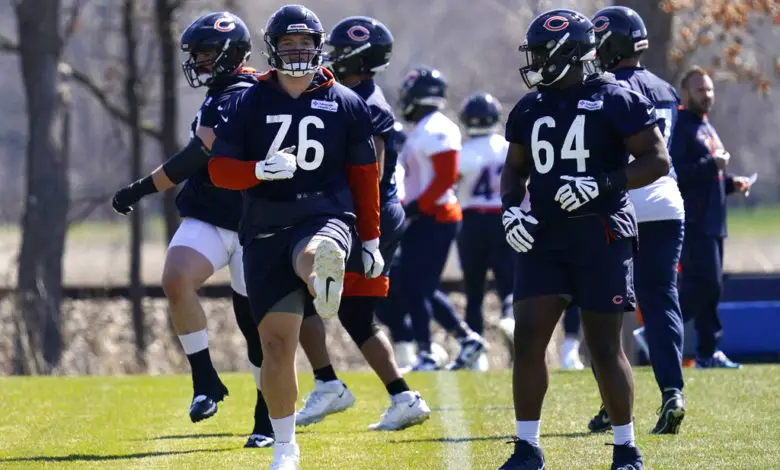 Right Guard is the Stained Armpit of Bears' Offensive Line
If the season began today, the starting right guard for the Chicago Bears, at least according to the team's published depth chart, would be Willie Wright. His backup is Dakota Dozier, who's on injured reserve. After that, it's anybody's guess. To put things as politely as possible, right guard is the stained armpit of the Bears' offensive line.
Looking at it from a different perspective, Bear Goggles On, a Fan Sided blog, recently ranked Wright as the No. 86 player on Chicago's 90-man roster. If I'm Justin Fields, I'm keeping a running back as an extra blocker every time I call a passing play.
Wright was a four-year starter at Tulsa who went undrafted before signing with the Falcons in 2019. He spent the season on Atlanta's practice squad, was called up for one game, but didn't get on the field. He has yet to be rostered for a single game since. The last time Wright had any game action, with Tulsa in 2018, he played tackle. Still, he was the first player new GM Ryan Poles signed when he took over for Ryan Pace.
#Bears are still seeking a solution at right guard amid offensive line evaluation, and that uncertainty is a concern https://t.co/WvqNB55k8t via @CEmma670 pic.twitter.com/nRSVOO6c7U

— 670 The Score (@670TheScore) June 23, 2022
When the Bears took a swing at Ryan Bates and whiffed badly, Poles didn't have a backup plan. Part of the reason head coach Matt Eberflus and offensive line coach Chris Morgan spent so much time shuffling players is because each knows they're dealing with a mammoth hole on the right side of the line. Chicago has options, but it means asking various linemen to play out of position.
Eberflus and Morgan could play last year's center, Sam Mustipher, at right guard.
They could move Lucas Patrick to right guard and let Mustipher start at center.
Teven Jenkins, last year's left tackle, might end up playing right guard.
Larry Borom, who is lightly penciled in as this year's left tackle, might be an option, too. That would require letting rookie Braxton Jones start in Borom's place, with Jenkins moving to right tackle.
Jenkins could go back to left tackle with Broxton playing opposite him and Borom at right guard.
Zachary Thomas, another rookie, could start at right tackle, with Broxton moving to the left side and Borom starting at right guard. That would make Jenkins a backup.
Finally, and most likely, Poles will find somebody on the waiver wire once the 29 other teams start navigating their rosters to the 53-man limit requirement by Opening Day. The problem with that plan is that the better offensive linemen are usually the last cuts of the summer.
Barring any personnel additions, expect Mustipher to start with rookie Ja'Tyre Carter serving as his backup. In that scenario, Wright is unlikely to make Chicago's 53-man roster. The Bears starting five would probably be Jones at left tackle, Cody Whitehair at left guard, Patrick at center, and Borom at right guard, all joining Mustipher.
If you're looking for a silver lining in that mess of dark clouds, it's that Jones has drawn high praise from scouts, analysts, and Chicago's coaching staff. By all accounts, he has the potential to be an All-Pro left or right tackle once he fully learns the system and adapts to the faster and more violent play in the NFL. Then again, the coaching staff has yet to see Jones in pads, and, that still doesn't solve their lack of quality players at right guard.
#Bears rookie OL Braxton Jones is asked if he's been told that he's competing for a starting job. pic.twitter.com/5PwFybVFjQ

— Barroom Network (@BarroomNetwork) June 16, 2022
It's doubtful Wright will win the job, and it's fair to question if he'll even make the practice squad unless Poles sees something in him that no other NFL executive has. The three-year veteran has enormous legs, great size, and big hindquarters that provide powerful strength and pivot. He's an aggressive lineman who loves to drive and punish his opponents. Poles said he wants the Bears to "be more violent" and Wright  represents a lottery ticket of sorts in that direction. He has great ballast and takes up a lot of space in the middle of the line.
That said, he hasn't been good enough to take a single NFL snap in his professional career.
Poles promised to upgrade the offensive line, but he stood like a deer in the headlights when the Bills matched the offer sheet the Bears gave to Bates. Perhaps the plan has always been to move Borom or Jenkins to guard, which wouldn't be terrible, but if that is the case, neither Poles nor Eberflus has made any indication that's the plan.
In the meantime, Bears fans can only hope that the rookie head coach and his offensive line coach find the right combination to keep Fields off of his back as much as possible. A new offense and faster wide receivers mean nothing if Fields doesn't have time to throw the ball.