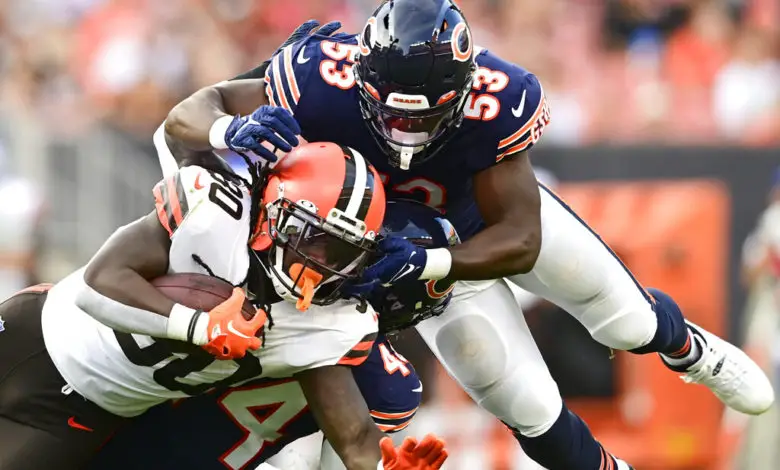 Getting to the Bears Final 53-Man: Linebackers
There are a few days until Matt Eberflus and Ryan Poles have to take the Bears roster from 80 players down to 53 and today I'll break down the linebacker position. If you are unaware, the NFL requires teams to set their rosters by 3:00 pm on August 30. Chicago has the sixth position on the waiver wire and could add some players, too. That will put some players on the bubble who may have thought they had locked up a spot on this year's roster.
Camp started with a lot of questions at linebacker. Roquan Smith skipped practices and asked to be traded, but he's since rescinded. With those distractions behind him, he's been an active participant for the last week or so. Nicholas Morrow is new to the team. At one point, Jack Sanborn, who's had a stellar camp, was listed at the top of the depth chart along with Smith and Morrow. Let's get into it. 
THE STARTERS 
Smith is clearly the leader of the linebacker group. Routinely on the cusp of a Pro Bowl nomination, he's head and shoulders above anybody else at the position and one of the league's best. Despite the time he's missed he's locked in on the weak side while he plays out the final year of his rookie deal.
Roquan Smith wins the #NFL Day with this quote… pic.twitter.com/Gfvd7TCGto

— Barroom Network (@BarroomNetwork) August 21, 2022
"I'm just shifting my focus to the season and more so, and just focused on being the best teammate I can be to those guys in the locker room," Smith said. "It's the last year of my deal, and hey, I'm just going to take it, run with it, [and] bet on myself like I've always done."
Joe Thomas has done everything the Bears have asked of him on the strong side. Pencil him in as the starter despite Sanborn's achievements. Thomas has been flying all over the field this summer, finishing his tackles, and has shown he's not averse to playing tough through the whistle.
The 30-year-old signed with Chicago in March and has appeared in 89 NFL games with 16 starts over seven seasons. He previously played for the Packers (2015-17), Cowboys (2018-20), Texans (2021), and Ravens (2021). Thomas has registered 218 tackles, 12 tackles-for-loss, 1.5 sacks, one interception, 10 pass breakups, two forced fumbles, and one fumble recovery in his career.
Morrow will play the MIKE and lead the defense. He's spent his time learning the calls and executing them, and if there was any doubt, Smith's absence only solidified his position as the group's captain. In fact, Morrow embraces the responsibilities.
"Right now [Morrow] is directing the fronts, he's directing the calls," said defensive coordinator Alan Williams a few weeks ago. "He has most of the huddle pre-snap communication."
Morrow understands his role and played an important part as a mentor in the success of Sanborn. As a free agent who is new to the team, he's made a seamless transition. Further, his leadership will be key among the group this season. Morrow will read opposing offenses and make all of the defensive audibles.
"That's a pretty standard thing, I think," Morrow said. "I think the biggest thing is making sure we're all on the same page and we're over-communicating. Sometimes you get those young guys in there and there are certain calls where it's gotta be communicated consistently. Just getting that together is probably bigger than the calls, I think."
THE DEPTH 
Sanborn and Matthew Adams will be capable backups. Sanborn led the team in tackles and solo tackles entering Saturday night's tilt with Cleveland. The rookie surprisingly went undrafted and started strong with two takeaways in Chicago's exhibition opener against the Chiefs. That was enough to earn honors from Pro Football Focus as the league's best Week 1 rookie.
Jack Sanborn read this pass the whole way. The Bears have needs at linebacker and this is how to make an impression. pic.twitter.com/JWiRkkwfCJ

— Chris Emma (@CEmma670) August 13, 2022
Thanks to his fantastic interception, Sanborn earned a 94.1 grade for his dominant performance. The undrafted rookie ranked just higher than the Browns' third-round pick, Martin Emerson, and the 49ers' fifth-round pick, Samuel Womack.
Adams has had some solid moments as well, but most importantly he already knows Chicago's defensive scheme and can be a resource for the rookies. That said, Adams and Sanborn can provide versatility, and each can help with special teams. Eberflus and his staff won't overcomplicate the position. In fact, the Bears are stronger and deeper at linebacker than they were when camp started.
HOW THE ROSTER IS SHAPING 
DeMarquis Gates was a late addition to the team. He had a strong camp but it might be a case of too little too late. He has a shot if Adams receives a suspension for a misdemeanor gun charge that occurred earlier this summer, though the league has yet to make an announcement one way or the other. Gates has a high motor and played his heart out, but he's not as talented as the aforementioned linebackers.
Caleb Johnson is on the bubble, too. Johnson has been a favorite of mine for two years and has as much heart as anybody. Williams admitted, however, that Johnson is still a work in progress. By my count, the Bears will enter the regular season with five linebackers. That doesn't leave any room for Johnson, barring a surprise or two.
Previous in this series: Defensive Linemen
Editor's note: Michael Canter contributed to this post.