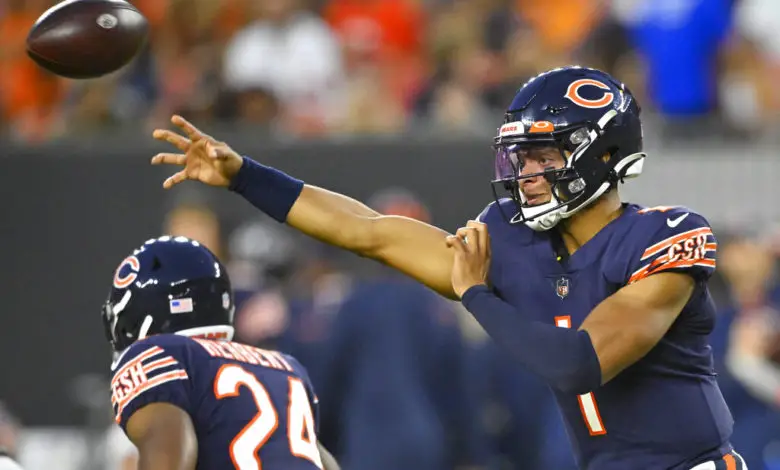 Chicago Bears Score & Recap: Bears Finish Undefeated Preseason with 21-20 Win Over Cleveland
Editor's Note: We are excited to welcome Sean Holland back to do previews and recaps starting with Chicago's season-opening tilt against the 49ers. 
Though many analysts have pegged the 2022 Bears as a 5.5-win team, Chicago finished the preseason in an undefeated fashion thanks to Saturday's 21-20 win over Cleveland. Justin Fields had a breakout game, completing 14-of-16 passes for 156 yards and three touchdown passes. The second-year quarterback finished the game with a pristine 146.9 passer rating.
Head coach Matt Eberflus ran with his starters for the entire first half as Chicago built a 21-6 lead. Fields threw touchdown passes to Ryan Griffin, Dante Pettis, and Cole Kmet. Pettis is desperately trying to earn a roster spot so it was nice to see him get on the stat sheet.
All 3 of Justin Fields touchdowns tonight. pic.twitter.com/tFrCqTotT7

— Max Markham (@MaxMarkhamNFL) August 28, 2022
The naysayers will complain that Fields did most of his damage against Cleveland's second unit. Don't buy that type of analysis. Preseason games are measured by progress, not by the opponent. Fields made quick decisions, moved the pocket well, mastered the pocket, and had some decent downfield passes. He checked down when needed, and found the receivers that were wide open. His touchdown pass to Kmet was an exercise in patience. In other words, he has a great read on Luke Getsy's offense.
Getsy envisions Fields as a mobile rocket launcher and the win over the Browns gave us a glimpse of what he means. Everybody knows the signal-caller has elite arm strength but when you add accuracy into the mix you have a lethal weapon that will drive defenses crazy. Fields completed passes to 10 different receivers Saturday night. That was fun to watch.
Speaking of Kmet, the third-year tight end looks as comfortable as ever this year. His on-field chemistry with Fields is apparent, and he's going to keep defenses from keying on Darnell Mooney. The Bears' receiver group is starting to look better than advertised. They're far from elite, but Getsy has proven adept at maximizing their strengths and Fields can hide most weaknesses with his ability to scramble. If the unit can be efficient they won't have to be great. Give credit to Getsy for doing a masterful job with what he's had to work with this summer.
"I think we've progressed each time we've gone out there," Kmet said. "We see the progression each and every week. We've got [a week off] now and then a week leading up to the [49ers] game, so we've got two weeks before we iron all this out."
Why the Bears Won
Chicago was able to set the tone early to earn its third preseason win. The Browns were a bit depleted on the defensive line, and that helped. Myles Garrett and Jadeveon Clowney did not play, and still, Chicago's offensive line had another up-and-down game. But make no mistake, Fields took his game to an elite level and that's why the Bears won this game. Was it a turning point for the second-year quarterback? It's tough to make that argument, but at the very least he flashed the elite skills that make him a franchise-type quarterback.
In a span of four possessions, Fields led scoring drives of 80, 52, and 62 yards, finishing those series with a touchdown pass to a different receiver. His enthusiasm spoke volumes. He took a big step forward in his progress. Most of all, Fields showed he has a real knack for Getsy's system.
"It was just execution by all parties," Fields said. "The O-line did a great job protecting today. I told them that multiple times. The receivers did a great job running the right routes at the right depths."
Key Moment
Choose any touchdown pass by Fields. But hey, Greg Stroman Jr. had a key interception with the Bears up 14-0. Eberflus loves takeaways. That said, the pick might not be enough for Stroman to surpass Duke Shelley on the depth chart.
.@IAM_GSIII said gimme that!!

📺: #CHIvsCLE on FOX32 pic.twitter.com/gWGUaccCqj

— Chicago Bears (@ChicagoBears) August 28, 2022
Injury Notes
Roquan Smith was supposed to play but was kept out after experiencing tightness during warmups. Smith missed Chicago's first two games while staging a contract "hold in."
Rookie edge rusher Dominique Robinson suffered a leg injury in the second quarter. He did not return.
Center Lucas Patrick is starting to do more cardio work as his return from a broken right thumb nears. Patrick is still wearing a cast but could be cleared to play against San Francisco on September 11. Keep an eye on practices this week and next.
Rookie strong safety Jaquan Brisker still has a cast on his right hand but can play if he keeps it padded.
Wide receiver Byron Pringle has been sidelined since early August with a quad injury. Eberflus and Getsy believe he is a key the offense, especially in the middle of the field. Hopefully he will return to practice soon.
Wide receiver Velus Jones Jr. has been in and out with an undisclosed injury. He will be key to the success of Chicago's special teams and gives Fields another weapon on offense.
Veteran defensive linemen Mario Edwards Jr. and Angelo Blackson have missed significant time.
Cornerbacks Thomas Graham Jr. and Tavon Young were considered candidates for the nickel role, but both have missed nearly all of training camp.
Stats That Matter
Let's just all enjoy the big game by Fields and pocket any disclaimers for a day or two.
The Bears kept penalties to a minimum once again. By my count, the starters were flagged just once. That type of discipline is a big change from last year.
The starters won the time-of-possession game, but in the second half, it seemed like the defense never left the field. In fact, Nathan Peterman and Trevor Siemian combined for just 12 passing attempts after halftime.
David Montgomery returned to the lineup and had nine carries for 28 yards. He showed a nice burst on a 13-yard, first-quarter carry.
Griffin solidified his spot as a backup to Kmet with his performance. The Bears will keep three tight ends this season, and James O'Shaughnessy will get that third spot.
Riley Reiff finally saw some game action at left tackle with the second unit. He struggled quite a bit and looked rusty.
If Braxton Jones and Larry Borom play well as starting tackles, Reiff's situation is an afterthought. The two starters played well last night.
The Bears really like Ja'Tyre Carter and Shon Coleman. That doesn't bode well for Reiff, Michael Schofield, and rookie Zachary Thomas. Teven Jenkins has played so well that Schofield might be cut on Tuesday unless he can be designated with an injury.
Lamar Jackson started in place of Jaylon Johnson last night. Johnson was just resting. Jackson has had extensive playing time this summer and could be a surprise addition to the secondary group. "He's been playing well for us," cornerbacks coach James Rowe said. "I like how much he has grown since the spring. He's really come a long way, and we're excited to see how he looks. He moves well (for a bigger cornerback). I think he lost a few pounds from the spring to camp and he's been looking a lot quicker. He's got a real smooth pedal, good feet, and he's getting better every day."
If you're projecting Chicago's starting defensive backfield, it's going to be Johnson and Kindle Vildor at the corners and Brisker and Eddie Jackson at safety. Gordon will play the nickel.
With Jones out, UDFA Kevin Shaa handled kickoff returns. Pettis served as Chicago's punt returner.
Cairo Santos missed his lone field goal attempt. Santos finished 3-for-3 on extra points.
Trenton Gill had a booming 58-yard punt and finished with a 48.6 average on five kicks.
Keep an eye on what the Bears do with N'Keal Harry. If the Bears place him on IR before Tuesday at 3 p.m. he will not be eligible to return this season.
Next Up
The Bears will host the 49ers in their season opener at Noon CT on September 11. They all count now.