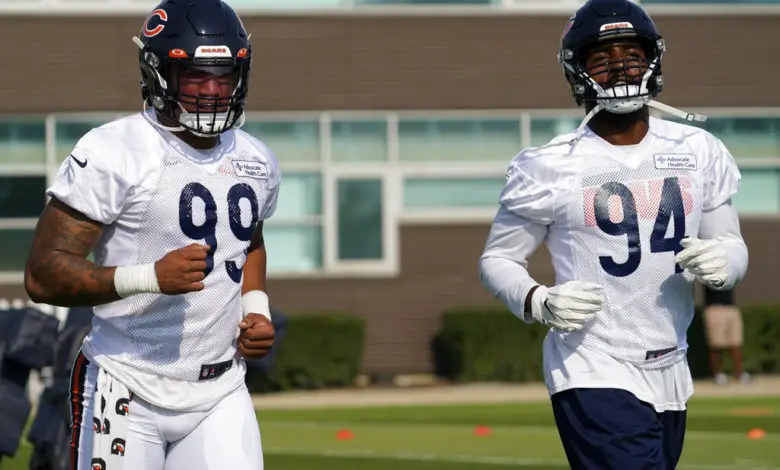 Getting to Bears Final 53-Man: Defensive Line
Matt Eberflus and Ryan Poles have just a few days left to evaluate the Bears roster before cutting the fat until only 53 players remain. The league requires teams to submit their final rosters by 3:00 PM on August 30. The Bears are positioned no. 6 on the waiver wire and will likely make a few changes once they're done in-house. In getting to the Bears' final 53, let's start with the defensive line.
Poles loves to build from the trenches out, and that makes most Bears fans happy. Most upcoming moves seem pretty straightforward, but it's okay to think outside the box, too. 
THE EDGE RUSHERS: 
Let's start with the guys whose primary responsibility is getting after the quarterback. The Bears will open the season with Robert Quinn and Trevis Gipson as edge rushers. Quinn set Chicago's single-season sack record in 2021, giving the line a strong veteran presence. He skipped the OTAs and mandatory minicamp but looks to be in good shape. He's been repeatedly beating rookie Braxton Jones in practices. He's all-in for the upcoming season despite rumors to the contrary at the onset of camp.
Just bc it feels like a lot of people are forgetting how good Robert Quinn is. Here ya go. #DaBears #BearDown pic.twitter.com/O1nap5duYO

— Clay Harbor (@clayharbs82) August 22, 2022
Most analysts expect a big year from Gipson though he has struggled in practices and in Chicago's first two preseason games. The third-year lineman who was named the Bears' most improved player last season could be on the bubble for a starting position if he continues to struggle. Domonique Robinson has looked really good in camp and has impressed the coaching staff. That said, look for Gipson to show something against the Browns. If he cannot prove he is an every-down EDGE, he may be relegated to spot play. Sean Desai deployed Gipson that way in 2021 until an injury to Khalil Mack forced Gipson into the starting lineup.  
Al-Quadin Muhammad could force his way into the starting front four. Eberflus is familiar with Muhammad from their time with the Colts, so keep an eye on a potential battle with Gipson as the season opener approaches. Robinson is a dark horse. He's very raw but ultra-athletic and he's outplayed Gipson.  
DEFENSIVE TACKLES 
It's harder to get a read on how things will shake out at defensive tackle. Eberflus is most likely to start the season with Justin Jones and Angelo Blackson as his starters. Jones has been coming into his own and has shown great improvement as a three-technique. Jones signed with the Bears because he specifically wanted to play for Eberflus in this defense. The four-year veteran has a nose for the quarterback and should be more than capable as a run-stopper at 6-foot-3, 310 pounds.
Chicago Bears DL Justin Jones said he talked to a lot of players that played for HC Matt Eberflus and they all said good things about him.

Jones: "I've been talking to guys that have been with Flus and they trust him. They love him. He has 100% of my trust."

(Via @ChicagoBears)

— Daniel Greenberg (@ChiSportUpdates) August 3, 2022
Blackson showcases a slender, faster build, and those body types usually find more success in the Tampa-2 scheme. In Chicago's new defensive scheme, you'll typically see smaller-sized linemen with elite speed and athleticism. Jones serves as the larger tackle to plug gaps in run defense, while Blackson will tend to have designs on opposing quarterbacks.
Don't sleep on Khyiris Tonga though. He'll earn reps rotating with Blackson. He's athletic for his size and can stuff the run very well. Tonga intercepted Justin Fields in practice last week for a surprise pick-six that delighted defensive line coach Travis Smith.
"Big man making plays is always a great thing in our room," Smith said. "We value production, especially when we get our hands on the ball. When you get those opportunities, you don't want to let them down. The whole room was running to the end zone on that play."
As Tonga matures and develops, he could find himself taking snaps away from Blackson.  
Mike Pennel is an under-the-radar guy that I expect to break with camp. He understands the defense well and has bought into the team's HITS culture. Eberflus loves players who can take the ball away from the opposition, and Pennel has proven to be adept at that.
HOW THE ROSTER IS SHAPING 
In my opinion, the Bears should enter the regular season with four edge rushers on the roster while choosing to cut Mario Edwards and Charles Snowden. I also think Eberflusd and his staff will opt to start the 2022-23 season with four defensive tackles. That means cutting Micah Dew-Treadway and newcomer Trevon Cole, who has had a great summer with multiple sacks. Cutting Cole will be tough. The Bears just don't have enough solid depth at other positions to carry a ninth defensive lineman.
Editor's Note: This is the first of a positional series by Bears Insider contributor Rick Leen.