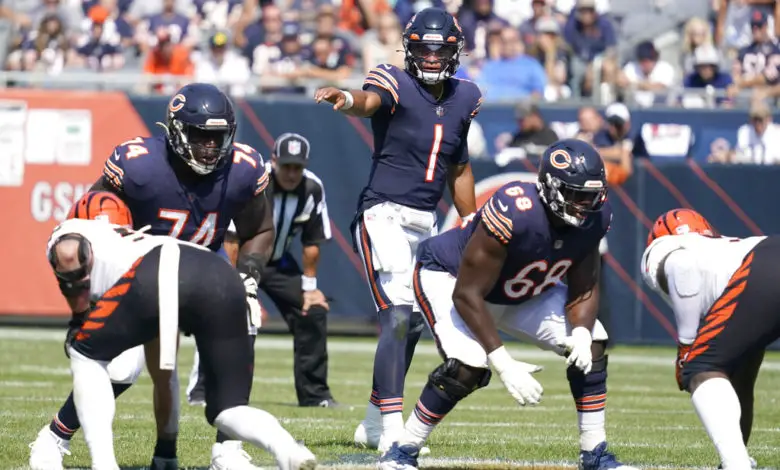 The Big Uglies Will Lead Bears Back to Greatness
It's no secret the Bears had one of the worst offensive lines in football this season. Pro Football Focus ranked the unit No. 22 overall, and if it weren't for James Daniels and Jason Peters, Chicago May have been the worst in the league. If the Bears are going to get back to greatness and retake the NFC North, it's going to be the "Big Uglies" who lead them there.
Here's how PFF graded the starters and summarized their 2021 performance as a whole.
LT Peters – 77.9
LG Cody Whitehair – 66.0
C Sam Mustipher – 51.8
RG Daniels – 71.8
RT Larry Borom – 61.4
"There were games this season in which the Chicago offensive line couldn't block anybody, but overall it wasn't as bad as those low moments. Peters gave the team 853 snaps of good play across 15 games before injury took him down. He allowed 28 pressures on 517 pass-blocking snaps. The biggest contributors were at least average with the exception of Mustipher, whose 51.8 PFF grade was the lowest of the starters. Rookie Teven Jenkins struggled once he got his chance late in the season, allowing 11 pressures and being flagged seven times on 160 snaps."
Only Trey Hopkins (51.4) of the Bengals, Josh Jones (46.7) of the Cardinals, and Calvin Throckmorton (43.4) of the Saints graded lower than Mustipher among qualified starters. Ryan Poles knows the line needs work and stated so after he was officially introduced as Chicago's new GM.
Chatted with former Chiefs GM Scott Pioli, who hired Ryan Poles in 2009. One snippet about how the new Bears GM impressed with the way he evaluated linemen⤵️ pic.twitter.com/mUzH4YT2Uq

— Kevin Fishbain (@kfishbain) January 26, 2022
Justin Fields was sacked 36 times this season — including nine against Cleveland in his first official start— and too often, the five linemen weren't rushing over to help him up.
"It [all] starts with the offensive line," Poles told The Athletic (subscription required). "It agitates me to see a quarterback get hit and be on the ground. I watch the five guys and their body language."
"If I see my guy on the ground, I'm running over there, getting him up, making sure he's clean, ready to go," the new GM added. "I don't know if I saw that enough in the tape that I watched, and that's critical. And also to protect your guy. If you see something cheap, something dirty, you need to set the tone that that's not gonna happen, because if you do let it happen once, it's going to happen over and over and next thing you know, your quarterback is hurt. So that (nastiness) mentality is critical and is something we need to add."
Poles is going to have to look to free agency to supplement his line and could draft an offensive lineman at the No. 39 pick in this year's draft. If not, he will almost certainly look for value in the lower rounds and among the undrafted free agents. Orlando Brown Jr. could be someone he pursues in free agency. The top seven college offensive linemen could go in the first round, but the Bears might have a shot at OT Trevor Penning of Northern Iowa. Daniel Faalele of Minnesota and Nicholas Petite-Frere of Ohio State will most likely be available when Poles makes his first selection.
Poles realizes that Fields can't help the Bears if he is spending 40% of his time on his back. He expects his team to be aggressive and physical, and that starts with the offensive line.
"[We're going to be] tough and violent. A team that strains, that finishes," Poles told Larry Mayer in an interview for the team's official website.
It appears Poles is open to exploring any and all areas to improve his team.
"Building through the draft," the GM continued.  "Being specific on what types of players we bring in here that fit our culture, and also positional fits are important as well. So, we're going to look at traits. We're going to look at [the] characteristics of the players we're going to bring in to make sure that they're the right fit for here. We'll also be selective in free agency. And just matching evaluation—what we see on the tape—versus valuation so that we're making sound decisions."
Poles also knows how important the O-Line is to the success of the team. In last year's Super Bowl, the Chiefs lost 31-9. The Buccaneers were in Kansas City's offensive backfield all game. A team with Patrick Mahomes, Travis Kelce, and Tyreek Hill couldn't score a touchdown in the biggest game of the year, and it was all because of their offensive line.
The Bucs defense played fast and aggressively the entire game and never let Mahomes find his rhythm. Tampa Bay sacked him three times, and the Chiefs were a miserable 3-for-13 on third-down conversions as well as one-of-three on fourth-down attempts. Game over.
Poles upgraded Kansas City's offensive line before this season, including huge trade to acquire Brown, Jr., surrendering four draft picks to acquire the all-pro tackle. Brown has been a rock since being drafted in the third round in 2018. He has started 58 games in his career at both right and left tackle.
Kansas City has been among the league's elite since Mahomes became the full-time starter in 2018. Poles expects similar success to follow him to Chicago.
"We're going to [take] a relentless approach to fix our weaknesses," he said at his introductory presser. "We're going to maintain great self-awareness of who we are. We're going to solve problems with open communication and candor. And we're going to consistently put players in a position to succeed. And the last thing—the most important piece—is we're going to take the [NFC] North and never give it back."
It all starts with the big uglies.