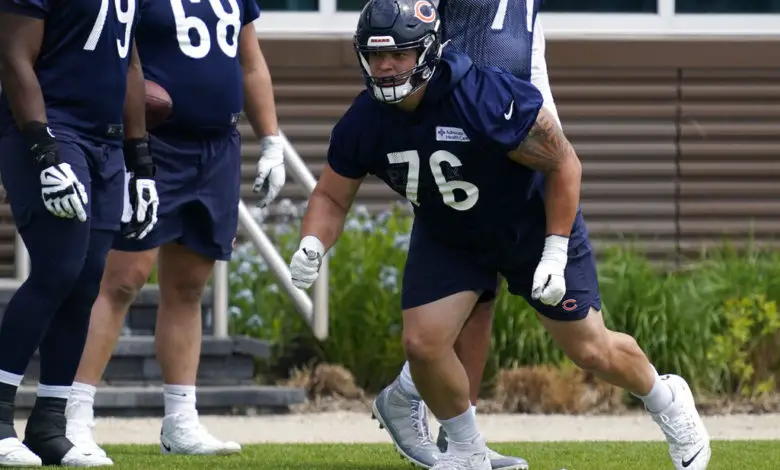 Don't Buy Teven Jenkins Trade Rumors
I'm not sure if Adam Schefter has changed his tune yet, but after the Bears beat the Seahawks 27-11 last week, the NFL Insider dropped in on Peggy Kusinski and Dionne Miller and hinted that Chicago is actively looking to trade Teven Jenkins. The offensive lineman has had an incredibly eventful training camp. He missed more than a week of practice due to an undisclosed injury. The second-year tackle was also moved to right guard. He's running with the ones now, so don't buy the Jenkins trade rumors.
"I still think [Jenkins] will be traded," Schefter said on ESPN 1000's Peggy and Dionne Show. "My belief is that they'll wind up trading him before the final roster cutdown day or right around there, if not before. My guess would be that he's not a Bear this season. And we'll see where they move him, and what they get for him. It won't be what they invested in him. But it'll be something. … Or maybe they're stuck with him and maybe they want to look at him in other positions. But I think they'll move him, that's my guess."
Despite some trade buzz around Teven Jenkins early in camp, the Bears have been pleased with his play the last few weeks. Might have found a home at guard. https://t.co/2w7yoMT9oK

— Jeremy Fowler (@JFowlerESPN) August 24, 2022
If the Bears were really trying to trade the enigmatic lineman, there's no way he would be working with the first team offense. Why constrain another guard or tackle just to showcase a player you hope to move, especially during training camp? If anything, Justin Fields needs consistency from those protecting him in order to better navigate the new offense. That's exactly what Matt Eberflus and offensive coordinator Luke Getsy have done for Fields.
Ever since Jenkins returned, he's been a mainstay along with Braxton Jones, Cody Whitehair, Sam Mustipher, and Larry Borom. The group started and left the game together against Seattle, and they're expected to play the entire first half against the Browns on Saturday. That will be a great test for the starting five. Last year Cleveland torched the Bears to the tune of nine sacks in Week 3, the first start for Fields as a rookie. That Fields survived the 26-6 loss is nothing short of a miracle. He completed six passes for just 68 yards and had three runs for 12 yards.
"The way I feel right now, I don't like feeling like this," said Fields, who was hit 15 times in that game, six by Myles Garrett and five by Jadeveon Clowney. "It's kind of like you're in a dark room and you would do anything you can to win. That's what will motivate me to not let a game like this happen again."
There's nothing like hitting rock bottom in your first effort. Fields had no choice but to improve.
Whitehair will lead a line looking for redemption on Saturday but expect Jenkins to have a big game, too. He's looking for personal redemption and a chance to impress the coaches his teammates, and the fans. Eberflus expressed confidence in Jenkins on Friday.
"Tevin's smart," said the first-year head coach. "He's a very smart, very athletic player. You know, one of my mentors said this and I believe this, and he ingrained it into my mind; [it's] that you never put a ceiling on a player. You always have to watch out for that, as a coach. You never put a ceiling on [Jenkins]. Let him grow. Let him do his thing because some people mature and grow at different times and all of a sudden, they just grow into a player. They grow into a really good NFL player. And that's for any position. We're never going to put ceilings on guys, we're always going to think the best for every player. The sky's the limit for you and we're coaching every single player on the roster that way."
You have to love the way that Eberflus always finds a way to point out the obvious while simultaneously sending a positive message to every player on his roster. Jenkins is proving he can handle any challenge and the head coach recognizes his effort. That's a big change from 2021. Positive reinforcement is a new concept to second-year players like Jenkins and Borom, and it will bring out the best in both. That goes for every player that makes Chicago's 53-man roster.
"It's establishing your identity," Eberflu added. "Establishing your style of play and the effort we give, the execution we give, situational football, third down, if we get a two-minute drive, and how we operate in the red zone. All of those things that come into play are good football. We want to play with a good, clean operation and we want to be aggressive in our style and aggressive in our approach."