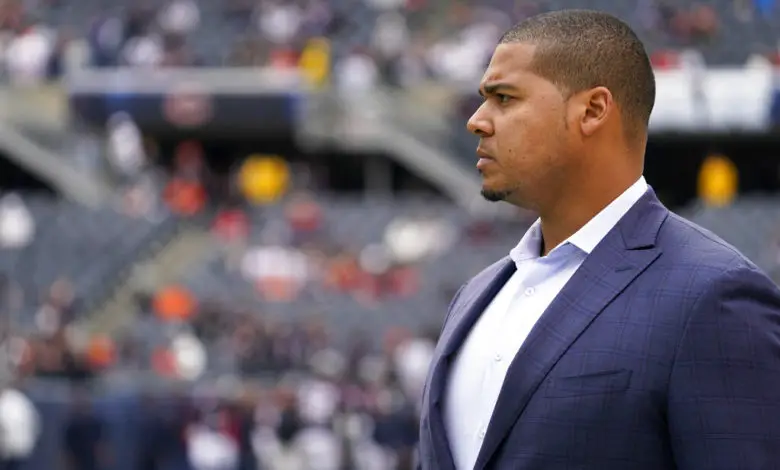 First & Long: Poles Building Bears Through Draft, UDFA QB Tyson Bagent Holds NCAA TD Record, Eagles Win 2023 Draft
The draft is over, and just when I thought I'd escape the mocks for the better part of a year, I see some of you are already compiling 2024 projections. Give it a rest. Your head will implode.
I haven't personally graded Chicago's draft, but I do give Ryan Poles a lot of credit for finding a plug-and-play right tackle with his first pick. I was against selecting an offensive lineman with the pick, but I do believe the GM got the prize of the litter. In fact, I liked most of his selections, though I would have graded him higher had he chosen Zacch Pickens ahead of Gervon Dexter. I know I'm nitpicking. The Bears' interior defense looks like it will be a lot stronger, and Pickens is giving me some serious Tommie Harris vibes.
I'll be interested to see how strong the Bears' second and third-round picks are compared to last year's. In 2022, Poles took Kyler Gordon, Jaquan Brisker, and Velus Jones on day two. This year he got Dexter, Pickens, and CB Tyrique Stevenson. But Poles may have been at his best in Round 4 when he selected running back Roschon Johnson and wide receiver Tyler Scott. Chicago got two exceptional playmakers in the middle of the draft, and Poles sounded surprised that he was able to get Johnson.
"This was a guy I was shocked that he was still on the board," Poles said of Johnson. "He is a really good football player that I know is going to be successful in this league in many different ways. And on top of that, probably you could understand from talking to him over that Zoom call, he's an unbelievable human being as well who is going to enhance our culture, enhance our locker room, and continue to meet the standards that we've put in place."
Last year the Bears got their best defensive player as a UDFA. Jack Sanborn didn't get the Mr. Irrelevant prize package, but he looks like he's going to have a long and storied career in Chicago. You can't put him up there with the greats like Dick Butkus, Mike Singletary, and Brian Urlacher. That would be folly. But Sanborn was very good last year, and he's only going to get better playing with a better line and new teammates Tremaine Edmunds and T.J. Edwards.
The Bears' defense has the early makings of becoming a dominant force, but they're not there yet. Chicago needs help on the edge, and Poles said he's going to circle back to free agency. In case you're wondering, Leonard Floyd is the top pass rusher available. Poles might also be interested in one of Yannick Ngakoue, Jadeveon Clowney, or Matthew Ioannidis. The Bears could also use some depth at linebacker.
Chicago picked up UDFA Tyson Bagent on Saturday as a developmental quarterback. Bagent led Shepherd to 43 wins in his 53 starts, including back-to-back 13-win seasons in his final two years. He also set an NCAA record for most career touchdown passes with 159. Bagent has a functional physical profile worth developing, but he's not like Fields. Bagent is more of a prototypical pro set quarterback. He won't make the 53-man, but he could be Chicago's QB2 by 2024.
One of the best things the Bears have going for them this season is that the NFC North is manageable. Aaron Rodgers is gone, the Vikings finished 2022 with a negative point differential and lost in the playoffs, and the Lions had a puzzling draft. If Fields takes a step forward, the Bears will at least be competitive in the division.
Bears News & Notes
Adam Jahns of The Athletic posits that it's fair to ask ($) if Poles did enough to help Justin Fields. The Bears' offense did get better, especially when you add D.J. Moore to the equation. Maybe significantly better.
Our own Rick Leen said that the selection of  Darnell Wright was a big win by the Bears.
The Bears put Wright through an exhausting physical and cognitive Top-30 visit just before Easter, and the young tackle left Chicago's staff convinced that he would be their first pick.
Fields has a viable offensive line for the first time in his career, and this is the best group of wide receivers the Bears have provided him as well.
Poles said he would build this team through the draft and this weekend was a big step forward for the second-year GM.
The executive also said that he's ready to reengage with free-agent defensive ends and edge rushers, as long as he doesn't have to sacrifice financial flexibility.
Chase Young could be an option if the Commanders decide to trade him.
If Scott isn't the steal of the draft, Pickens could be.
Scott knows he needs a little polish, but you can't teach his kind of speed.
I love the story that connected Travis Bell from Kennesaw State to the Bears. Bell is one guy worth rooting for, and he's also the walking definition of the team's H.I.T.S. principle.
The Bears' depth chart is coming a little more into focus, and with rookie minicamp ahead this week, we should get an idea of who will start, and who will slot where.
If you're tracking UDFAs NBC Sports has a running list for all teams, including, of course, the Bears.
The Bears were the worst team in the league last year, but have climbed eight spots in the post-draft power rankings.
The NFL will release its schedule in two weeks, and the odds favor Chicago's participation in an overseas game. The five international games will all be "hosted" by AFC teams, which could mean a game against the Chiefs, Chargers, or Browns in London or Frankfort.
There's a Flag…On the Play
Perhaps Will Levis should have asked Peyton Manning a football question instead of inquiring about marketing opportunities. The man does not lack confidence, that's for sure. I really want to root for this kid but he makes it so difficult at times.
Picture this:

you're a football player. good enough to play in the NFL and this is the question you ask the 🐐 pic.twitter.com/CA7ZYTZXDG

— Billy Stats (@Billy_Stats) April 28, 2023
Scout Team
Here are Chicago's 2023 draft profiles and positional ranks.
Film Room
Bears fans are going to love Scott's speed.
Tyler Scott has the vertical speed to stretch defenses and the dynamism after the catch to be a threat. pic.twitter.com/wRBOPl3xkX

— Billy M (@BillyM_91) April 20, 2023
Northern Exposure
NFL News & Notes
Deion Sanders scolded 31 NFL teams after only one HBCU player was selected in this weekend's draft.
I think we can all say with a high degree of confidence that Eagles GM Howie Roseman won this year's draft. He had the right combination of luck, strategy, and patience to add several premium players to an already-loaded roster.
NFL Network analyst Bridget Condon committed the mother of all Freudian slips when discussing Philadelphia's top pick Jalen Carter.
Cowboys owner Jerry Jones said "the ship has not sailed" when asked about a potential reunion with Ezekiel Elliott.
The Colts drafted QB Anthony Richardson at No. 4 overall, but owner Jim Irsay said the team would have chosen the Florida QB even if it had the top pick in the draft.
Placekicker James Moody and Punter Brad Robbins of Michigan are the second kicker/punter tandem to be drafted from the same school in 40 years. Matt Gay and Mitch Wishnosky were both drafted from Utah in 2019.
Three Yards and a Cloud of Dust
Alabama and Georgia had the most players drafted this year with 10 apiece.
For the first time in NFL history, wide receivers were picked four consecutive times in the first round. In order, they are Jaxon Smith-Njigba (Seahawks), Quentin Johnston (Chargers), Zay Flowers (Ravens), and Jordan Addison (Vikings).
The Bears are the only NFL team in history without at least one quarterback who has thrown for 4,000+ yards in one season.
Two Minute Drill
The Bears have their developmental quarterback in Bagent, and he comes bearing significant hardware.
QB Tyson Bagent dropped it in the bucket.

📺: #NFLCombine on @nflnetwork
📱: Stream on NFL+ pic.twitter.com/l92Lt11FCs

— NFL (@NFL) March 4, 2023
From the Podium
"We've accomplished a lot. I wanted to get bigger, faster. I wanted to find areas where we needed to get better and put players that can impact the game in those places and get better, and I think we've done that." – Poles
"It's a long journey in terms of getting to the top. I don't know if you ever get the perfect roster, but that's what we chase all the time. But I think we've done a good job taking the proper steps to improve our football team." – Poles
"I think [Roschon Johnson] increases the competition in the running back room. But the cool thing about it is if you watch Texas tape, he does a lot. He pass-protects really well. That stands out. He's done some quarterback stuff. He came out of high school as a quarterback. So this is going to allow our offensive staff to maybe do some really cool things with him and keep a defense on their toes." – Poles