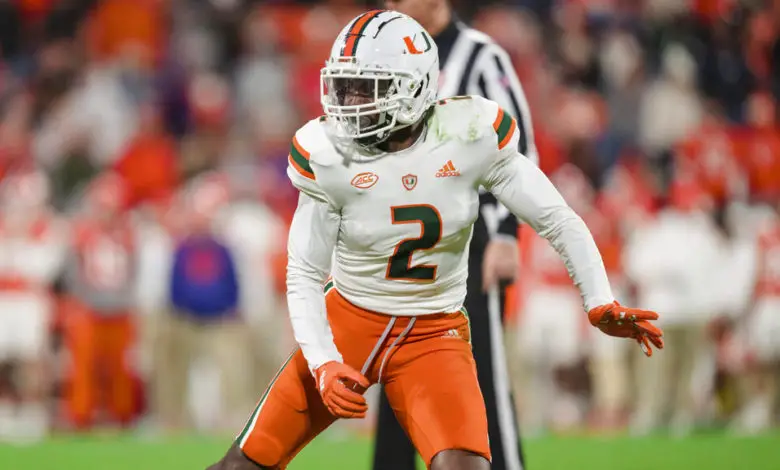 Bears Draft Profile: CB Tyrique Stevenson
Chicago selected a prototypical Cover-2 corner with their first pick in the third round on Saturday. GM Ryan Poles chose CB Tyrique Stevens of Miami after trading up to pick off the Giants. The Bears sent picks 61 and 135 to the Jaguars to move up to No. 56 overall. Like second-round pick Gervon Dexter, Stevenson was a 5-star recruit out of high school, and was, in fact, the No. 20 prospect in the country when he agreed to play for the Hurricanes.
The Bears' top three corners are now Jaylon Johnson, Kyler Gordon, and Stevenson. All are under 25, and Poles indicated that he wants to keep this group together.
"Jaylon, I hope he's a guy we get to keep here for a while, too," Poles said. "So, I'm excited about that group, inside and outside, and the depth of it as well."
Here's Stevenson's final draft analysis per The Draft Network.
"Stevenson is a big-time height/weight/speed athlete at the cornerback position. He's big, physical, and effective most in his press coverage opportunities. Those reps are amplified by a lot of length, which offers Stevenson a large area of influence and the ability to re-route receivers early in the rep. I thought Stevenson took a step forward instinctually in 2022 as well, stacking positive years in coverage after making a leap in 2021 while playing more confidently in the Hurricanes' defense than he was the previous season for the Georgia Bulldogs."
Here's what ESPN said about Stevenson.
Stevenson is a tall and lean press corner with the length to get his hands on receivers and the speed to run with them. He masks his tightness with balance and burst. He's also an aggressive run defender who needs to be more consistent wrapping up, but he has good stopping power and the ability to blow up plays.
One year after selecting a starting cornerback in Kyler Gordon in Round 2, the Bears get a potential outside starter in Stevenson. With Jaylon Johnson entering the end of his rookie contract, Stevenson could be his running mate or potential replacement, with Gordon lining up in the slot.
According to Courtney Cronin, Stevenson said he has "no problem" playing off, zone, or man coverage and talked with the Bears about all three during his top-30 visit. He limited opposing quarterbacks to a 2.5 QB in 107 snaps playing press-man coverage over the last two seasons, which was the best mark among FBS defenders with at least 50 press-man snaps.
NFL Comp: Artie Burns
Here's what we wrote about Stevenson:
 I might be the only one among my peers to have the confidence to place Stevenson in the first round. He's a tall and lean press corner with the length to get his hands on receivers and the speed to run with them. He also plays through receivers' hands and recovers well when caught out of phase. Additionally, Stevenson has great stopping power in the run game and is a fantastic one-on-one tackler if he stays consistent in his technique.
"Super, super, super aggressive. This guy will absolutely knock you out. This is a Chicago Bear. This is the kind of guy that Matt Eberflus is going to love."
– Louis Riddick on newest Bears cornerback Tyrique Stevenson

(Via @espn)

— Daniel Greenberg (@ChiSportUpdates) April 29, 2023
Stevenson definitely has a starting skill set that includes size, speed, and athleticism. The senior totaled 25 tackles, and two interceptions, and also broke up seven passes. He fits best as a press-man corner in a Cover-2 scheme. Stevenson also has the height to defend big receivers and the speed to run with quicker wideouts. In the ground game, the rookie corner flashes some ability to fire downhill and make physical tackles. Stevenson should be a solid contributor to run defense in the NFL, but he does not look like he will be elite in this regard. He'll need some development before he can be a three-down player.