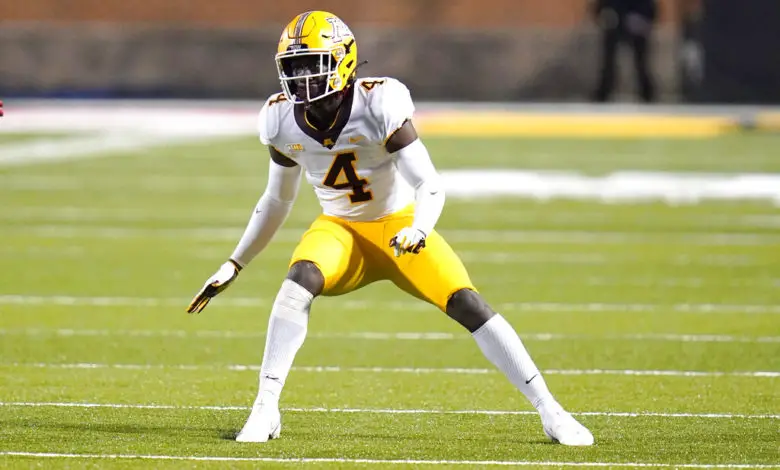 Bears Draft Profile: DB Terell Smith
The Bears continued to improve their NFL-worst defense by selecting physical specimen Terell Smith from Minnesota in the fifth round. Smith was the second of three cornerbacks that Chicago drafted this weekend. The Bears took Tyrique Stevenson of Miami in the third round.
Smith was one of the players who stood out in this year's East-West Shrine Game. According to ESPN, Smith rebounded well during the week after some struggles to begin the first day of practice. The 6-foot, 207-pounder was one of the few cornerbacks able to make consistent plays on the ball, routinely in position. He crowded throwing windows and was also able to get his head around to impact plays on many occasions. As a former track athlete, Smith's fluidity and speed flashed frequently during the one-on-one portions of practice against receivers. He had two interceptions in 2022.
Here's ESPN's pre-draft analysis of Smith:
Smith has experience playing multiple positions and coverages, but he's at his best as a press-man corner. He has long arms, is physical within the first five yards, and can run with almost all wide receivers. Smith is tough, works to get off blocks, and has developed into a much more reliable tackler.
Nearly 60% of Smith's career coverage snaps came in zone coverage. Last season, he allowed 0.7 yards per coverage snap in zone compared to 1.5 yards per coverage snap in man coverage.
Smith is a better tackler than his size might suggest, and he is instinctive, alert, and strong in zone coverage. He is adept at reading routes, anticipating throws, and has solid ball skills. He has quick feet and excellent change-of-direction ability, making him capable of mirroring quickness underneath. However, he can be prone to lapses, inconsistent footwork, and backpedal, and he tends to panic and get too handsy when running downfield.
NFL Comp: Jalen Pitre
Here's what we said about Smith on our preview of defensive backs:
Smith has experience playing multiple positions and coverages, but he's at his best as a press-man corner.
Smith is an ascending cornerback with an outstanding combination of size, speed, and toughness. Most analysts gave him a Round 4 grade so the pick represents good value for Chicago. He's a fifth-year senior who turns 24 soon, so that hurt his stock in this draft class. His outstanding senior year and impressive Shrine Bowl practices did give him a slight boost.
Smith has shown significant improvement in his technique and game film from 2021 to 2022. He is adept at staying low and is patient in his backpedal. Smith also possesses his above-average footwork for a cornerback of his size allowing him to mirror the release and stay connected to deep routes. He is scheme-versatile but excels in press and off-man. Smith is also a reliable tackler, and his game demeanor aligns with NFL run support expectations. Although his on-ball production is somewhat light, his physical skills and talent make him suitable for a transition to safety.