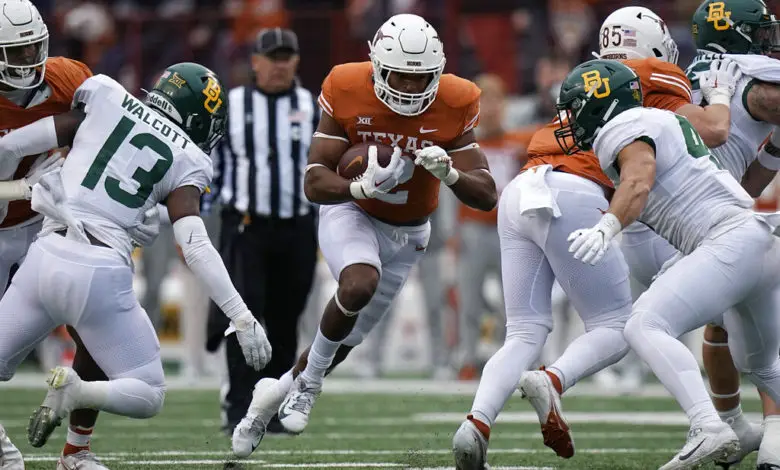 Bears Draft Profile: RB Roschon Johnson
The Bears selected RT Darnell Wright in the first round on Thursday night, then added to their defense on Day 2 by picking a couple of defensive tackles and a cornerback. Chicago held the first pick of the fourth round (No. 103)  but traded it to the Saints for picks 115 and 165. GM Ryan Poles used the first of those two picks to select running back Roschon Johnson of Texas.
Johnson is an electric runner who backed up Bijan Robinson for the Longhorns. He's talented enough to be a Day One starter and gives Chicaho the three-down back they lost when David Montgomery signed with Detroit. The 22-year-old is a powerful runner who breaks a lot of tackles and rarely fumbles. Per Pro Football Focus, Johnson led all running backs in the country with a 45 percent missed tackle rate over the last two seasons.
Here's Johnson's scouting report courtesy of The Draft Network.
"Johnson is a tall running back with outstanding size and excellent overall athleticism. He is a patient runner who displays outstanding vision and instincts. He presses the line of scrimmage while staying square and waits for the play to develop. Johnson also has the short-area burst to explode through the hole or the lateral agility to slide across the line of scrimmage to an open gap. Once through the hole, Johnson runs with toughness and physicality and breaks arm tackles with regularity.
Here's what ESPN said about Johnson:
Johnson is a patient and efficient between-the-tackles runner who powers through arm tackles and pushes the pile. He's a reliable safety valve who runs hard after the catch. He's a willing blocker with the strength and toughness to anchor in pass pro. Johnson has the potential to develop into a core special teams player.
Johnson shows a willingness to handle a multitude of roles, whether catching passing out of the backfield, setting the tone in pass protection, or as a four-phase special teamer. He creates a lot of yards by breaking tackles and averaged 3.96 yards after contact per rush on 93 carries last season.
NFL Comp: Montgomery
#Bears draft Texas RB Roschon Johnson at No. 115, a former QB who switched to RB at Texas. From my notes on Johnson:

"Already a pro. Reliable blocker and four-phase special teamer who could stick in the league for a long time."

— Adam Hoge (@AdamHoge) April 29, 2023
ABSOLUTELY RIDICULOUS 🤯 pic.twitter.com/vg1y1Dl79m

— ESPN (@espn) December 30, 2020
The front office was impressed with Johnson's work ethic and leadership abilities. Area scout John Syty said the team expects the rookie "to become a pillar of this organization for a really long time." Indeed, the Bears might have scouted Johnson more than any player they selected this weekend.
Johnson, who was recruited to Texas as a dual-threat quarterback, converted to running back one week before the 2019 season opener. He went on to rush for at least 400 yards and five rushing touchdowns in each of his four seasons. Johnson is considered a power back with a bruising frame. He fits the football cliche of "tough, smart, and dependable." Overall, Johnson has the size, athleticism, and instincts you want in a potential lead back. He'll enter camp at No. 3 on the depth chart, but could conceivably pass Khalil Herbert and D'Onta Foreman during camp.
The Bears won't carry four running backs and a fullback so Tristan Ebner will enter camp on the bubble. Travis Homer is facing a similar fate. Trading Herbert is an option also available to the Bears. With Herbert, Foreman, Khari Blasingame, and now Johnson, Chicago's running backs room is strong and deep.