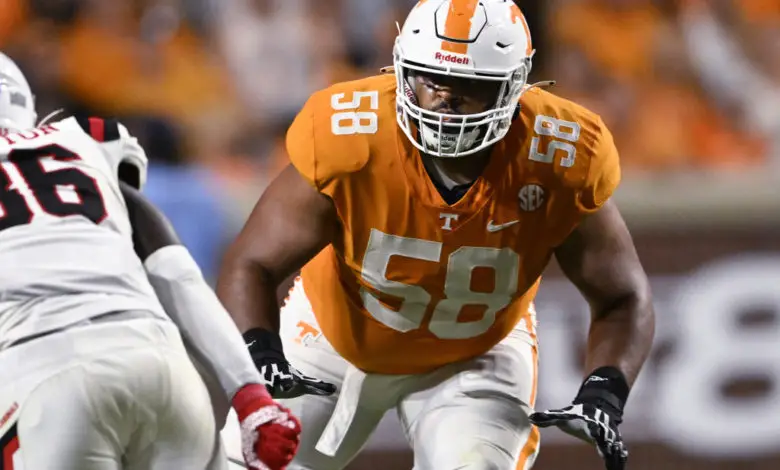 Bears Draft Profile: OT Darnell Wright
The Bears had a first-round pick for the first time since they selected Justin Fields in 2021, and they used it to get their third-year quarterback a personal bodyguard in Darnell Wright.
The 21-year-old senior was the highest-ranked right tackle in the draft, and arguably one of the top offensive linemen, depending on how you feel about Paris Johnson Jr., Peter Skoronski, or Broderick Jones. ESPN's Louis Riddick named Wright his "immediate impact prospect" and also said that Wright could end up being the best player in this year's draft class.
Here's his final draft analysis per The Draft Network.
"Wright features an appealing blend of size, power, and tenacity. He has the functional strength and mass to create displacement in the run game. I really like the power in his hands and overall grip strength. His hands are not easily displaced and it's impressive how his punch is able to stun opponents. He displays the ability to operate his hands independently and vary his strikes. Wright's anchor is stout in pass protection and opponents won't find success attempting to play through him. He's a competitive blocker with ideal temperament. He is confident in pass pro, rarely getting overeager, and trusts his ability to frame, anchor, and utilize his length to keep opponents at bay."
Here's what ESPN said about Wright.
Wright is massive, but he plays with balance. He has the strength to move defenders off the ball when he latches on. He has the quickness to reach the second level, and he dominates linebackers when he gets into their pads. He rarely gives ground to power rushers, and he shows the ability to mirror when he's playing with urgency. Wright projects best as a right tackle but could kick inside to guard in the right situation.
Wright steps into a situation where he's the immediate starter at right tackle. With a huge need opposite Braxton Jones, his balance, strength, and aggression as a run blocker make him a candidate to quickly become a key component in the Bears' offensive front. Wright had zero blown blocks on 388 designed run plays last season, which was the second-best mark among FBS blockers.
Plug-and-play starter. Wright will be tasked with starting from Day 1 at right tackle opposite Jones and protecting quarterback Justin Fields.
NFL Comp: Kaleb McGary
Here's what we said about Wright in our pre-draft analysis.
The best pure right tackle in the draft, Wright relies on his size and power to overcome athletic limitations and spotty technique. He should be able to start immediately provided he has good help at guard. Wright will be inconsistent initially but should develop into a decent starting tackle with the ability to kick inside if necessary. Wright also has a lot of helium right now and could be the first tackle taken on Thursday night.  If Poles is insistent on taking a tackle at No. 9, Broderick Jones and Darnell Wright make the most sense.
The Bears entered the draft desperate for help on the offensive line. Wright is expected to start opposite Jones, with Teven Jenkins and Nate Davis playing guard, and one of Cody Whitehair or Lucas Patrick playing center. It's reasonable to expect the Bears to add to this group before the draft is over.
Chicago traded down one spot before selecting Wright, getting a fourth-round pick in 2024 from the Eagles to switch spots. Philadelphia used the No. 9 pick to take Jalen Carter. Wright appeared in 47 games with 42 starts over four seasons at Tennessee, including 27 at right tackle, two at right guard, and 13 at left tackle. The versatile 6-6, 335-pounder did not allow a single sack in his final 19 games with the Volunteers. Poles said he has been locked in on Wright for about four weeks.
"It was a really good experience from start to finish," Poles said Thursday night. "A guy that we [identified] as being the top tackle in the draft, so we're pumped about that.
The tone-setting, the nasty mentality that you look for. That probably set him apart. I think the anchor was a big one. That's critical. The combination of size and athleticism together was another part that made us feel really good about him."
Wright also has a fan in offensive coordinator Luke Getsy.
"He loves him," Poles said of Getsy. "When you're up close to him, you can feel the power, you can feel the size, the anchor. You want clean hands and he's got some technique to work on. All of [the tackles] do. But the one thing that I look for is if you miss with your hands and your technique's a little bit off on a certain play and you still have the ability to anchor up. Even when you're wrong, you can win when you're wrong. That just shows you what he's got in his body."
"You have to think that once the Bears get him to Halas Hall and get his body composition a little lighter and leaner, his athleticism will stand out even more. Fans will debate all summer whether or not the Bears should have taken Carter instead, but you can't fault the pick in a vacuum. Fields approved of Wright's selection, and Poles has shown, at least so far, that he intends to build around his quarterback this offseason.
He took the time to run Wright through a private workout with offensive line coach Chris Morgan just before Easter.
"What we wanted to do is, one, have him on his turf where he's nice and comfortable," Poles said. "Put him on the board, install a bunch of run and pass plays, erase it, go over some different concepts—things that we do here—go back, have him regurgitate it, teach it back to us, and we really talked about details. And he showed the ability to adapt and learn really, really fast, which was good.
"After that, we brought him outside, warmed him up, did an individual, and got him fatigued. And then he got up to the line of scrimmage and [Morgan] would call out the play and then change it last second to see if he had the mental quickness to change and adjust. He did that for a while, and [he] started breathing heavily. We basically put him through a conditioning drill for 5-10 minutes. We got him exhausted. His body language was excellent. He stayed aggressive, [and] finished. Again, that attitude we're looking for upfront. You're always looking to be convicted about things, and that was the final box we were able to check and feel good about it."