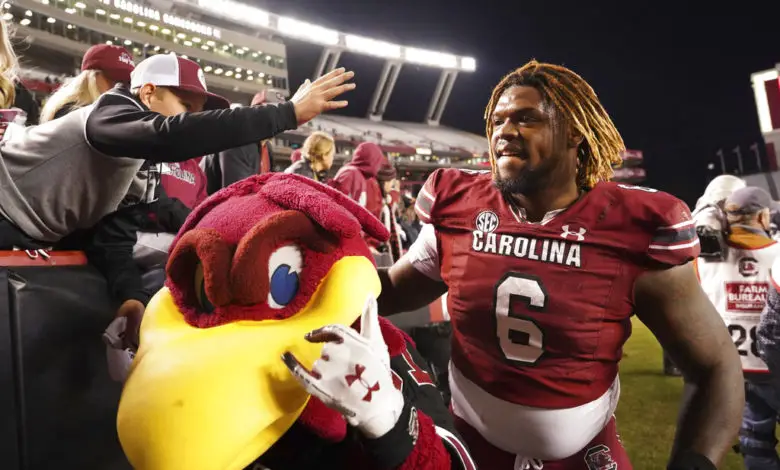 Bears Draft Profile: DT Zacch Pickens
Ryan Poles doubled down on versatile DL3T prospects when he selected Zacch Pickens of South Carolina in the third round. Poles also selected Florida DT Gervon Dexter in the second round and obviously prioritized the team's interior pass rush on Day 2. Like Dexter, Pickens can play both defensive tackle spots. Pickens was the third Day 2 defensive selection by Chicago. The Bears also drafted CB Tyrique Stevenson with their first pick in the third round.
The 23-year-old senior believes he is the steal of the draft.
"If I do everything right and I know I will, I can be one of the greats. I'm not holding that back. I'm for real. If I check all of the boxes and when I do, I promise I'm going to be the best defensive interior tackle."
Pickens dominated center/guard prospect Johm Michael Schmitz of Minnesota in this year's Senior Bowl. He ran a 4.89 40-yard dash at this year's NFL Scouting Combine, which was nearly identical to Dexter's time (4.88). Pickens doesn't have any elite traits but he willingly does everything asked of him. He played mostly nose tackle in college but is a much more natural three-tech in a penetrating one-gap defense.
Here's his final scouting report from The Draft Network.
"Pickens brings a lot to the table as an interior defensive lineman. In the passing game, Pickens demonstrates quick hand speed that allows him to defeat opposing linemen in their initial punch. He combines this ability with serviceable athleticism to stay on his track and not allow linemen to recover. Pickens also has the ability to create absolute havoc for the quarterback when he wins so quickly in his pass rush. That being said when he can't win with his initial move, Pickens struggles to apply pressure and often gets stood upright. I'd like to see Pickens play more behind his pads and with better leverage and really attack offensive linemen in their sets."
Here's what ESPN said about Pickens:
As a pass-rusher, Pickens is more disruptive than his sack totals would indicate. He is long and explosive with excellent first-step quickness and good flexibility. Against the run, he's quick and disruptive. Pickens changes directions well when he gets into the backfield and shows good range for an interior defensive lineman when he chooses to pursue.
The Bears picked a nose tackle in Round 2 with Gervon Dexter, and now coach Matt Eberflus gets his 3-technique pass-rusher. Pickens is just scratching the surface of his potential as a gap-shooting interior rusher, and he will have an opportunity to start very early given the lack of frontline talent at defensive tackle in Chicago.
NFL Comp: Maurice Hurst
Here's what we said about Pickens:
The South Carolina senior has a disruptive first step but he's sloppy, lacks size, and plays a little too high at times, so he's susceptible to drive blockers. Pickens has good change-of-direction quickness in the backfield and is rangy for an interior defensive lineman when he chooses to pursue.
Pickens possesses desirable height and length for a defensive lineman. Additionally, he has a wide frame that carries his 290 pounds well. Pickens is a strong run defender both in setting the edge and by using his length and athleticism to make plays in pursuit. He shows a quick first step and the ability to shoot the gap and get into the backfield. Pickens joins Dexter, Justin Jones, and Andrew Billings to give the Bears a much better group of interior linemen than they had in 2022.
The 6-foot-4 DT offers the athleticism of William Perry. Like the Fridge, who played college ball at Clemson, Pickens has been used as a short-yardage running back. He's also raw technically as a pass rusher, just like Perry was coming out of college. Pickens primarily gets into the backfield using his first-step quickness but will need to add legitimate pass-rush moves at the next level.