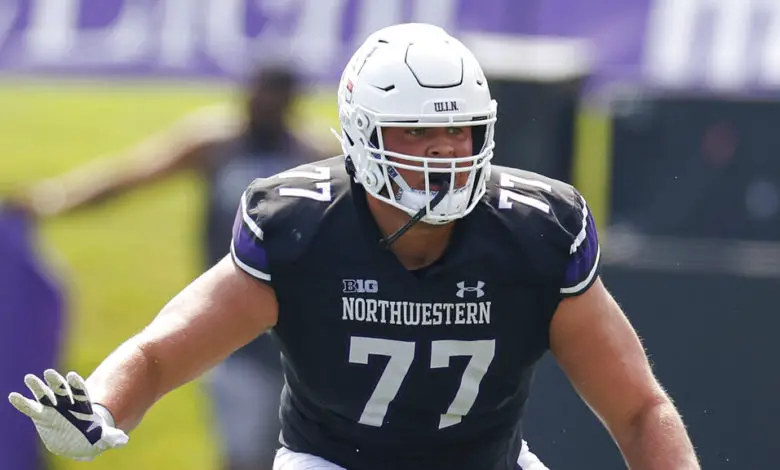 Bears Insider 2023 Draft Preview: Offensive Linemen
Every time I hear that the Bears have to draft an offensive lineman in the first round it's like nails on a chalkboard. I despise the idea of drafting based on holes in your depth chart. A team that goes about its business that way is bound to fail. All one has to do is look to the Ryan Pace regime for proof of concept. It is amazing to me that some Bears fans tend to think more like Pace than Ryan Poles.
ESPN analytics Bears draft picks % 👀

Peter Skoronski (22%)
Christian Gonzalez (14%)
Lukas V Ness (11%)
Devon Witherspoon (10%)
Nolan Smith (6%)
Tyree Wilson (5%)
Jalen Carter (5%)
Bijan Robinson (5%)
Darnell Wright (3%)
Jaxon S Njigba (3%)
Paris Johnson Jr (2%)#Bears #DaBears

— Clay Harbor (@clayharbs82) April 19, 2023
Yes, the Bears need help on the offensive line but the group is not as bad as most think. In fact, drafting a tackle in the top 10 is one of football's most overrated concepts. How many first-round tackles have led their teams to the Super Bowl? Before you answer that, how many playmakers drafted in the first round have led their teams to the Super Bowl? I think far too many fans have spent far too much time watching "The Blind Side."
The Chiefs are the reigning champions, and here's how they assembled their offensive line:
No first-round linemen there, yet all were entrusted to protect the $500 million arm of Patrick Mahomes. That they won more than three games is a real head-scratcher. The Eagles, last year's runner-up, also did not have a former first-rounder on their line. Those same men will be tasked this year with protecting the league's highest-paid player, Jalen Hurts. As I said, the concept of need-drafting a tackle is overrated and often short-sighted. The Bears lack playmakers. They should therefore be picking playmakers, especially at the top of the draft.
An offensive line becomes great due to reasons that have nothing to do with draft slots. The group needs to stay healthy, needs continuity, and needs plenty of snaps in the team's offensive scheme.
It also helps if the team has a defense that can keep opponents from scoring at will. We wouldn't be having this discussion if Justin Fields wasn't forced into so many obvious passing situations last year. Fields also wouldn't have spent so much time on his ass if the Bears weren't trailing so often. A one-dimensional offense is always at a disadvantage. That's also why Fields rushed for 1,000+ yards in 2022.
Chicago has the ninth pick in Thursday's draft unless the front office trades down. Poles indicated he is going to pick the best player available, and if that's the case, he won't be selecting an offensive lineman. None of the draft-eligible tackles, centers, or guards are top-10 players. The best of the bunch is a tackle who may be forced to play guard in the NFL. Does that sound like a player that should be drafted No. 9 overall? They're very good players, but none are playmakers.
Jaxson Kirkland is another cautionary tale. He was ticketed for the second round, and possibly the first, had he entered last year's draft. He returned to Washington for his senior season and this year he's the 30th-ranked offensive lineman. The point I am making is that the developmental path for tackles is long and often arduous.
But the biggest reason I am against taking a tackle at the top of the draft is that it's the toughest position to learn in the NFL. If a prospect fails the pick blows up in your face and hurts your team for years. See Stan Thomas and Gabe Carimi. The Bears would be better off moving Teven Jenkins to right tackle and drafting his eventual replacement on Day 2 or 3. Jenkins was Chicago's highest-rated lineman last year and should be playing tackle. At right tackle, he'll actually make the right guard better. Joe Tippman, who is ranked in the neighborhood of 40-55, would be a revelation at guard playing next to Jenkins.
Last week, Poles identified offensive and defensive lines as the deepest positions in the draft. You can look at that three ways. First, he intends to fortify those positions next weekend or he wouldn't mention them. You also have to consider the emphasis on depth. The second-year executive is keenly aware that he can fill those holes without necessarily burning his top pick on either. Finally, it sure sounds like Poles is more open to trading down than reaching to fill a need.
"My opinion is that Jones could end up being the best offensive tackle in this draft class."@adamgorney takes a look back at former five-star OT Broderick Jones, who was a standout for Georgia:https://t.co/bzim7cMSYI pic.twitter.com/n00NbqSAWL

— Rivals (@Rivals) April 23, 2023
First Round Prospects
Second and Third Round Prospects
Sooo this @BadgerFootball C Joe Tippman is 6'5 315lb, pulls a ton andddd he's insanely strong?!

Alright alright…. pic.twitter.com/6DP9a9Wscu

— Ben Fennell (@BenFennell_NFL) December 15, 2022
Round Four through Seven Prospects
Ricky Stromberg (C) – Center prospect with enough athleticism, strength, and block wins to be considered scheme independent.
Olusegun Oluwatimi (C) – Oluwatimi is a four-year starter and a well-experienced offensive lineman. He's a powerful finisher who also senses late arrivals and does a good job of getting back into position to prevent leakage.
Emil Ekiyor Jr. (G) – Ekiyor lacks ideal agility, but he plays with balance and rarely gets beat in one-on-one situations.
Braeden Daniels (G) – A fast, but smallish versatile lineman who can play anywhere but center. Daniels can protect the edge despite having short arms for an offensive tackle and has sound footwork.
Chandler Zavala (G) – Zavala's technique needs to be better at times, but he has the foot speed, upper body strength, and core strength to develop into an effective pass blocker
Asim Richards (G) – Richards flashes on tape and has the potential to develop into a starting guard. He plays with an edge and shows the ability to generate push in the run game.
Nick Broeker (G) – He has shorter arms, which will hinder his ability to sustain as a run blocker or in pass protection.
Wanya Morris (T) – Morris has long arms and packs a powerful punch, but his footwork and hand placement are inconsistent.
Andrew Vorhees (G) – Voorhees tore his ACL at the Scouting Combine so his stock tanked. When healthy, he's a powerful run blocker who drives his legs, blocks to the sound of the whistle, and plays with a finisher's mentality.
T.J. Bass (T) – Bass takes sound angles but has limited range and fits best in a power-heavy scheme.
Nick Saldiveri (T) – Saldiveri is an effective wall-off blocker who gets into position, plays with a wide base, and blocks to the sound of the whistle. He has really short arms for a guy who is 6-foot-6 so a move to guard is likely.
Richard Gouraige (G) – Gouraige is a positional blocker in the run game, has long arms, and plays with good balance in pass protection.
McClendon Curtis (G) – Versatile blocker whose length and wide frame make it tough to get around him in pass protection.
Ryan Hayes (T) – Hayes shows good range climbing to the second level. As a pass-blocker, he has quick feet for his frame, but he's not a natural knee-bender, and his hand placement needs to be better.
Warren McClendon (T) – An experienced and tough player who maximizes his skill set.
Anthony Bradford (G) – Bradford is a big offensive guard prospect with the strength to steer defenders and move them off the ball when he gets into a sound initial position and plays with sound technique.
Jordan McFadden (G) – McFadden's footwork is inconsistent, and he falls off too many blocks in the run game. He has good length and size however and could be a nice developmental project for a team's practice squad.
Jon Gaines II (G) – Gaines doesn't move defenders off the ball, falls off blocks late, and needs to be a lot more aggressive.
Jaxson Kirkland (T) – He's technically sound, but lacks the finishing strength of a true mauler, and he frequently battles to a stalemate in the run game.
Jarrett Patterson (C) – Patterson gets set quickly, works his hands inside, and locks out pass rushers. But Patterson is not an overpowering mauler. He's a bit top-heavy and lunges at times when forced to work in more space.
Bears Needs
The Bears need help on the offensive line but things aren't as dire as most fans see them. Moving Jenkins to right tackle would ally Chicago's needs to select an impact tackle Thursday night. Nate Davis was signed to play right guard, and Cody Whitehair is sliding to center, where he once excelled. The Bears need depth more than anything, and should easily find reinforcements at right guard, center, and tackle on Days 2 and 3.
Best Fits
I like the idea of grabbing Tippman in the second round and one of Mauch. Bergeron or Freeland in Round 3 more than the idea of selecting one of Skoronski, Jones, or Johnson. I've always thought the top three tackles are a little overrated, and nothing has changed my mind to this point. The velocity with which Wright is climbing the boards gives me confidence that I'm not missing something that everybody else sees.