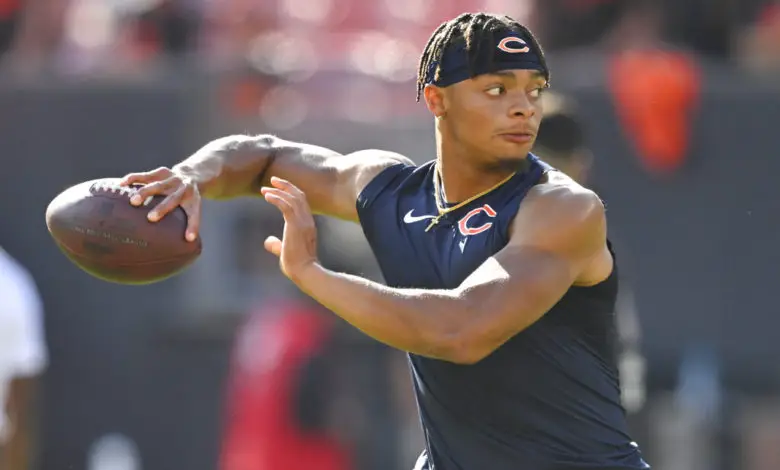 A Post-Draft Look at Bears' Depth Chart
Ryan Poles pulled a fast one at the top of the draft, choosing need over the best player available. Or did he? The details of the selection of RT Darnell Wright are deep and nuanced, but I think it's safe to say the Tennessee tackle was Poles' best available once Draft Day arrived. That he filled a need is a bonus.
The Bears, in fact, addressed a lot of needs in this year's draft. Chicago had 10 picks and selected three defensive tackles, two cornerbacks, a safety, a running back, a wide receiver, and a linebacker in addition to Wright. Poles also added a WR1 in the trade with the Panthers that netted D.J. Moore.
Not every 2023 draft pick will start, but previous history indicates any of them who make the team will see plenty of playing time. The Bears couldn't find an EDGE rusher they liked, so free agency has not ended just yet. Poles still has more money to spend than any other team and could have his choice of Leonard Floyd, Yannick Ngakoue, Jadeveon Clowney, or Matthew Ioannidis.
Let's look at Chicago's current depth chart knowing more moves are coming.
Quarterback
"Justin Fields will never be an accurate passer"

Ok watch this and get back to me
pic.twitter.com/up4TpNzi5w

— Luke Sawhook 🪚🪝 (@lukesawhook) April 26, 2023
Justin Fields is the starter, and he's on the precipice of becoming a franchise-type quarterback. P.J. Walker and Nathan Peterman will battle in camp to become QB2. The Bears did not draft a quarterback, but they did sign developmental prospect Tyson Bagent of Shepherd College. The 6-foot-3, 212-pound Pagent set several NCAA Division II records.
Projected Depth Chart: Fields, Walker, Peterman, Bagent
On the Bubble: Peterman
Wide Receiver
The acquisition of Moore gave Chicago its first true WR1 since Allen Robinson left the team after the 2021 season. Moore's addition changed the dynamics of the wide receiver room. Darnell Mooney will slide back to WR2, and the two will be joined by Chase Claypool, Equanimeous St. Brown, Velus Jones, and Dante Pettis.
The Bears also selected speedy wide receiver Tyler Scott out of Cincinnati in the 4th round of this year's draft. Poles added to the room when he signed UDFAs Thyrick Pitts Jr. (Deleware) and Aron Cruickshank (Rutgers). Jadan Blue (Virginia Tech), Danny Kittner (UMary), and Todd Simmons Jr. (Dubuque) were invited to try out.
Projected Depth Chart: Moore, Mooney, Claypool, St. Brown, Scott, Jones, Pettis
On the Bubble: Jones, Pettis
Running Back
ABSOLUTELY RIDICULOUS 🤯 pic.twitter.com/vg1y1Dl79m

— ESPN (@espn) December 30, 2020
The Bears lost David Montgomery to free agency and everybody believed Khalil Herbert was going to be his heir apparent. But then Poles signed D'Onta Foreman and Travis Homer. He then drafted Roschon Johnson of Texas who could end up as the three-down starter. Additionally, Chicago has fullback Khari Blasingame, and a pick from last year's draft, Trestan Ebner. The room is stacked, and the battle to start will be one of the highlights of camp.
Projected Depth Chart: Johnson, Foreman, Herbert, plus Blasingame.
On the Bubble: Ebner
Could be Traded: Herbert and/or Ebner. I wouldn't count on a trade based on what the Lions got for D'Andre Swift, though Herbert or Foreman could be moved midseason.
Tight End
Cole Kmet had a breakout season and could be in line for a contract extension. That said, rumors leaked late last week that Kmet might not be as fond of Fields as the team's other pass-catchers. Maybe JF1 should have invited him to that Bulls game.
The Bears didn't draft anybody but they did sign Robert Tonyan of the Packers in free agency. Chase Allen and Jake Tonges fill the room, and the Bears added Damien Caffrey (Stony Brook) as a UDFA. Sammy Wheeler (Kansas State) was invited to try out.
Projected Depth Chart: Kmet, Tonyan, Allen
On the Bubble: Tonges
Offensive Line
Wright is the most significant addition to this position group and should be the starting right tackle from day one. Sophomore Braxton Jones will start at left tackle, so the Bears have their two anchors playing together for at least three more seasons. Teven Jenkins and Nate Davis will enter camp as the starters at guard, and Cody Whitehair will battle Lucas Patrick at center. I think Patrick will win that battle, and I also think Whitehair could be a cap casualty later this summer.
Chicago didn't draft any other lineman but the team is suddenly deep at the position. Larry Borom, Ja'Tyre Carter, Dieter Eiselen, Alex Leatherwood, Kellen Diesch, and Doug Kramer will fight to break camp with the team as backups. Gabe Huoy (Pitt), Lorenz Metz (Cincinnati), Nicholas Amoah (UC-Davis), and Bobby Haskins (USC) were added as UDFAs.
Projected Depth Chart: Jones, Jenkins, Patrick, Davis, Wright, Borom, Carter, Kramer, Whitehair, Leatherwood, Eiselen, and Diesch
On the Bubble: Borom, Whitehair, Kramer, Eiselen, and Diesch.
Defensive Line
DeMarcus Walker (@livinglegend_44) with the cross chop/club/swim

Attacks 1/2 man, cross chops the OLs outside, low-setting hand & reduces his hitting surface as he club/swims. Pressures the QB. This is a move I worked on a lot with him this past offseason! #passrush #titans pic.twitter.com/1en478n2iw

— DLineVids (@dlinevids1) November 10, 2022
The Bears have quietly filled this position group with a lot of potential, though question marks still remain. Justin Jones is the incumbent interior lineman, and Trevis Gipson and Dominique Robinson are the ends. Andrew Billings was signed to play next to Jones. Chicago also drafted Gervon Dexter (Florida) in the second round, Zacch Pickens (South Carolina) in the third, and Travis Bell (Kennesaw State) in round seven. Chicago also added DE DeMarcus Walker in free agency.
Rasheem Green, Kuony Deng, Andrew Brown, and Terrell Lewis are practice squad fodder or potential cuts.
Poles will probably sign a starter to play EDGE in free agency. I don't think the coaching staff is that enamored with Gipson, and this will be a prove-it year for Robinson. Pickens may actually be better than Dexter, and it's worth wondering if he might switch to EDGE because of his size and athleticism. The Bears also added EDGE rusher Jalen Harris as a UDFA.
Projected Depth Chart: Robinson, Jones, Billings, Walker, Gipson, Dexter, Pickens, Bell, and Brown, plus a potential acquisition.
On the Bubble: Green, Deng, Brown, and Lewis
Linebackers
Tremaine Edmunds with the MASSIVE hit 😳 pic.twitter.com/Xnfb31CKzG

— PFF (@PFF) January 15, 2023
Chicago really improved this position group in free agency. Tremaine Edmunds and T.J. Edwards join Jack Sanborn in the starting lineup. Edmunds will play middle linebacker and captain the defense. The room needs depth, however. Poles selected Noah Sewell of Oregon in the 5th round, and veterans DeMarquis Gates, Dylan Cole, and Sterling Weatherford are part of the position battle, too. Chicago only signed one linebacker to a UDFA contract, Micah Baskerville (LSU).
The Bears could add to this group in free agency.
Projected Depth Chart: Edmunds, Edwards, Sanborn, Sewell, Gates, Weatherford, Cole
Defensive Backs
Chicago upgraded its secondary last year by selecting Kyler Gordon and Jaquan Brisker as their top two choices in the 2022 draft. Jaylon Johnson, Eddie Jackson, Kindle Vildor, and Jaylon Jones all received starting reps last season. The backups include Elijah Hicks, A.J. Thomas, Adrian Colbert, Josh Blackwell, Michael Ojemudia, and Greg Stroman.
Poles traded up in the third round to take Tyrique Stevenson of Miami, and he also drafted Terell Smith (Minnesota) and Kendall Williamson (Stanford). Three defensive backs were added as UDFAs: Macon Clark (Tulane), De'Jahn Warren (Jackson State), and Justin Broiles (Oklahoma). Warren and Broiles have a real shot of making the team or the practice squad.
Projected Depth Chart: Gordon, Jackson, Brisker, Johnson, Jones, Stephenson, Smith, Hicks, Thomas, and Williamson.
On the Bubble: Colbert, Blackwell, Ojemudia, and Stroman.