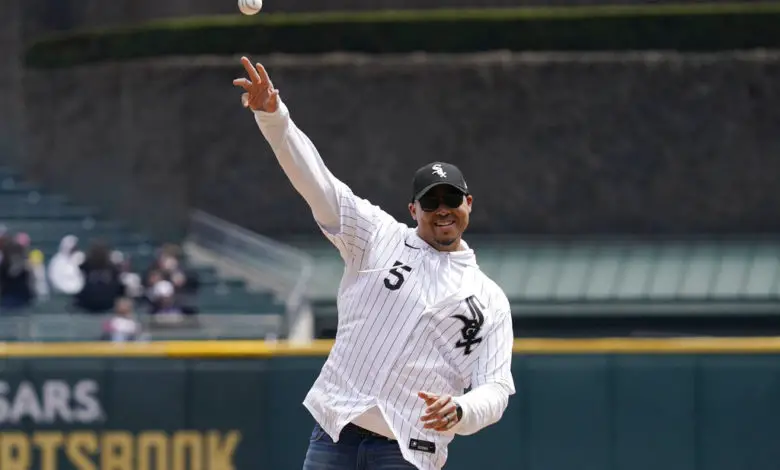 Here's What Ryan Poles Has Done Right So Far
In a column earlier this week, I mentioned that Ryan Poles has built a roster that could possibly leave the Bears in a situation similar to the one he inherited when he took over the team in late January. Chicago has a lot of players on contracts that expire after the upcoming season, including two of their best players, Roquan Smith and David Montgomery. Though the job was enviable and desired by many because of the opportunities the organization presents, the new GM inherited a hot mess from Ryan Pace. Poles has changed the franchise quite a bit, so in fairness, I'd like to comment on what the first-year Bears executive has done right so far.
Hiring Head Coach Matt Eberflus and His Coaching Staff
When Poles accepted the GM position he did it with one condition, and that was that he had to have full autonomy when it came to choosing his head coach. Eberflus agreed to terms two days later. As a coordinator with the Colts, Eberflus ran a defense that was consistently among the best in the NFL. In three of four seasons, his defense finished among the top ten teams in the league. ESPN's Jeremy Fowler lauded the move.
"This is an understated hire, "Fowler said at the time. "Solid but understated and that's okay. Eberflus might turn out to be great. If you're looking for a home run to plan around Justin Fields, this probably isn't it, but Eberflus is a good chemistry guy who should engender [the] trust [of his players] pretty quickly."
Poles struck early in hiring his new head coach so Eberflus could have his pick of coordinators and assistants while other teams were still interviewing head coaches. That allowed the Bears to add offensive coordinator Luke Getsy and defensive coordinator Alan Williams before other jobs opened.
Getsy, who coached for the Packers in 2021, was a bit of a coup. There wasn't a better offensive mind available to build an offense designed to play to Fields' strengths. In Getsy's seven seasons with Green Bay, the Packers made six playoff appearances, winning five NFC North titles.
Acquiring Extra Draft Picks
When Poles traded Khalil Mack to the Chargers to pick up an extra second-round selection this year (plus a sixth-round choice in 2023), most Bears fans were dismayed. Though that turned into safety Jaquan Brisker, Poles parlayed the '23 pick and some of his own choices into five additional picks. That increased the number of Bears' Day 3 selections from three to eight and six to 11 over the entirety of the draft.
Revamped a Wretched Secondary
.@kyler_gordon's got hops 😳 pic.twitter.com/bkSYxpGef6

— Chicago Bears (@ChicagoBears) May 7, 2022
Per Pro Football Focus, Chicago's secondary ranked 23rd in the NFL last season. It wasn't unexpected because the Bears never had a decent corner to play opposite of Jaylon Johnson, and quite frankly, he underperformed in 2021, too. Kindle Vildor played the bulk of the snaps on the right side and finished the season with a coverage grade of 45.6. The slot was a nagging issue all year long, too, as Chicago produced the sixth-worst coverage grade at the position.
Poles rebuilt the secondary by taking Kyler Gordon with his first second-round pick, following that up with Brisker. There will be a learning curve and it's possible Chicago's secondary will play pretty poorly while the rookies get used to the violence and velocity of the pro game. But that unit should improve vastly as the season progresses.
Removed Quarterback Ambiguity
Justin Fields vs the Steelers:

🔸 291 passing yards (career-high)
🔸 45 rushing yards
🔸 1 TD
pic.twitter.com/wedwzEQowF

— PFF (@PFF) November 9, 2021
Matt Nagy made it a point to treat Fields like a second stringer through Chicago's 2021 summer workout programs and all through training camp and the exhibition season. Andy Dalton was the starter, and Fields had virtually no reps with the starting unit before the season opener. As a result, he had no chemistry with Allen Robinson and had to play catch up with Darnell Mooney and tight ends Cole Kmet and Jimmy Graham.
Daulton was injured in Week 2 and Fields finished the game in admirable fashion, playing a key role in Chicago's 20-17 win over the Bengals. The rookie quarterback finished with 60 passing yards and scrambled for an additional 31 yards despite not having a genuine feel for the offense.
The next week, the Browns destroyed the Bears, and Fields was sacked nine times and spent the entire afternoon on the turf. Cleveland DE Myles Garrett went on a rampage, dumping the rookie 4.5 times in an almost uncontested fashion. Chicago ended the game with a stunningly low 47 total yards.
This year Fields is coming to camp knowing the starting position is his no matter what. Trevor Siemian will be Chicago's backup and won't play much unless Fields gets hurt.
Rebuilt the Receiver Room 
Gone are Robinson, Marquise Goodwin, Damiere Byrd, and Jakeem Grant. Mooney has been anointed WR1 and Poles drafted speedy Velus Jones Jr. in the third round at the behest of Fields. The first-year GM signed free agents Byron Pringle, Equanimeous St. Brown, Tajae Sharpe, Dante Pettis, and traded for former first-round pick N'Keal Harry. Dazz Newsome returns for his second year and was the talk of summer practices. There are a dozen receivers in camp fighting for five or six positions after Mooney.
The Bears managed just 3,635 total yards passing last season with 16 touchdowns and 20 interceptions. Expect those numbers to improve with this year's crop of receivers, which is much better than last year. Putting Mooney, Pringle, and Jones Jr. on the field in three-receiver sets will give Fields plenty of options while giving headaches to opposing defenses.
Injecting Youth Into the Roster
The Bears were the oldest team in the NFL last season, averaging 27.0 years, and had 13 regulars who were 30 years old or older. We don't know who will make the 53-man just yet, but in addition to all of Chicago's rookies, the guys Poles signed in free agency are still playing the front nine of their careers. Lucas Patrick is arguably the best acquisition of the offseason and he's just 28. Pringle is also 28, Nicholas Morrow is 26, and Justin Jones is only 25. Receivers St. Brown and Harry are 25 and 24 respectively.
Stayed True to His Draft Board
The Bears were in desperate need of wide receivers, offensive linemen, and defensive backs on Draft Day. Though most fans wanted Poles to take a receiver with his first pick, he honored his board and selected Gordon and Brisker instead. He took Jones in the third round and then meticulously filled needs on the O-Line with players who were for the most part underrated. He even took punter Trenton Gill with his final pick because that's where Poles had him ranked.
By sticking to his guns, Poles ensured that he didn't reach with any of his picks and then force himself to play catch up in later rounds. He avoided sacrificing picks by trading up, and even though he traded down a few times he still got the players he targeted. Of the 11 players Chicago selected, most could be starters by next season. The Bears didn't have the prettiest draft, but Poles accomplished all of his goals by getting faster, quicker, leaner, and much more athletic. He earned a C-C+ for the picks, but in a few years, that grade may be a little higher.
Best of all, he protected next year's number one pick in a quarterback-heavy draft. If the Bears are as bad as the pundits say they will be, Poles might be able to trade down and pick up an extra first-rounder.
Attacked Undrafted Free Agency
Poles was quick to contact this year's group of UDFAs and grabbed 15 additional rookies. A couple, including Jack Sanborn, Carson Taylor, and Micah Dew-Treadway, have a chance to make the team. Sanborn actually has an opportunity to start as a strong side linebacker.
Honored His Offseason Agenda and Reset His Cap
Chicago opened the offseason needing to replace about two-thirds of last year's roster and Poles avoided making a big splash or two that would have left him chasing free agents with minimal available funds. The rookie GM also ate a lot of dead cap money reserved for Mack, Graham, Dalton, Germain Ifedi, Danny Trevathan, Tarik Cohen, Charles Leno, Eddie Goldman, and Nick Foles. As a result, Chicago has a healthy bottom line heading into next season. I'm still a little worried that there will be an overabundance of roster churn next spring, but it's impossible to deny that Poles and the front office are in a good place financially.
The Bears finished 7-10 last year and Poles ripped it down to the foundation, so much so that the Bears almost look like an expansion team. Yes, there is a lot of filler on this year's squad but with a robust balance sheet and a high draft pick or two next year, the Bears can start putting together their next championship-caliber team.
Don't sweat the predictions of six wins or less because the goal of this team is to simply show progress each week. If the Bears can do that, even if they finish last in the NFC North, Poles will garner a lot of accolades for his considerable first-year efforts. Sometimes progress means more than winning football games. That's tough for any Bears fan to comprehend, but Poles had a whole lot of house cleaning to do during his first year. Give him a chance to finish the job he's started.