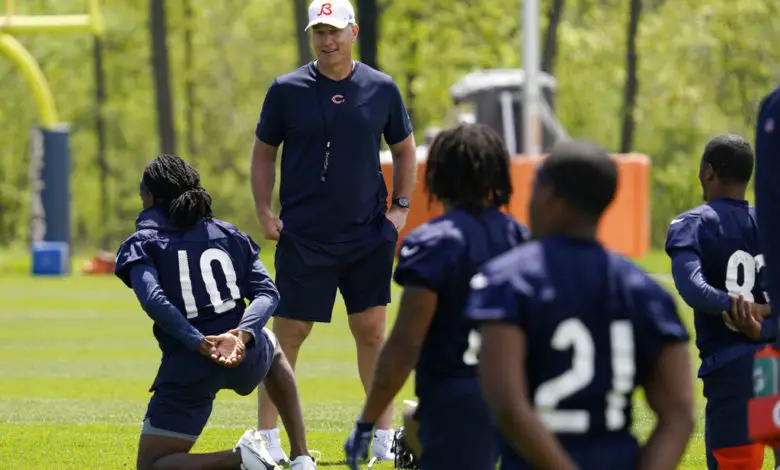 This Year's Bears Resemble Expansion NFL Team
Before you get too upset with me, I don't mean to disparage the Bears though the title of this post might indicate otherwise. First and foremost, there's a new front office and coaching staff. Since the 2021 season ended, Chicago has seen about 75 percent roster churn. Add to that new schemes on defense and offense, and very little holdover from the previous regime in all facets of the organization, and this year's Bears suddenly resemble an expansion NFL team.
Even Justin Fields is being treated like a rookie. In addition to learning a new scheme and working with drastic changes to personnel, the second-year quarterback has to unlearn all of the bad habits he picked up during his first professional season. Last year, Fields appeared in 12 games with 10 starts, throwing for 1,870 yards with seven touchdowns, 10 interceptions, and a 73.2 passer rating. He also rushed for 420 yards with two TDs on 72 carries.
"We're all in on Justin," GM Ryan Poles said during an appearance on the Kap and J. Hood Show on ESPN Chicago. "I believe in Justin. Our staff believes in Justin. And like I've said from the beginning, we're going to set this up for him to succeed. I've gotten a lot of questions: 'But what about receiver?' We're going to do the best we can with the roster. We're going to improve the roster as well, but we're also going to [focus on] the scheme, the technique.
"Our coaches are hard at work, and so is Justin. Justin is grinding right now. He's putting in the time. The leadership is coming out of him, so I'm excited. I'm excited about him and what he's going to become here."
With so much change, it's tough to predict how good or bad Chicago will be this year. Though the Bears have the sixth-easiest schedule based on opponents' 2021 records, they don't project to win many of the games against the teams in their peer group. Most of those teams, including division rival Detroit, drafted better than the Bears or signed some of the available marquee free agents. Poles entered free agency with significant cap space, but that dries up pretty fast when you only have about 20 returning regulars. The rookie GM entered his first draft without a first-round pick, too.
Some of the Bears' offseason moves designed to rebuild an entire roster have an expansion-like feel as well. Of the free agents they did sign, Nicholas Morrow and Ryan Fitzpatrick should provide the biggest impacts. Poles also did well at the top of the draft, getting defensive backs Kyler Gordon and Jaquan Brisker with his two second-round picks, and following that with the selection of highly-skilled WR Velus Jones Jr. in round three. Chicago's secondary is vastly improved, but everything else looks a lot more like roster-filler than premium upgrades.
The first acquisition Poles made was signing offensive lineman Willie Wright to a futures contract. After being signed as a UFDA in 2019, Wright has yet to see any NFL action. He could be this year's starting right guard. Wright will battle Dakota Dozier for that honor unless Chicago adds somebody else before training camp starts. Right guard is the team's weakest position.
Prized second-year tackle Teven Jenkins is already running with the twos, replaced by rookie Braxton Jones. You like to see rookies forcing their way into the lineup, but Jones, who initially played quarterback and wide receiver, is still somewhat of a project. Jenkins seemed poised for a monster season before the switch, so perhaps the demotion is motivational.
After Larry Ogunjobi signed and subsequently failed his team physical, Poles voided the contract and quickly signed Justin Jones. The defensive tackle is a consistent run-stopper but the Chargers never considered keeping him, and they completely overhauled their defensive line this year.
The first-year GM entered the draft with just six picks and turned that haul into 11 with a series of Day 3 trades. Most of those picks were used on offensive linemen and punter Trenton Gill. For a team sorely lacking skill-position players, those picks – except Gill, who has already been named the starter – portend a look toward the 2023 season and beyond.
The Bears have a high number of players on one-year contracts, meaning that the 2022 season will look a lot more like a 17-game tryout than one where the team actively competes for a playoff berth.
Veterans Robert Quinn, David Montgomery, and Roquan Smith might all be playing elsewhere after this season. Quinn has been the subject of many trade rumors, and Montgomery and Smith are in the final years of their rookie contracts.
Chicago's backup quarterback is Trevor Siemian, and though he has 29 NFL starts under his belt, he was seen as a transitional signal-caller with the Broncos and a backup with the Jets and Saints. The Bears chose not to re-sign Andy Dalton and they designated Nick Foles, who recently signed with the Colts.
Wide receivers Byron Pringle, Equanimeous St. Brown, Tajae Sharpe, and Dante Pettis weren't much more than afterthoughts in this year's free-agent market. Pringle has the best chance of starting, and though he appears to be vastly underrated, he does have some holes in his game. Chicago's receiver group will make or break the team's 2022 offense.
Poles never really replaced linebacker Khalil Mack, and though Smith and Morrow will anchor Chicago's defense, they're going to battle with Matt Adams as the SAM. Adams is likely to lose his starting gig to UDFA Jack Sanborn from Wisconsin, if not during training camp, then certainly once the season starts. Sanborn is a fine player with a high motor who should have been drafted by some team, but he'll struggle initially against the pro-level competition.
When you consider all of Poles' offseason moves, the Bears really do feel like an expansion team. The good news is that the first-year GM has a plan and he's sticking to it. That will probably mean a lot more losses than wins this season. That said, the front office, new head coach Matt Eberflus and his staff, and most fans just want to see some linear improvement as the year progresses.
If Chicago can accomplish that, they're sitting on a veritable gold mine with nearly $100 million in 2023 cap space and a potential top-five draft pick. In fact, if Fields improves as much as the Bears are hoping, a strong class of quarterbacks will give Poles an opportunity to trade down next April to add even more impact players.