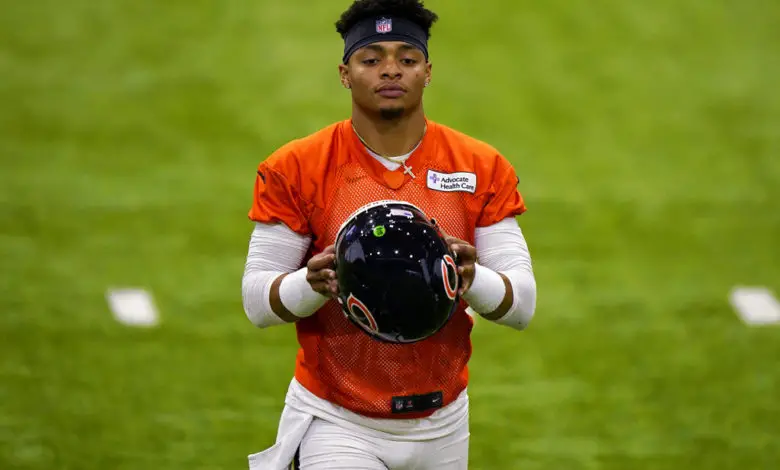 First & Long: Poles Dangerously Close to Putting Bears in Perpetual Rebuild, Analysts Bullish on Fields, Training Camps Open
Though anything can happen in the NFL, it's fair to say the Bears are a long way from being a competitive football team, though you won't hear that from GM Ryan Poles. Chicago tore it down to the studs this offseason, but the current roster could put the team in a similar situation next summer. The names are different, but some of the storylines are eerily similar.
The Bears let Allen Robinson walk this year because they didn't want to pay him $20 million, but if Darnell Mooney has the breakout campaign that everybody is expecting, he'll be due an extension next year and will want WR1 money.
The Bears lost (arguably) their best defensive player when Poles traded Khalil Mack to the Chargers for draft picks, and this year Roquan Smith is playing in the final year of his rookie deal. This could be his last season with Chicago.
Robert Quinn missed all the OTA practices plus mandatory minicamp and reportedly wants to be traded. Kevin Fishbain of The Athletic hinted that Quinn could be dealt ($) before Week 1.
In addition to Smith, Chicago has 32 players whose contracts expire at the end of the 2022-23 season, including starters Nicholas Morrow, Byron Pringle, David Montgomery, and Sam Mustipher.
The offensive line isn't much stronger than it was last season, and Chicago may have to rely on a number of rookies to play significant minutes this season.
Justin Fields is working with a new coaching staff, a new offensive system, an O-Line that is still in flux, and a new group of wide receivers. There will be a learning curve. Only Mooney and Velus Jones Jr. are locks to be with Chicago next season.
With the start of camp just seven days away, rookie safety Jaquan Brisker has yet to agree to terms.
Ryan Poles wants Bears' veteran offensive linemen to view rookies as threats to their jobs. https://t.co/WxCWmOWQRT

— ProFootballTalk (@ProFootballTalk) July 18, 2022
It's far too early to stir the pot, but it's worth wondering where first-year head coach Matt Eberflus is in all of this. Most new coaches are hired by teams coming off of poor seasons and in the midst of an inevitable rebuild. But how will he feel if Poles has to rebuild his roster again next season? Yes, as Bears fans, we're jaded and simultaneously conditioned to front office mishaps. But the rookie GM is working according to his plan. He's looking for guys that will overperform so that he can offer extensions. That's not a bad idea, but anybody who has a better-than-average season is going to want to test free agency.
It will be equally fascinating and frustrating to watch the whole thing play out. Poles has a lot of cap space heading into the 2023-24 season, but if he has to buy 25-30 players on the open market once again, he may find himself perpetually restocking his roster with guys on one-year contracts. That works well for Billy Beane and the Oakland Athletics, but I don't think that type of consistent turnover is an optimal way to build an NFL roster.
Bears News & Notes
There's a Flag…On the Play
Former NFL star and current network analyst Keyshawn Johnson isn't very enamored with Poles' handiwork so far.
"This roster sucks. It's the reality of it. There are no players there. Think about it, they only got 2-3 players that can probably start for another team and that's it."
– Super Bowl champ and three-time Pro Bowler Keyshawn Johnson on the Chicago Bears

(Via ESPN)

— Daniel Greenberg (@ChiSportUpdates) July 13, 2022
Northern Exposure
Green Bay: The Packers are likely to eclipse the Bears this season as the NFL franchise with the most all-time wins. Chicago has 783, one more than Green Bay. The two teams will meet in Week 2.
Detroit: The Lions are poised to be much more competitive than they have been in many seasons.
Minnesota: Justin Jefferson readily admits Davante Adams is the league's most talented wide receiver, but he also said that's going to change soon.
NFL News & Notes
Browns quarterback Deshaun Watson and the NFLPA say they will sue the NFL if Watson is suspended for the entire 2022-23 season.
NFL games represent 20 of the 22 most-watched sporting events of this year so far.
During a segment on Good Morning Football, Mike Garafolo picked the Colts to be the league's most dominant defense in 2022.
Retired running back Ricky Williams shared two stories of players' marijuana use during his stints with the Saints and Ravens.
The Raiders generated the NFL's highest ticket revenue during the 2021 season despite finishing 25th in total ticket sales.
The rookies for the Bills and the Raiders reported for training camp on Monday, the first of more than 2,800 players who will arrive at NFL practice facilities from now until July 26.
Three Yards and a Cloud of Dust
Josh Gordon is the only WR in

NFL

history to have 2 consecutive regular season games with 200+ receiving yards.

With a career record of 37-12, Lamar Jackson has the most wins by a QB younger than 25 years old since the AFL-

NFL

merger.

We are eight Sundays away from the start of the 2022-23 NFL season.
From the Podium
"It's human nature to relax when there's no threat to your job, so I want these young guys to come in and compete for jobs." – Poles
"I can catch the jump ball. I can catch the 50-50 ball. I can catch a slant and take it to the house. I can catch a screen and take it to the house. Anything you say a receiver can do, put me in all those categories. There's not one [thing] you could say I can't do. I can block very well. The only thing you can say is I don't look like a big receiver." – Mooney
Running Out the Clock
It's training camp week! Football is here!