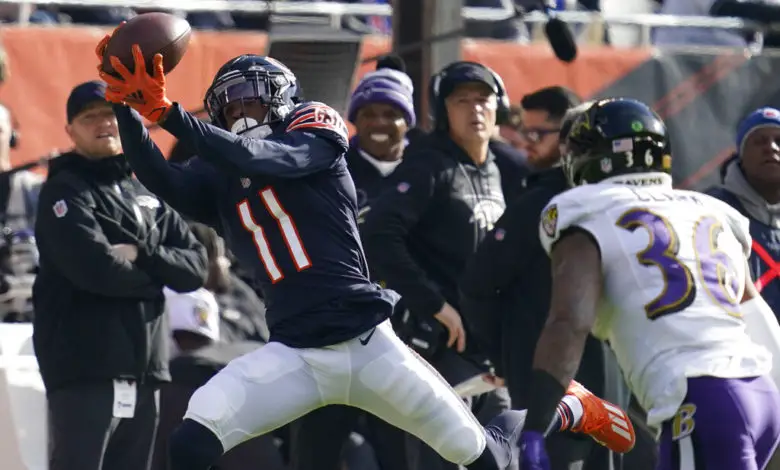 Let's Stop Calling Darnell Mooney a Hypothetical WR1
The Bears have spent the better part of the offseason defending a wide receiver corps that is essentially returning one player from last year. Allen Robinson was allowed to leave in free agency, and Damiere Byrd, Marquise Goodwin, and Jakeem Grant have all moved on, too. It's almost laughable that the current corps of Darnell Mooney, Byron Pringle, Equanimeous St. Brown, Velus Jones Jr., and one of Tajae Sharpe or Dante Pettis is a step backward to many fans. Mooney will essentially replace Robinson, and he outproduced the eight-year vet anyway. It's time to remove the asterisk and stop calling Mooney a hypothetical WR1.
Darnell Mooney is ELECTRIC ⚡️

• Mooney had more targets than Ja'Marr Chase in 2021

• Mooney had more yards per reception than Tyreek Hill in 2021

• Mooney had more receiving yards than Mike Evans in 2021

Expect a MONSTER season in 2022 pic.twitter.com/PJybhUZddJ

— Josh DeLuca (@JoshDeLuca4) June 22, 2022
Regression or lack of want by Robinson, depending on how you look at things, essentially pushed Mooney into the top position in 2021 and he handled it well. The second-year wideout was up to the task and finished with 81 catches for 1,055 yards and four touchdowns. It's also important to remember that playing in Matt Nagy's offense with three different quarterbacks did him no favors. That Mooney was able to accomplish what he did is a tribute to the receiver's talents.
His catch rate (57.9) could have been better, but he ranked 11th at wideout in targets league-wide while catching passes from Justin Fields, Andy Dalton, and Nick Foles. Chicago also went back and forth between Nagy and offensive coordinator Bill Lazor for two years when it came to running the offense. There was also that game when special teams coordinator Chris Tabor helmed the captain's chair. Tossing all of that aside, it's difficult to imagine that Mooney will regress in Luke Getsy's offense unless he gets injured.
Bears fans who think Mooney is not qualified to be the team's No. 1 wide receiver are the same ones who keep pining for the likes of Deebo Samuel and D.K. Metcalf, or any other wide receiver who is whispered to be available. It's almost a Pavlovian reaction by the so-called die-hards, but it's doubtful GM Ryan Poles will pursue trades for either of those players. No doubt they would be great additions, but that's not the rookie GM's M.O. You can also forget about Odell Beckham Jr. as a potential free agent, and even if a deal could be reached, he'd never supplant Mooney.
That means for all intent and purposes, Mooney is "the guy," whether Bears fans like it or not. Regardless, Mooney has earned the opportunity, and Poles no doubt understands and agrees with that or he would have looked in another direction. The question everyone wants an answer to is whether or not Mooney can produce like a prototypical WR1.
Count Conor Orr of Sports Illustrated as one believer in Mooney. Orr said Mooney will finish the season as a household name among fans of all NFL teams.
"I recognize the hypocrisy of this statement given how harsh I've been on the Bears and how they're building around Fields," Orr wrote. "But they can still put together a struggling offense and have one capable wide receiver who puts up monstrous numbers."
By the numbers, Mooney is coming off a breakout season and is primed for another by way of the high-powered offense Chicago is expected to run. Thanks to Robinson's struggles, Mooney saw his targets increase from 98 to 140. Last year, Davante Adams was the recipient of 169 targets from Aaron Rodgers in Green Bay. A similar uptick for Mooney would theoretically result in 95 catches for 1,245 yards. One would also assume Gesty will have more success getting the ball into the endzone, so expect an increase in TDs. Adams had 11 for the Packers in 2021 and 18 the year before.
That sure passes the eye test for an NFL No. 1 wide receiver, but there's another important factor at play. Fields has already embraced Mooney as his top target, and the chemistry between the two is reportedly off the charts. The pair have been working out together since the 2021 season ended.
"Last year [Fields] threw the ball extremely hard," Mooney said. "He was eager to get the ball out of his hands. He knew his arm was strong. He's grown to get some touch on it. It's a nice ball, a very nice ball. I know when we were in Atlanta, he was throwing really, really great. We were talking smack to each other. Then there was one day that he was throwing the ball extremely well and I was like, 'This is my last time complimenting you, but [that's] a good-ass ball.'"
The pair had their best game of 2021 in Week 4 against the Lions when Mooney caught five of seven targets for 125 yards. It was a game that showed off his complete range as a receiver. He made tough catches, ran precise routes, and delivered a few big plays. In fact, a strong argument can be made that Mooney was Chicago's only offensive playmaker last year. Tell me again why this kid isn't a number one?
Darnell Mooney with a catch of the week contender 🖐

(via @NFL)pic.twitter.com/CAnPxAkfpC

— SportsCenter (@SportsCenter) October 3, 2021
Mooney is entering that critical point in his career where a player, especially a wide receiver, makes that developmental jump from above average to all-star. Adams became a bona fide star in his third season, and so did Samuel. It doesn't hurt that Fields and Mooney will be playing in a similar offense as both players, and oh, by the way, the guy who helped design the plays with the Packers is now Chicago's offensive coordinator.
You can rip on Poles for not pursuing Metcalf, Chris Godwin, or any of the other available and over-priced wideouts, but maybe he and head coach Matt Eberflus never considered it because they already have their guy in-house. And if I'm being honest, the support receivers they've added to compliment Mooney look a helluva lot better than the guys the Bears had last year, even with a healthy/motivated Robinson. Nobody's saying Chicago is going to be the second coming of the 2013 Broncos or 1999 Rams, but the passing offense will be vastly improved over last season, and Mooney should no longer be considered anything but Chicago's top wide receiver.