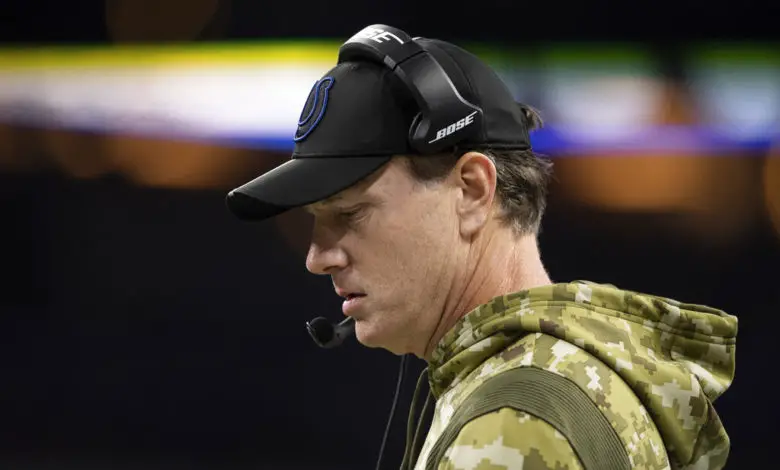 First & Long: A Tale of Two Matts, Bears Could Land First Round Talent in Round Two, Rodgers Decision Expected Tuesday
Bears fans go their first real glimpse of new head coach Matt Eberflus at last week's scouting combine, and your first reaction should be that the man is in another stratosphere of football IQ compared to predecessor Matt Nagy. It's like a tale of two, uh, you know…it was the best of Matts, it was the worst of Matts.
Take this quote from Eberflus when talking about the three-technique for example.
"It's disruptive," the head coach said. "You've got to be disruptive. You've got to do a couple of things as a three-technique. No. 1, you've got to win your one-on-one matchup, OK? And when they run zone away from you, you've got to be able to stay in the B gap. It's that simple. Those are the two things we look for, and they come in all shapes and sizes. And you've seen it. But explosive athletic ability is the No. 1 trait."
Would Nagy even comprehend what Eberflus said there? Here's how Nagy reacted to a 38-3 loss to the Buccaneers in Week 7:
"I will say the last couple days with our team, we've become really close. For us to become as close as we have the last 24-48 hours, I just trust and believe in them."
I know the former head coach was trying to comfort Bears fans and provide a little hope, but after just a month of listening to Eberflus, it's safe to assume his postgame comments will be a lot more Xs and Os than whatever it was Nagy was trying to convey last October. The two men have no similarities, and that's a good thing because Eberflus actually seems like a real head coach. NFL analysts agreed the moment his hiring was announced.
Matt Eberflus has always preached intensity, toughness. Is considered a great leader of men. Bears have been a soft af team for years. This hire, combined with Ryan Poles (a former OL at GM), should make this a much more physical team

— Jeremy "Sell the team George" Layton (@JeremyLayt0n) January 27, 2022
An NFL exec who's interviewed Eberflus: "Honest, has integrity and will hold players accountable. Compares personality-wise to (Sean) McDermott. His system defensively: emphasis on effort, fundamentals and taking ball away…multiple on D and can morph into players' strengths."

— David Haugh (@DavidHaugh) January 27, 2022
At least the new head coach has a foundation with which to build upon. The Bears will be led by Justin Fields, David Montgomery, Darnell Mooney, and Cole Kmet on offense. Khalil Herbert is a capable No. 2 running back and might be good enough to let GM Ryan Poles see if there is any trade interest in Montgomery. Offensive linemen Teven Jenkins and Larry Borom should help improve a lie that never looked more disastrous than in a Week 3 loss to the Browns. Chicago allowed Fields to get sacked nine times that game.
On defense, Khalil Mack, Robert Quinn, Roquan Smith, Jaylon Johnson, and Eddie Jackson provide Eberflus with an experienced, capable core. Trevis Gipson is on the come, and defensive back Thomas Graham could be a diamond in the rough. Eberflus said he wants his defense to be "fanatical" about creating turnovers. When you listen to the new head coach speak, it almost makes you wonder just how good the Bears might have been with more competency from their coaching staff.
Of course, nothing matters until the Bears start playing games. When the clock starts and it's money time, only then will we have the ability to compare Eberflaus to any of his head coaching predecessors. Still, it's eye-opening to hear a head coach talk about the complexities of the game and the best ways to attack them. We can only hope that translates to a lot more wins in 2022 and beyond.
Bears News & Notes
There's a Flag…On the Play
The Aaron Rodgers saga could be ending soon, fingers crossed. You may hate him, but his decision affects every team in the NFC North, plus all the teams that draft after Green Bay at No. 28.
Aaron Rodgers could inform Packers of his decision by Tuesday's tag deadline (via @RapSheet)https://t.co/sqGtn4Qpti pic.twitter.com/c5nKCHpF8t

— Around The NFL (@AroundTheNFL) March 7, 2022
Northern Exposure
There are three teams in the mix for Rodgers (Broncos, Titans, and Steelers)  if Rodgers requests to be traded, but the reigning MVP is still torn over what to decide.
The Packers have had zero trade discussions about Rodgers, and as one source pointed out, he might have to play for Green Bay or retire because no team may pay the Packers what they would demand, even if it came to that.
Because they hold three of the top 34 picks in next month's draft, the Lions could consider trading up from No. 32 if someone they like is still available in the middle of the first round.
The Vikings heavily courted Jim Harbaugh to be their new head coach but in the end, it looks like the timing was wrong for both sides.
NFL News & Notes
Last week the NFL announced it was suspending all COVID-19 protocols, becoming the first major sport to do so.
The Rams are interested in bringing back Von Miller, and the veteran linebacker shares a mutual admiration for the Super Bowl champs.
The Broncos are said to be "in the mix" for free-agent quarterback Mitchell Trubisky.
Chiefs safety Tyrann Mathieu is expected to test free agency this offseason.
The Cardinals are not expected to use their franchise tag on DE/OLB Chandler Jones.
The Commanders reportedly offered multiple first-round picks for Russell Wilson, but the Seahawks declined.
Weighing 341 pounds, defensive tackle prospect Jordan Davis posted a stunning 4.78 time in the 40-yard dash.
Three Yards and a Cloud of Dust
NFL free agency starts in eight days.
Since Sean McVay became the head coach in 2017, the Rams are 47-1 when entering halftime with a lead (including playoffs) — a .979 win pct that leads the entire NFL over that span.
Entering the 2021 season quarterbacks Matthew Stafford and Joe Burrow had combined for zero playoff wins.
Three More (Best Combine Names)
Honorable Mention: Cameron Dicker (because he's a kicker, get your mind out of the gutter).
From the Podium
"I think [having Fields on a rookie contract] just gives you the ability to do more to help build the entire roster. The other thing is just always keeping in mind guys that can help him and how he can help them as well. But it's the support for that player. What does he play well with? What does the offense need to perform well? And also looking at historical information of what has helped second-year quarterbacks be successful. So all of that comes into play." – Poles
"The players have to buy into it. Whatever the coaches are telling you, you've got to believe it. You've got to be a soldier and [understand], 'all right, this is a new culture.'" – Tillman
Running Out the Clock
Dreams by Van Halen – By all accounts, last week's NFL Scouting Combine was one of the best, if not fastest (in terms of player speed), ever.