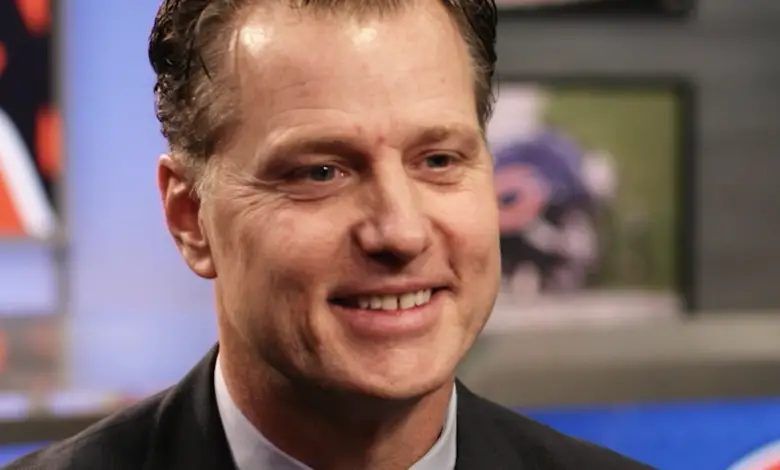 Coach Eberflus Wants Bears to Be 'Fanatical' About Takeaways
It's been a while since the Bears have had a head coach who stresses winning the turnover game, and in fact, you'd have to go back to Lovie Smith if you wanted to find a defense that possessed similar conviction. This week, Matt Eberflus indicated he wants his first Bears defense to be "fanatical" about takeaways.
Takeaways, Eberflus noted, must become an undying obsession that manifests itself through effort, intensity, and situational intelligence. Safety Eddie Jackson, for instance, and not to single out any one player, hasn't had an interception since 2019.
"We want quickness and instincts. We want guys that are ballhawks at the defensive back position". – #Bears HC Matt Eberflus on what he wants in a DB.

— Zack Pearson (@Zack_Pearson) March 1, 2022
"It's all about the ball," Eberflus said at his introductory press conference in January. "That's the most important thing for winning and losing — taking the ball away [on defense] and protecting the football [on offense]."
You can be forgiven if you are doing your best to stifle your laughter. During the 2021 season, Chicago played 11 straight games without creating multiple takeaways and finished tied for 26th in the league with 16 all season. By comparison, Smith's teams created 310 turnovers in his nine seasons in Chicago, an average of 34.4 per season, and had at least 28 in every season.
That marked the sixth time in nine seasons the Bears finished in the lower-third of in that all-important category. Eberflus' Colts defenses, by contrast, produced 107 takeaways during his four seasons as coordinator, ranking 10th twice, fifth, and second from 2018-21. That type of defensive vision is why GM Ryan Poles hired Eberflus shortly after he accepted his job at Halas Hall.
It's apparently going to be a long way to the top if Eberflus wants his defense to rock 'n' roll.
Coach Flus sat down with @LarryMayer at the Combine to discuss getting to know the team while prepping for free agency & the draft.https://t.co/qUBRpdkshx

— Chicago Bears (@ChicagoBears) March 3, 2022
Eberflus hasn't talked to all of his players yet, and to the ones he has, he's prohibited from discussing football matters until the new NFL year officially starts on March 16. So while telephone conversations consist of offseason vacations and family life, the new head coach is still moving forward with his coaching staff and Chicago's front office. That means discussing offensive and defensive game plans, evaluating NCAA talent, and comparing free agent notes.
The message he is relaying to his players through the media, is loud and clear, however.
"What is that vision?" the head coach rhetorically asked. "The vision is a team that's going to play extremely hard, going to be extremely intense and that's going to take care of the football and take the ball away, and then be smart players. We want to be smart in terms of penalties, smart in terms of situations. That to me is what the vision is for our football team. And it's A to Z. it's acquiring players, it's coaching the coaches, it's the selection of players and then developing those players. So, to me, it's all-encompassing. I've been waiting a long time to do this, and it's really exciting."
The first-year head coach understands words mean nothing until he can get his team on the field.
"It's the day-in and day-out process of it," Eberflus reinforced last week during the NFL's Scouting Combine. "So when you're coaching it, it's every snap. In individual [drills]. To start in our first phase when we get players on the field [in April], as soon as we can put a ball out there, we're going to start talking about it and coaching it. Every single play. And we [won't] let that go. That is what I mean about fanaticism."
Though the defense has a number of potential 2022-23 defensive all-pros, including Roquan Smith, Robert Quinn, Khali Mack, Trevis Gipson, and Jaylon Johnson, he still needs help at linebacker and in the defensive backfield to successfully transition to a 4-3 defense.  Free agency begins in two weeks, and the draft is six weeks after that.
"We have pieces in [place] that for sure fit [the new scheme]," he said.
Now it's just a matter of acquiring reinforcement, and then ensuring all the pieces fit together on the field.