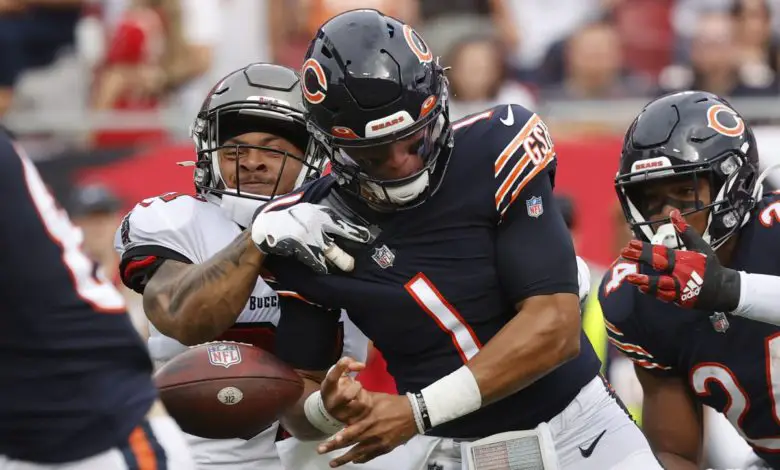 Chicago Bears Score and Recap (Week 7): Buccaneers 38, Bears 3 – Sloppy Bears Trucked in Tampa
Things got ugly fast for the Bears in Tampa on Sunday afternoon. A series of Chicago turnovers buried the road team in a hole they could never escape in the Buccaneers rout.
A long punt return set up the first Tampa touchdown on a short run by Leonard Fournette. Justin Fields had a very rough day, throwing an interception and losing a fumble on consecutive drives. Tom Brady wasted no time making those mistakes hurt, throwing a pair of touchdowns and putting Chicago behind 21-0 after one quarter.
Tampa's Hall of Fame quarterback was not finished. Brady threw two more touchdowns to put the game on ice before halftime. The Bears could do absolutely nothing the whole game, managing just a field goal in a 38-3 loss. (Box score)
Why the Bears Lost
As a big underdog, the Bears had to play mistake free football to have a real chance to win. Obviously, five turnovers is not mistake free football and they paid heavily for their sloppiness.
Key Moment
The consecutive turnovers in the first quarter were a huge moment. Any chance to stay in the game and make Tampa sweat was gone in a flash.
Stats That Matter
The game was much too fast for Fields on Sunday. He threw for just 184 yards and was responsible for five turnovers. It was not all on him, however, as the offensive line was overwhelmed by the talented Buccaneers pass rush.
Khalil Herbert was the Bears lone bright spot, running for 100 yards on 18 carries.
Brady threw his 600 career touchdown pass on his first TD Sunday.
Bottom Line
This game is a clear demonstration of how far the Bears have to go. Fields is going to struggle against good opponents for the rest of the season. This was not a positive experience for the young QB. Without drastic improvement on offense it's hard to see the Bears staying in the playoff race.
Next Up
Chicago returns home for a Halloween clash with the 49ers at Soldier Field Sunday, October 31. The 12:00pm CT game will be broadcast on FOX and WBBM radio.