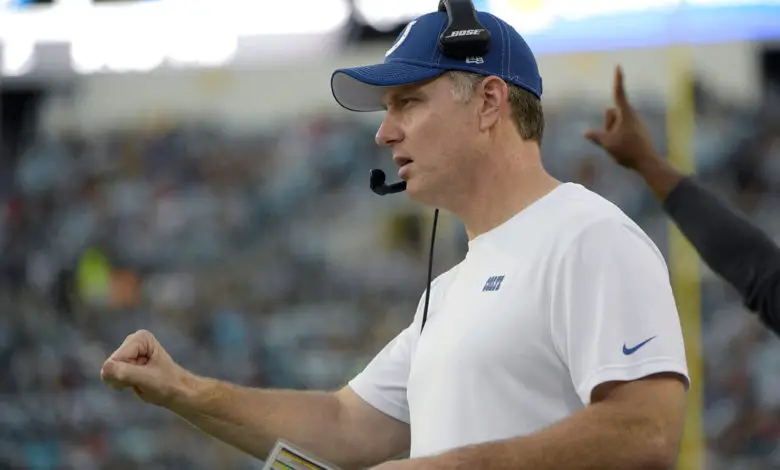 Eberflus Nothing Like Nagy, and That's a Good Thing
I know many fans are upset that Ryan Poles did not hire one of the hot-shot offensive coordinators, but they've been down that road before. Back in 2015, Matt Nagy was one of those coveted assistant coaches, a noted "quarterback whisperer," and his hiring was widely praised. Things didn't work out so well and after four very long seasons the head coach was kicked to the curb, and GM Ryan Pace was booted with him. That Matt Eberflus is nothing like Nagy is a good thing.
I'm almost not kidding when I say Eberflus could probably create a better offensive gameplan than Nagy, but I won't continue down that path. That said, it's amazing to me that a good portion of social media is saying Eberflus is a "player's coach," much like his predecessor. No, I'm sorry, Nagy was never a player's coach. Just ask Mitchell Trubisky.
ICYMI

Here is what former #Bears DC Rod Marinelli, All-Pro LB Sean Lee and Mizzou coach Gary Pinkel had to tell me about Matt Eberflus and how prepared he is to become a head coach.https://t.co/w4qIFNkC7z

— Brad Biggs (@BradBiggs) January 27, 2022
Sure, Brian Daboll or Kellen Moore might have been the sexier moves, but was either ever really under consideration? From a high level, hiring either of those gentlemen would look awfully familiar to Chicago's pursuit of Nagy back in 2015. No one is saying either of those two will perform as badly as what we witnessed the past three seasons in Chicago, but Eberflus has been coaching since Daboll and Moore were in high school. Experience counts, especially when you are gentrifying four years of failed inexperience.
In fact, one of the best things about Eberflus is his success or failure won't be measured by the progress of Justin Fields. Pace drafted him and Nagy was supposed to develop him. If Fields bombs, that bad check belongs to the previous regime. If he succeeds, the newly-minted head coach and his staff get all the credit. In fact, both Pace and Nagy failed twice in that respect when you add Trubisky to the mix.
That said, Fields really struggled to read defenses his rookie year. And though you can easily blame that on lack of NFL experience, no one on Chicago's previous staff made Fields any better at understanding what was being thrown at him by opposing coordinators. One would assume, and rightly so, that that will be the most positive influence the new coach can provide his second-year quarterback.
Nagy's lack of trust in his coordinators also hurt Trubisky and Fields. It seemed like the former head coach was too overprotective of his job or afraid that trusting a coordinator might make him look bad. Eberflus has no choice but to fully rely on the coaches he hires to run Chicago's offense. He's not going to design the offense, and he's not going to call the plays. His success or failure will be determined solely by the number of games he wins and the postseason appearances the team makes.
Oh yeah, Eberflus will have to start beating the Packers, something Nagy was only able to do once.
Perhaps Fields will flourish if he is coached by someone who just stays out of his way. Remember when Nagy had COVID-19 and special teams coordinator Chris Tabor had to coach against the 49ers in Week 8? Though Chicago lost 33-23, Fields had one of his best games of the season, passing for 175 yards and rushing for an additional 103. Even better, the rookie QB played an entire game without turning over the football.
.@justnfields ARE YOU SERIOUS?!? 🤯#SFvsCHI | #DaBears pic.twitter.com/o9vUGJL5h5

— Chicago Bears (@ChicagoBears) October 31, 2021
Look at this throw and catch. I see you Justin Fields. #Bears pic.twitter.com/LVhN3nQ4an

— Jarrett Payton (@paytonsun) October 31, 2021
Tabor, who just left the Bears for the Panthers, has never been an offensive coordinator.
Whoever Eberflus tabs as his offensive coordinator and quarterback coach will have the biggest impact on Fields and his second year of development. The new coach will be a mentor in name only, and though he'll make suggestions and help Fields understand the complexities of NFL defenses, it will be his assistants who make or break the young quarterback's career. Standards and expectations are at the core of the team's new philosophy.
"[Eberflaus] is very consistent with every position, with every player," Colts coach Frank Reich told Colts reporter J.J. Stankevitz in August. "Nobody's getting special treatment. This is how we gotta play defense and so let's hold ourselves to this standard."
Those disappointed that Daboll or Nathaniel Hackett didn't make the cut or that Brian Flores was never really considered to succeed Nagy need to get over it. There is no guarantee that any of those men will be successful next year, and none of them are available to work as coordinators in Chicago. Maybe Mike Kafka, Kevin O'Connell, or Kevin Patullo will be the next Daboll. If so, Eberflaus will be the toast of Chicago.